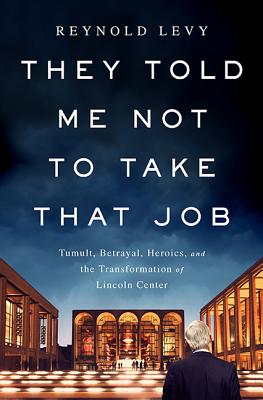 They Told Me Not to Take that Job
Tumult, Betrayal, Heroics, and the Transformation of Lincoln Center
Hardcover

* Individual store prices may vary.
Description
When Reynold Levy became the new president of Lincoln Center in 2002, New York Magazine described the situation he walked in to as "a community in deep distress, riven by conflict." Ideas for the redevelopment of Lincoln Center's artistic facilities and public spaces required spending more than 1.2 billion, but there was no clear pathway for how to raise that kind of unprecedented sum. The individual resident organizations that were the key constituents of Lincoln Center -- the Metropolitan Opera, the New York City Opera, the New York Philharmonic, the Juilliard School, and eight others -- could not agree on a common capital plan or fundraising course of action. Instead, intramural rivalries and disputes filled the vacuum.

Besides, some of those organizations had daunting problems of their own. Levy tells the inside story of the demise of the New York City Opera, the Metropolitan Opera's need to use as collateral its iconic Chagall tapestries in the face of mounting operating losses, and the New York Philharmonic's dalliance with Carnegie Hall.

Yet despite these and other challenges, Levy and the extraordinary civic leaders at his side were able to shape a consensus for the physical modernization of the sixteen-acre campus and raise the money necessary to maintain Lincoln Center as the country's most vibrant performing arts destination. By the time he left, Lincoln Center had prepared itself fully for the next generation of artists and audiences.

They Told Me Not to Take That Job is more than a memoir of life at the heart of one of the world's most prominent cultural institutions. It is also a case study of leadership and management in action. How Levy and his colleagues triumphantly steered Lincoln Center -- through perhaps the most tumultuous decade of its history to a startling transformation -- is fully captured in his riveting account.
Praise For They Told Me Not to Take that Job: Tumult, Betrayal, Heroics, and the Transformation of Lincoln Center…
"Levy, with his persuasive and owlish mien, proved to be the administrative virtuoso Lincoln Center had been waiting for. No need to take his word for it. Just walk around. The campus today is what he and architect Elizabeth Diller said it would be, only busier, more open, more glamorous, more comfortable and more fun. If the renovation [of Lincoln Center] were a movie, its credit roll would run for 20 minutes, but it would be fair to call it a Reynold Levy production." –Vulture

"Levy's unabashed enthusiasm for the non-profit arts helps us understand why a place like Lincoln Center is important, even in this profit-oriented era…They Told Me Not to Take that Job provides a good, sometimes sad look at what the arts have been going through over the last couple of decades." –Maclean's

"Reynold Levy has a rare blend of talents, all of which are on display in this compelling book, a memoir that is neither self-reverential nor full of false pieties. There is no bitterness, but there is surprising candor. Prominent people should be shamed, including those who nearly ran great cultural institutions into the ground. The lessons to be extracted could fuel an entire curriculum at the Harvard Business School, or a Department of Psychology." –Ken Auletta, bestselling author and writer for The New Yorker

New York Times bestseller

"The most entertaining passages of the book chronicle the indefatigably upbeat Levy's fight to get a tangled web of stakeholders onboard with the project. He is unafraid to name the names of those who fought against the redevelopment [of Lincoln Center] at the beginning and he is refreshingly candid about what he perceives as the misguided policies of some of Lincoln Center's constituent organizations.… it attests to the energy of his account and to the passion of his diagnoses of the Center's persistent, if alleviated, ills, that he pushes the reader into the future, projecting new problems and envisioning solutions." –New York Times Book Review

"Sure to make waves in the genteel world of New York's elite cultural institutions, where foes tend to exchange air kisses in public and keep their battles private. Mr. Levy's willingness to name names may not quite reach you'll-never-eat-lunch-in-this-town-again levels but could make for some awkward encounters at the chic Lincoln Ristorante." –The New York Times
PublicAffairs, 9781610393614, 376pp.
Publication Date: May 12, 2015
About the Author
Reynold Levy was the president of the Lincoln Center for the Performing Arts from March 1, 2002 to January 31, 2014. He has held leadership roles at the International Rescue Committee, at AT&T, and at the 92nd Street Y. He has taught at the Harvard Business School. Currently, he is an adjunct professor at the School of International and Public Affairs at Columbia University, a special advisor to the private equity firm General Atlantic, and a consultant to nonprofit institutions and foundations. He lives in New York City.
or
Not Currently Available for Direct Purchase