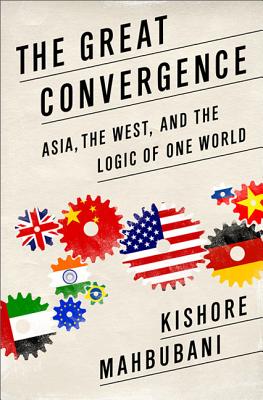 The Great Convergence (Paperback)
Asia, the West, and the Logic of One World
PublicAffairs, 9781610393690, 328pp.
Publication Date: March 4, 2014
Other Editions of This Title:
Digital Audiobook (3/4/2013)
Hardcover (2/5/2013)
* Individual store prices may vary.
Description
In this visionary roadmap to the twenty-first-century, Kishore Mahbubani prescribes solutions for improving global institutional order. He diagnoses seven geopolitical fault lines most in need of serious reform. But his message remains optimistic: despite the archaic geopolitical contours that try to shackle us today, our world has seen more positive change in the past thirty years than in the previous three hundred.


About the Author
Kishore Mahbubani is a writer, professor, and a former Singaporean diplomat who served twice as ambassador to the UN. Currently, he is the dean of the Lee Kuan Yew School of Public Policy at National University of Singapore. A prolific writer, he has published three books and numerous articles in leading global journals and newspapers, like Foreign Affairs, Foreign Policy, and the Financial Times. Foreign Policy listed him as one of the top 100 global thinkers in 2005, 2010, and 2011.
Praise For The Great Convergence: Asia, the West, and the Logic of One World…
"A world adrift desperately needs global thinkers, most of all from Asia. Kishore Mahbubani fits the bill with this signal work at this critical time."
Foreign Affairs
"[An] eloquent and searching portrait of today's transforming global order."
Financial Times
"[Mahbubani's] thesis is a welcome counterweight to the more familiar gloom of political scientists. The book is rich in insight into the hurdles and pitfalls that stand in the way of international co-operation. It takes a hard-headed look at the dynamics of China's rise: the threat of conflict with a US reinvented as a Pacific power, the dangerous tensions between China and India, and the west's troubled relationship with Islam among them. But the central argument is compelling…. What is clear, though, is that west and east have still to grasp the paradox deftly illuminated by Mahbubani's call for global governance. To retain real sovereignty over their national affairs, leaders will have to share it internationally."
Wall Street Journal
Fareed Zakaria, author of The Post-American World
"Kishore Mahbubani has done it again. He has written a book that is provocative, engaging, and always intelligent. He brings a crucial perspective to bear on global affairs, rooted in the rise of Asia but with an understanding of Europe and America as well. Rudyard Kipling said, 'East is East and West is West and never the twain shall meet.' But they do in this book."

Kofi Annan, former UN Secretary-General
"In exploring the tensions that arise as our global community draws ever closer together, Kishore Mahbubani provides a compelling reminder that humanity is strongest when we work together for the benefit of all."

The Future of Power
"Kishore Mahbubani is a thoughtful critic of the West and this book is full of provocations; some right, some wrong, but never boring. Above all, he seeks ways to reconcile the 12 per cent of the world's population who live in the West with the vast majority who do not. The result is a good and important read."

Raghuram Rajan, Professor, University of Chicago Booth School
"Few today know Asia as well as Kishore Mahbubani, and even fewer combine it with a deep understanding of the West's strengths and frailties. In The Great Convergence, Mahbubani offers a balanced but profoundly disturbing analysis of the political challenges that face our modern, increasingly interdependent, world. His proposals on how to fix the outdated system of global governance are both refreshingly novel and eminently practical.  A truly stimulating read!"

Pascal Lamy, Director-General, World Trade Organization
"Thought provoking, sharp and full of wisdom as usual, this new book by Kishore Mahbubani not only offers in-depth analysis of world challenges today, but also offered fresh ideas on how to improve global order for the 21st century. A must read for those who are interested in power politics and the future of global governance." Christian Science Monitor

Nouriel Roubini, Professor of Economics at New York University's Stern School of Business and Co-founder and Chairman of Roubini Global Economics
"While I remain pessimistic for the global economy in the near-term, I share Kishore Mahbubani's long-term optimism for our world, including the emerging powers like China and India. The world order must now reinvent itself to accommodate these powers. Mahbubani's timely and brilliant book explains well both the challenges to our global order and the wise solutions that are at hand. We can create a better world. Mahbubani's book explains how. I strongly commend it."

Lawrence H. Summers, Charles W. Eliot University Professor of Harvard University, Harvard Kennedy School
"Most of the great errors in foreign policy and diplomacy come from a failure to understand the perspective of other nations.  And this is a besetting problem for superpowers like the United States.  That is why whether they like it or not, whether they agree or disagree, it so important that Western and especially American policymakers read this important book presenting a perspective on the global trends that is very different from their own."

Joseph S. Nye, Distinguished Service Professor, Harvard University, and author of