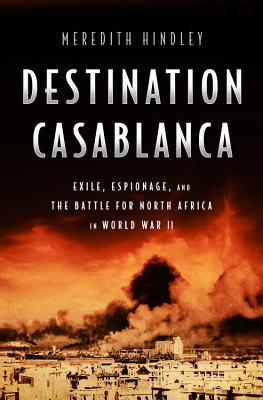 Destination Casablanca
Exile, Espionage, and the Battle for North Africa in World War II
Hardcover

* Individual store prices may vary.
Other Editions of This Title:
Digital Audiobook (10/9/2017)
Paperback (5/14/2019)
Compact Disc (11/7/2017)
Compact Disc (11/7/2017)
Description
This rollicking and panoramic history of Casablanca during the Second World War sheds light on the city as a key hub for European and American powers, and a place where spies, soldiers, and political agents exchanged secrets and vied for control.

In November 1942, as a part of Operation Torch, 33,000 American soldiers sailed undetected across the Atlantic and stormed the beaches of French Morocco. Seventy-four hours later, the Americans controlled the country and one of the most valuable wartime ports: Casablanca.

In the years preceding, Casablanca had evolved from an exotic travel destination to a key military target after France's surrender to Germany. Jewish refugees from Europe poured in, hoping to obtain visas and passage to the United States and beyond. Nazi agents and collaborators infiltrated the city in search of power and loyalty. The resistance was not far behind, as shopkeepers, celebrities, former French Foreign Legionnaires, and disgruntled bureaucrats formed a network of Allied spies. But once in American hands, Casablanca became a crucial logistical hub in the fight against Germany -- and the site of Roosevelt and Churchill's demand for "unconditional surrender."

Rife with rogue soldiers, power grabs, and diplomatic intrigue, Destination Casablanca is the riveting and untold story of this glamorous city--memorialized in the classic film that was rush-released in 1942 to capitalize on the drama that was unfolding in North Africa at the heart of World War II.
Praise For Destination Casablanca: Exile, Espionage, and the Battle for North Africa in World War II…
"This is a book for historians, not film buffs... Digging deep into military archives in Britain, France and the U.S., Ms. Hindley has produced a scholarly narrative, weaving her way deftly among a large cast of characters, both familiar and unfamiliar... [An] authoritative and entertaining book."—Wall Street Journal

"With its lively storytelling and impressive scholarship, Destination Casablanca succeeds as a thorough and highly engaging chronicle of the French Moroccan theater of war."—Washington Post

"Compulsively readable, deeply engrossing new history... The charmed classic made in Hollywood's dream factories and the granular history recounted in Hindley's superb book fundamentally complement each other, entertaining and instructing us with their timeless tales of political intrigue, moral compromise, acts of courage and cowardice."—New Republic

"A compelling read, packed with a Casablanca-worthy cast of characters and a penetrating look at the inside workings of Vichy France...History buffs will love the colorful stories and the grand geopolitical scheming. But there's enough action, intrigue, and adventure to make Destination Casablanca a perfect beach read."—Foreign Policy

"Hindley delivers what could become the definitive account of Casablanca during World War II... The book should prove indispensable to scholars... Expertly researched and absorbing."—Kirkus Reviews

"Hindley's warm, detailed writing style portrays the determination and resources that America brought to Casablanca, the continuing plight of refugees, the stirrings of Moroccan nationalism, and the moving saga of American singer Josephine Baker's support for a free France. Extensively researched, this account is rife with personal accounts, political and diplomatic insights, and vivid depictions of the military process. Recommended for history buffs who will relish the author's skilled presentation of a little-known theater in World War II."—Library Journal

"Meredith Hindley deftly weaves together a history of the city of Casablanca and the events leading to the Anglo-American invasion and conquest of Northwest Africa in 1942-1943. Fascinating characters such as performer Josephine Baker and writer Arthur Koestler, along with a multitude of refugees, spies, and resistance fighters give her account unusual texture and variety. The military successes were capped by the Casablanca summit conference of Franklin Roosevelt and Winston Churchill. A great read."—Richard Breitman, Distinguished Professor Emeritus, American University

"Here is an important, well-researched, and well-written account of a major aspect of World War II that is generally neglected in the existing literature. The reader is offered a convincing picture of the complicated interactions of the Americans and British with the supporters of Vichy and of the Free French, the local Muslim and Jewish leaders and population, and the agents of Germany. This reader does not know of any other successful unravelling of this theater's complexities."—Gerhard L. Weinberg, Professor Emeritus, University of North Carolina

"A fulcrum of history-wartime Casablanca-jumps to life in Meredith Hindley's masterful page-turner. Spies, jazz legends, generals, traitors, writers, war icons and assassins light up a tale of high-stakes intrigue in one of the world's great exotic settings."—Jonathan W. Jordan, bestselling author of Brothers, Rivals, Victors: Eisenhower, Patton, Bradley and the Partnership that Drove the Allied Conquest in Europe

"A fine and faithful work of historical reconstruction."—Booklist

"A fascinating look into the reality of a complicated political situation that inspired a classic."—Shepherd Express

"As entertaining as it is informative."—Galveston County Daily News

"Exceptionally well researched, written, organized and presented, Destination Casablanca is a comprehensive and detailed military history that reads as smoothly and as inherently engaging as any novel."—Midwest Book Review
PublicAffairs, 9781610394055, 512pp.
Publication Date: October 10, 2017
About the Author
Meredith Hindley is a historian and senior writer for Humanities, the quarterly review of the National Endowment for the Humanities. Her work has also appeared in the New York Times, Salon, Christian Science Monitor, and Barnes and Noble Review. Hindley received her PhD from American University.
or
Not Currently Available for Direct Purchase