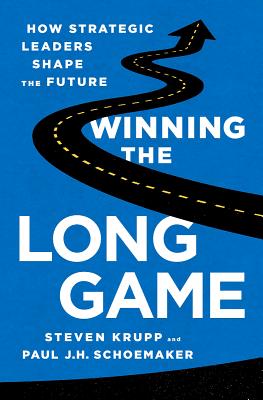 Winning the Long Game (Hardcover)
How Strategic Leaders Shape the Future
PublicAffairs, 9781610394475, 336pp.
Publication Date: December 2, 2014
Other Editions of This Title:
Digital Audiobook (12/31/2014)
* Individual store prices may vary.
Description
Are you winning the battle but losing the war?

Every leader has to deliver the goods—make budget, meet deadlines, and deftly manage people—to provide the inspirational fuel that keeps their business running day-in and day-out.

But therein lies the danger of winning today's battle and losing the war—that is the long game of creating sustainable value in a volatile, uncertain world that is becoming ever-more complex and ambiguous.

The number one business challenge—is winning the long game by being more strategic; developing the skills to look outside the four walls of the organization and see the world from the future back.

Steven Krupp and Paul J. H. Schoemaker bridge the gap between what many see as the separate domains of strategy and leadership to show how to develop the discipline of strategic leadership in a world of growing uncertainty.

Pragmatic to the core, Winning the Long Game creates vivid insights into the discipline of strategic leadership by applying it systemically through personal portraits of successful business leaders. The book profiles Elon Musk, Richard Branson, and Sara Blakely, as well as world-renowned figures like Pope Francis, Oprah Winfrey, and Nelson Mandela. What makes these strategic leaders successful is highlighted by contrasting them with others who are either mediocre or outright failures.

Winning the Long Game is the must-have playbook for every leader and for any manager seeking to be become more strategic in today's topsy-turvy world.

About the Author
Steven Krupp is the CEO of Decision Strategies International, a firm devoted to helping leaders become more strategic and organizations more adaptive in the face of uncertainty. Dr. Krupp advises premier global organizations and has published in Harvard Business Review, Harvard Management Update and Chief Learning Officer Magazine.

Paul J.H. Schoemaker is founder and executive chairman of Decision Strategies International and research director of the Mack Institute for Innovation Management at the Wharton School, where he teaches strategy and decision-making. Dr. Schoemaker has authored or coauthored more than one hundred articles and is coauthor of the business bestsellers Decision Traps and Winning Decisions, among many other books.
Praise For Winning the Long Game: How Strategic Leaders Shape the Future…
"I loved the anecdotes, from so many angles. Finally a book on strategic leadership that is grounded in real word situations!"—
Jean Pierre Garnier, Chairman of the Board, Actelion; Operating Partner, Advent International; Retired Chief Executive Officer, GlaxoSmithKline
"A captivating case for strategic leadership, thinking broadly and acting decisively."—
Michael Useem, Professor of Management and Director of the Center for Leadership and Change at the Wharton School, University of Pennsylvania
"Highly engaging...a must read for any strategic leader and those aspiring to be one."—
Gerard van Grinsven, CEO of Cancer Treatment Centers of America
"Masterful...we learn why—and learn how to cope more effectively with a Black-Swan/Gray-Swan world."—
Philip E. Tetlock, Annenberg University Professor, Psychology Deptartment and Wharton School, University of Pennsylvania
"A practical playbook for senior and high potential leaders to increase their strategic aptitude and business impact."—
William Strahan: EVP Human Resources, Comcast Cable
"Weaves keen insights about strategic leadership, fun stories, and very practical tips into a power packed narrative sure to raise any leaders game."—
Fred Krupp, President, Environmental Defense Fund
"Krupp and Schoemaker...have assembled a cogent, inspiring guide to what constitutes a strategic leader—and how readers can be strategic in their own lives... this highly readable book focuses on the nuts and bolts of each discipline, guiding readers on how to import the lessons learned into their own lives."—Publishers Weekly

"This painstakingly researched and thoroughly enjoyable book offers lessons and insight that today's leaders would be wise to apply in their pursuit of future success." —Thomas J. Ridge, former Secretary, U.S. Department of Homeland Security

"Compelling and useful...This important book combining strategy and leadership makes it one of a kind."—Raghu Krishnamoorthy, vice president, executive development, and chief learning officer, General Electric

"I am inspired by this book to rethink my own approach both to strategy and to leadership. It combines the two in a most convincing way. The six basic disciplines of strategic leadership is exactly the framework I need to challenge my board to think and act strategically"—Lars Kolind, Chairman of the Board of Jacob Jensen Design and DeTao Master of Leadership and Strategy in China