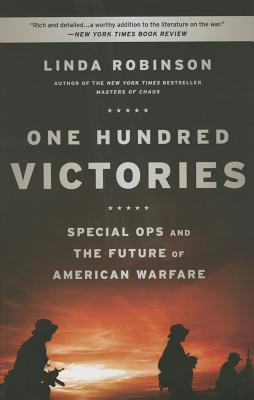 One Hundred Victories
Special Ops and the Future of American Warfare
Paperback

* Individual store prices may vary.
Other Editions of This Title:
Hardcover (10/8/2013)
Description
One Hundred Victories is a portrait of how -- after a decade of intensive combat operations -- special operations forces have become the go-to force for US military endeavors worldwide.

Linda Robinson follows the evolution of special ops in Afghanistan, their longest deployment since Vietnam. She has lived in mud-walled compounds in the mountains and deserts of insurgent-dominated regions, and uses those experiences to show the gritty reality of the challenges the SOF face and the constant danger in which they operate.

She witnessed special operators befriending villagers to help them secure their homes, and fighting off insurgents in the most dangerous safe havens even as they navigated a constant series of conflicts, crises, and other "meteors" from conventional forces, the CIA, and the Pakistanis -- not to mention weak links within their own ranks. They showed what a tiny band of warriors could do, and could not do, out on the wild frontiers of the next-generation wars.

One Hundred Victories also includes the inside story of the dramatic November 2011 cross-border firefight with Pakistan, which sent the US commander into a fury and provoked an international crisis. It describes the murky world of armed factions operating along the world's longest disputed border, and the chaos and casualties that result when commanders with competing agendas cannot resolve their differences.
Praise For One Hundred Victories: Special Ops and the Future of American Warfare…
ARMY Magazine
"Linda Robinson has enhanced her well-deserved reputation as an acclaimed military expert with her latest work, One Hundred Victories. She has appreciably added to the understanding of America's intrepid special operations forces, the 'quiet professionals' in Afghanistan…One Hundred Victories is Robinson's third book and perhaps her best work to date. The book is a compelling group portrait of America's most dedicated warriors, and it will appeal to both serious and not-so-serious historians alike, as well as the casual observer looking for a good read."

Howard Altman, Tampa Tribune
"If you want to get a good sense of the main mission of commandoes in Afghanistan, pick up a copy of Linda Robinson's recently released 'One Hundred Victories: Special Ops and the Future of American Warfare.'"

Booklist
"Sure to appeal to readers of military nonfiction….Ultimately, this isn't really a story about war; it's a story about how an organization—one so complex you might almost call it an organism—evolves under pressure and becomes something better and more efficient than it once was."

Library Journal
"Robinson enjoyed very open access to special forces, a world ordinarily cloaked in secrecy…. Recommended to readers interested in delving further into the context of our special forces, the U.S. war in Afghanistan, or U.S. military affairs generally."

Publishers Weekly
"Robinson delivers vivid, blow-by-blow accounts of a dozen Special Ops campaigns to train local Afghans to defend their communities. She recounts many victories—despite spotty cooperation from the Afghan government and conventional American forces—as well as a few failures. … The author—who is no Pollyanna and is a much better writer than the average academic—delivers a painfully realistic account of how Special Ops have valiantly tried to turn matters around in Afghanistan."

Kirkus Reviews
"Robinson makes a sincere effort to understand these elite warriors on human terms…[An] approachable, detailed account of the men for whom extreme warfare is a daily job and the American policies driving their expanded mission."

New York Journal of Books
"A timely work that is part military history and part after-action analysis… Ms. Robinson provides an excellent primer on how counterinsurgency is done at the village level, from the isolation and hardships the American endured to their patient cultivation of the trust of village elders to side with them in fighting the Taliban."

Admiral William McRaven, Commander of U.S. Special Operations Command, on NPR's "The National Conversation"
"Folks within the Special Operations community listen to Linda Robinson, and when they listen to her I listen to them.… When you listen to what she has to say and the power of her arguments, it's hard to argue with her. Linda, thanks for all the great work you've done."

Admiral Eric Olson, U.S. Navy (Retired), Former Commander of U.S. Special Operations Command
"Linda Robinson has again accurately captured the unique spirit, competence and complexity of special operations forces. As a long-time, close-up observer of SOF in action, Linda understands the organizations, capabilities and personalities that make them so effective in ambiguous and dangerous situations. I highly regarded her careful analysis and honest presentation of the facts and issues that dominate SOF's deployments and missions. Her writing is streamlined, very readable and thoroughly enjoyable."

New York Times Book Review
"Linda Robinson's 'One Hundred Victories: Special Ops and the Future of American Warfare' is a ground-level snapshot of American counterinsurgency in Afghanistan… Robinson, a senior international policy analyst at RAND, gives us a close-up portrait of how these small, highly skilled groups have gone about their mission of helping Afghan villages and local leaders protect themselves from Taliban insurgents. Her treatment is rich and detailed… The book is a worthy addition to the literature on the war."

US Naval Institute's Proceedings
"[Robinson] is quite literally an expert without peer with it comes to the issues of SOF policy and SOF force application… Highly readable and paints a compelling picture of SOF in the 2010-12 timeframe… The result is a series of ground-truth, factual vignettes that provide a glimpse into the personal as well as the policy… This is a fine book, and Robinson is to be commended for her work in linking the future of SOF to his recent history in Afghanistan in such a personal and readable manner. ..We can count on Linda Robinson to keep us abreast of the current disposition and future of SOF."
PublicAffairs, 9781610394680, 344pp.
Publication Date: October 14, 2014
About the Author
Linda Robinson is a senior international policy analyst at RAND. She has been an adjunct senior fellow at the Council on Foreign Relations and Public Policy Scholar at the Wilson Center. Her book about the U.S. Army Special Forces, Masters of Chaos, was a New York Times bestseller; Tell Me How This Ends, which is about the Iraq War, was a Foreign Affairs bestseller and a New York Times notable book. Robinson received the Gerald R. Ford Prize for Reporting on National Defense in 2005. She has conducted field research on special operations in Afghanistan, Iraq, Latin America, and elsewhere over the past twelve years.
or
Not Currently Available for Direct Purchase