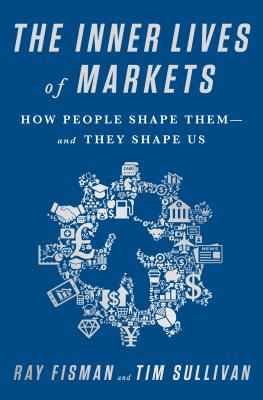 The Inner Lives of Markets
How People Shape Them-And They Shape Us
Hardcover

* Individual store prices may vary.
Description
America's economic revolution isn't just driven by technology. It's about markets.

The past twenty-five years have witnessed a remarkable shift in how we get the stuff we want. If you've ever owned a business, rented an apartment, or shopped online, you've had a front-row seat for this revolution-in-progress. Breakthrough companies like Amazon and Uber have disrupted the old ways and made the economy work better -- all thanks to technology.

At least that's how the story of the modern economy is usually told. But in this lucid, wry book, Ray Fisman and Tim Sullivan show that the revolution is bigger than tech: it is really a story about the transformation of markets. From the auction theories that power Google's ad sales algorithms to the models that online retailers use to prevent internet fraud, even the most high-tech modern businesses are empowered by theory first envisioned by economists.

And we're all participants in this revolution. Every time you book a room on Airbnb, hire a car on Lyft, or click on an ad, you too are reshaping our social institutions and our lives.

The Inner Lives of Markets is necessary reading for the modern world: it reveals the blueprint for how we work, live, and shop, and offers wisdom for how to do it better.
Praise For The Inner Lives of Markets: How People Shape Them-And They Shape Us…
"An entertaining overview of economic thought from WWII to the 2000s…witty and energetic." —Publishers Weekly

"Bright, accessible…A thoughtful examination of the mechanics of our one-click world." —Kirkus Reviews

"This book is essential reading for any non-economist who wants to understand how markets shape our world, including transformational marketplaces like Amazon, Airbnb, and eBay." —Reid Hoffman, chairman of LinkedIn

"With great clarity and with many vivid examples, The Inner Lives of Markets explains how the post–World War II worldly philosophers (i.e., economists) have reconceived the workings of our economic system. That reconception takes us far from the black and white of Adam Smith and Karl Marx; yet more interestingly, it is in many shades of gray." —George Akerlof, Nobel Laureate in Economics
PublicAffairs, 9781610394925, 224pp.
Publication Date: June 7, 2016
About the Author
Ray Fisman is the Slater Chair in Behavioral Economics at Boston University. Previously, he was Lambert Family Professor of Social Enterprise and co-director of the Social Enterprise Program at the Columbia Business School. He is the author of The Org, with Tim Sullivan, and Economic Gangsters, with Ted Miguel.

Tim Sullivan is the editorial director of Harvard Business Review Press and has worked at Basic Books, Portfolio, and Princeton University Press, where he helped build one of the most successful academic economics lists in the world.
or
Not Currently Available for Direct Purchase