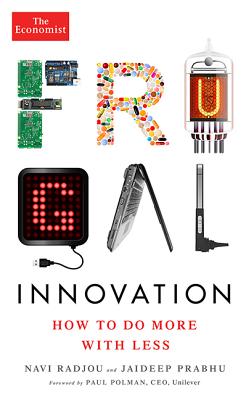 Frugal Innovation
How to do more with less (Economist Books)
Paperback

* Individual store prices may vary.
Description
Winner of the CMI Management Book of the Year 2016

Frugal innovation is a way that companies can create high-quality products with limited resources. Once the preserve of firms in poor markets, Western companies are now seeking ways to appeal to cost-conscious and environmentally-aware consumers at home. With an estimated trillion-dollar global market for frugal products, and with potentially huge cost savings to be gained, frugal innovation is revolutionizing business and reshaping management thinking. This book explains the principles, perspectives and techniques behind frugal innovation, enabling managers to profit from the great changes ahead. The book explains:

How to achieve mass customization, using low-cost robotics, inexpensive product design and virtual prototyping software.

How consumers and other external partners can help develop products

How to implement sustainable practices, such as the production of waste-free products

How to change the corporate culture to become more frugal

Praise For Frugal Innovation: How to do more with less (Economist Books)…
"Radjou and Prabhu demonstrate that frugal innovation is one of the most critical emerging models of value creation for both businesses and the customers they serve."
—Indra K. Nooyi, chairman and CEO, PepsiCo, Inc.
"Required reading for executives who want to get to market faster and more efficiently while delivering what customers want."
—Beth Comstock, Senior Vice President and Chief Marketing Officer, GE
"The practical roadmap and numerous cases in this book find the beat of the new customer-led world order—where velocity, synergy, empathy and involvement come standard. The future will be about doing more with less, and here we see how."
—Kevin Roberts, CEO Worldwide, Saatchi & Saatchi
"Health care may be the global sector most urgently in need of Radjou and Prabhu's insights in this book. Innovation must be harnessed to create massive, sustainable improvements in health delivery systems without crippling economic growth.
Frugal innovation
sets forth a compelling roadmap for delivering better care at lower cost for more people."—
Molly Coye, MD, Chief Innovation Officer, UCLA Health
"Insightfully articulates how Western companies can evolve to capture opportunities presented by the burgeoning "do more with less" economy."—
Dominic Barton, Global Managing Director, McKinsey & Company
Winner of the CMI Management Book of the Year 2016

"An engrossing masterclass from two business school academics in how companies can develop high-quality products with limited resources." —Independent

""The book is enlivened by fascinating case studies" —Financial Times

"This book lists practical solutions for companies who want to do more innovation with less, no matter where you are in the world."—Henry Chesbrough, Faculty Director, Garwood Center for Corporate Innovation at UC Berkeley's Haas School of Business, and author, Open Innovation

"The authors make a compelling case for a feedback-rich economy that is restorative and regenerative rather than extractive, heading for the "upcycle". (They) are to be congratulated for their stimulating guide to the future."—The Ellen MacArthur Foundation

"Frugal innovation is now becoming a strategic business imperative in developed economies, where consumers demand affordable and sustainable products. No business leader in the 21st century can ignore the paradigm shift fully described in this book." —Carlos Ghosn, Chairman and CEO, Renault-Nissan Alliance
The Economist, 9781610395052, 272pp.
Publication Date: February 10, 2015
About the Author
Navi Radjou is an innovation and leadership advisor based in Silicon Valley. A Fellow at Judge Business School, University of Cambridge, he won the 2013 Thinkers50 Innovation Award and spoke at TED Global 2014. He is a regular contributor to Harvard Business Review online. Previously, he served as Vice President at Forrester Research in Boston and San Francisco. Over 18 years, he has consulted for leading global firms including BP, Campbell Soup, Cisco, E&Y, Fujitsu, GM, Hitachi, IBM, Microsoft, P&G, Rolls-Royce and SAP. He co-authored the international bestsellers Jugaad Innovation and From Smart To Wise. He is a sought-after keynote speaker who is widely quoted in international media. An Indian-born French national, Navi lives in Palo Alto, California.

Jaideep Prabhu is a writer, consultant and Director of the Centre for India & Global Business at Judge Business School, Cambridge, specializing in marketing, innovation, strategy and international business. Jaideep Prabhu is a member of the editorial boards of the Journal of Marketing, the Journal of the Academy of Marketing Science, the International Journal of Research in Marketing Science and the Journal of Management Studies, and a member of the senior advisory board of the European Journal of Marketing.

He has consulted with or taught executives from ABN Amro, Bertelsmann AG, British Telecom, the UK's Department of Trade and Industry (DTI), EDS, Egg, IBM, ING Bank, Laird, the NHS, Nokia, Oce Copiers, Philips, Roche, Shell, Vodafone and Xerox among other organisations in Colombia, Finland, Germany, Netherlands, Portugal, Switzerland, UK and US. He has been interviewed by or has had his work profiled on BBC News 24, The New York Times, MIT Sloan Management Review, BusinessWeek, US News & World Report, The Financial Times, Le Monde, The Times, The Times of India, and elsewhere. He earned his PhD at the University of Southern California. He lives in Cambridge, England.


or
Not Currently Available for Direct Purchase