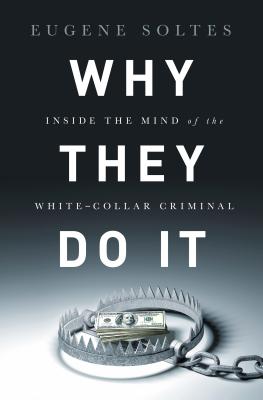 Why They Do It
Inside the Mind of the White-Collar Criminal
Hardcover

* Individual store prices may vary.
Other Editions of This Title:
Digital Audiobook (10/10/2016)
Paperback (3/5/2019)
Compact Disc (10/11/2016)
Compact Disc (10/11/2016)
MP3 CD (10/11/2016)
Compact Disc (10/11/2016)
Description
What drives wealthy and powerful people to white-collar crime? Why They Do It is a breakthrough look at the dark side of the business world.

From the financial fraudsters of Enron, to the embezzlers at Tyco, to the insider traders at McKinsey, to the Ponzi schemer Bernie Madoff, the failings of corporate titans are regular fixtures in the news. In Why They Do It, Harvard Business School professor Eugene Soltes draws from extensive personal interaction and correspondence with nearly fifty former executives as well as the latest research in psychology, criminology, and economics to investigate how once-celebrated executives become white-collar criminals.

White-collar criminals are not merely driven by excessive greed or hubris, nor do they usually carefully calculate costs and benefits before breaking the law. Instead, Soltes shows that most of the executives who committed crimes made decisions the way we all do-on the basis of their intuitions and gut feelings. The trouble is that these gut feelings are often poorly suited for the modern business world where leaders are increasingly distanced from the consequences of their decisions and the individuals they impact.

The extraordinary costs of corporate misconduct are clear to its victims. Yet, never before have we been able to peer so deeply into the minds of the many prominent perpetrators of white-collar crime. With the increasing globalization of business threatening us with even more devastating corporate misconduct, the lessons Soltes draws in Why They Do It are needed more urgently than ever.
Praise For Why They Do It: Inside the Mind of the White-Collar Criminal…
"[Soltes] has done a great service with Why They Do It. Not only does he draw on psychological research to dissect the way white-collar criminals think-or fail to think-before they act. But he also interviews several of the most famous white-collar criminals of our time, among them, the corrupt lawyer Marc Dreier and the financial swindlers Allen Stanford and Bernie Madoff. He presents what he has found in a spirit of understanding rather than condemnation."—Wall Street Journal

"[Soltes] takes a unique approach, looking for the connections between what motivated these men - and yes, they are all men - and asking not what they did but why they did it....Soltes creates some fascinating portraits."—Washington Post

"Groundbreaking...[an] impressive debut...A forcefully developed and documented contribution to our further understanding of high-level criminality in lightly regulated free markets."—Kirkus Reviews
PublicAffairs, 9781610395366, 464pp.
Publication Date: October 11, 2016
About the Author
Eugene Soltes is the Jakurski Family Associate Professor of Business Administration at Harvard Business School. His research on corporate malfeasance has been cited by the Wall Street Journal, Financial Times, USA Today, and Bloomberg News. Professor Soltes teaches in Harvard Business School's executive education programs and is the recipient of the Charles M. Williams Award for Outstanding Teaching. He received his PhD and MBA from the University of Chicago Booth School of Business and his AM in statistics and AB in economics from Harvard University.