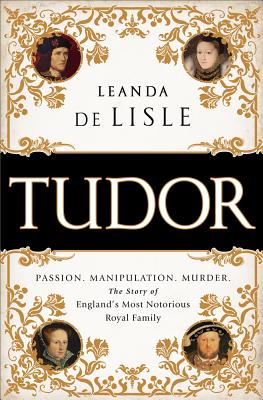 Tudor (Paperback)
Passion. Manipulation. Murder. The Story of England's Most Notorious Royal Family
PublicAffairs, 9781610395458, 576pp.
Publication Date: February 24, 2015
Other Editions of This Title:
Digital Audiobook (3/31/2016)
Hardcover (10/8/2013)
* Individual store prices may vary.
Description
The Tudors are England's most dramatic royal family-Henry VIII notoriously divorced his queen and broke with the church of Rome, and Elizabeth I became the greatest English queen in history. But they are a dynasty still more extraordinary than the one we thought we knew.In an epic narrative sweeping from 1437 to the first decade of the seventeenth century, Tudor traces the rise and rule of the dynasty. Brutal political instability dominated England, and Leanda de Lisle reveals the personalities, passions, and obsessions of the men and women at its epicenter.This groundbreaking story opens at the unlikely beginning of the Tudor dynasty-with Owen Tudor, a handsome Welsh commoner who, with a pirouette and a trip, landed squarely in the lap of the English Monarchy. The struggle of Owen's grandson Henry VII and his heirs to secure the line of succession-and the hopes, loves, and losses of the claimants-are the focus of this book. The universal appeal of the Tudors also lies in the family stories: of a mother's love for her son, of the husband who kills his wives, of siblings who betray one another, of reckless love affairs, of rival cousins, of an old spinster whose heirs hope to hurry her to her end. Thrilling to read and bristling with religious and political intrigue, Tudor tells the true story behind the myths, throwing a fresh, new light on this perennially fascinating era.
About the Author
Leanda de Lisle is the highly acclaimed author of The Sisters Who Would Be Queen: The Tragedy of Mary, Katherine, and Lady Jane Grey and After Elizabeth: The Death of Elizabeth and the Coming of King James. She has been a columnist at the Spectator, Country Life, the Guardian, the Sunday Telegraph, and the Daily Express, and writes for the Daily Mail, the New Statesman, and the Sunday Telegraph. She lives in Leicestershire.
Praise For Tudor: Passion. Manipulation. Murder. The Story of England's Most Notorious Royal Family…
"Leanda de Lisle reveals such hidden depths in the vivid history of England's most famous dynasty"—The American Conservative
"Deeply researched but vibrantly accessible." — Wall Street Journal

"Leanda de Lisle has the gift of reminding us that history is the story of real people; real men, real women, full of rage and ambition and lust and hope and love. The Tudors are already our most vivid dynasty, by quite a long chalk, but these pages render them more vivid still. This was an age when the game was worth the candle, when a chance remark could result in a crown or the axe. Wonderful, passionate, dangerous, fascinating stuff. I couldn't put it down."—Julian Fellowes, creator of Downton Abbey

"This fresh take on the Tudor dynasty is history at its best… an engaging and well-sourced account, sprinkled with provocative anecdotes that will appeal to both scholars and general readers… This compelling tale is driven by three-dimensional people and relationships, and de Lisle does a fantastic job of making them feel lived and dramatic. " — Publishers Weekly, starred

"A reliable and amply researched guide." — Kirkus Reviews

"Enjoyable, well-written… De Lisle examines the key events and characters that make the Tudor story interesting… This is a very well-done popular history ideal for general readers." — Booklist

"Six centuries after they began, the Tudors are still England's most famous family. Their story is told in full in Leanda de Lisle's Tudor, a wonderfully fluent portrait of five generations that connects the often overlooked fifteenth century Tudors with the more famous stuff. In bridging this divide, de Lisle brings an entirely fresh feel to the Tudor story, reminding us of the one thing the monarchs themselves wanted us to forget: the sheer improbability of their royal rule." —The Times (London)

"Europe has produced no family saga that could match the Tudors. Rarely has that story been so well told as here." — The Mail

"De Lisle's masterful command of the facts – great and small – provides a complete and entertaining overview." — The Guardian