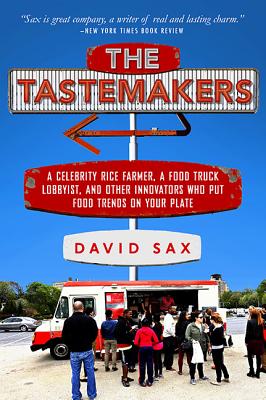 The Tastemakers (Paperback)
A Celebrity Rice Farmer, a Food Truck Lobbyist, and Other Innovators Putting Food Trends on Your Plate
PublicAffairs, 9781610395496, 336pp.
Publication Date: May 26, 2015
Other Editions of This Title:
Hardcover (5/27/2014)
MP3 CD (11/3/2015)
* Individual store prices may vary.
Description
Tastemaker, n. Anyone with the power to make you eat quinoa.

Kale. Spicy sriracha sauce. Honeycrisp apples. Cupcakes. These days, it seems we are constantly discovering a new food that will make us healthier, happier, or even somehow cooler. Chia seeds, after a brief life as a novelty houseplant and I Love the '80s punchline, are suddenly a superfood. Not long ago, that same distinction was held by pomegranate seeds, aç berries, and the fermented drink known as kombucha. So what happened? Did these foods suddenly cease to be healthy a few years ago? And by the way, what exactly is a "superfood" again?

In this eye-opening, witty work of reportage, David Sax uncovers the world of food trends: Where they come from, how they grow, and where they end up. Traveling from the South Carolina rice plot of America's premier grain guru to Chicago's gluttonous Baconfest, Sax reveals a world of influence, money, and activism that helps decide what goes on your plate. On his journey, he meets entrepreneurs, chefs, and even data analysts who have made food trends a mission and a business. The Tastemakers is full of entertaining stories and surprising truths about what we eat, how we eat it, and why.
About the Author
David Sax is a writer, reporter, and speaker who specializes in business and culture. His previous book, The Revenge of Analog, was a #1 Washington Post bestseller, was selected as one of Michiko Kakutani's Top Ten books of 2016 for the New York Times, and has been translated into six languages. He is the author of Save the Deli, which won a James Beard award, and The Tastemakers. He lives in Toronto.
Praise For The Tastemakers: A Celebrity Rice Farmer, a Food Truck Lobbyist, and Other Innovators Putting Food Trends on Your Plate…
"Entertaining… Sax has seized on a big, juicy topic, and is at his best in on-the-scene reporting, where the brisk, funny, assured voice that earned him many fans…keeps us galloping through the aisles… Sax is great company, a writer of real and lasting charm… The Tastemakers will leave readers wondering about how susceptible we are to the charms of any new food—and how long we're likely to stay captivated."—New York Times Book Review

"Sax…embarks on a lively culinary your of America, consulting chefs, producers, foodies, food buyers, and trend forecasters to find out why one day sriracha sauce is all the rage, and the next, people are adding kale to every meal."—The Economist

"Sax has done his homework—and probably put on a few pounds. A solid overview of trendsetting foods brought to life with colorful examples."—Kirkus Reviews

"Sax declares, food trends, though sometimes annoying, deepen and expand our cultural palate, spur economic growth, provide broad variety in our diets, and promote happiness."—Publishers Weekly