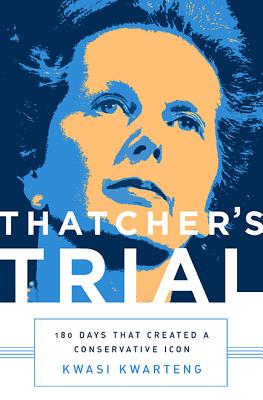 Thatcher's Trial (Hardcover)
180 Days that Created a Conservative Icon
PublicAffairs, 9781610395625, 272pp.
Publication Date: November 3, 2015
* Individual store prices may vary.
Description
In six months, Margaret Thatcher reinvented her political party and redefined modern conservatism in one of the greatest feats of modern political leadership.

In 1981, less than two years after she had been elected as Britain's first woman prime minister, Margaret Thatcher was deemed unpopular and out of touch. Unemployment had risen to levels not seen since the 1930s, and the state's finances were foundering. Her chancellor of the exchequer delivered what became known as the 'no hope' budget in March, which marked the beginning of a period of an almost unprecedentedly broad range of political challenges: hunger strikes and violent protests in Northern Ireland, urban riots in London and Liverpool, and visible discontent with Thatcher from within the Conservative Party.

And yet by September 14, when Thatcher sacked 4 mutinous grandees from her cabinet, the prime minister had firmly reasserted her authority. These extraordinary six months would come to define the Conservative Party's most successful and modern leader, who reshaped the ideas and direction of conservatism around the world. To her detractors she may have been a harsh, uncaring and dogmatic leader who made the country a more unequal, materialistic and brutal place, but to her supporters, she was nothing less than a Conservative savior who prevented Britain from becoming an ungovernable socialist state. The 1983 general election would prove a triumph.

Kwasi Kwarteng intimately captures this shopkeeper's daughter's unique leadership qualities—from her pulpit-style and New Testament imagery to her emphasis on personal moral responsibility—that saw her through some of the most adverse conditions facing any world leader in modern peacetime.
About the Author
Kwasi Kwarteng was born in London in 1975. He earned a PhD in History from Cambridge University in 2000. Kwasi was elected as the Conservative Member of Parliament for Spelthorne in 2010 and sat on the House of Commons Transport Select Committee from 2010 to 2013; he currently sits on the House of Commons Work and Pensions Select Committee. His first book, Ghosts of Empire, was published to critical acclaim by Bloomsbury in the UK and PublicAffairs in US in August, 2011. His second book, War and Gold, was published in May, 2014.
Praise For Thatcher's Trial: 180 Days that Created a Conservative Icon…
"A largely positive but not uncritical reassessment…Readers on this side of the pond who are puzzled by the impassioned esteem and disdain in which Thatcher is held in Britain will find much of value in this short but illuminating study." —Kirkus Reviews

"Even now, Margaret Thatcher is a divisive figure. Those who want to read only about the evil she did should, I suppose, avoid this study. For others, it is an easy read that does not lecture: it tells." —The Independent