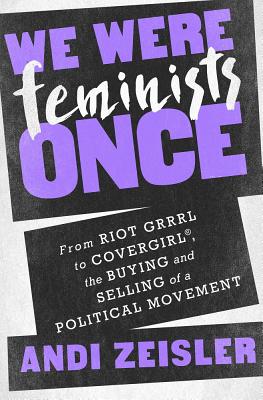 We Were Feminists Once
From Riot Grrrl to CoverGirl®, the Buying and Selling of a Political Movement
Hardcover

* Individual store prices may vary.
Other Editions of This Title:
Compact Disc (5/3/2016)
Paperback (3/28/2017)
MP3 CD (5/3/2016)
Compact Disc (5/3/2016)
Compact Disc (5/3/2016)
MP3 CD (5/3/2016)
Description
Feminism has hit the big time. Once a dirty word brushed away with a grimace, "feminist" has been rebranded as a shiny label sported by movie and pop stars, fashion designers, and multi-hyphenate powerhouses like Beyoncé It drives advertising and marketing campaigns for everything from wireless plans to underwear to perfume, presenting what's long been a movement for social justice as just another consumer choice in a vast market. Individual self-actualization is the goal, shopping more often than not the means, and celebrities the mouthpieces.

But what does it mean when social change becomes a brand identity? Feminism's splashy arrival at the center of today's media and pop-culture marketplace, after all, hasn't offered solutions to the movement's unfinished business. Planned Parenthood is under sustained attack, women are still paid 77 percent -- or less -- of the man's dollar, and vicious attacks on women, both on- and offline, are utterly routine.

Andi Zeisler, a founding editor of Bitch Media, draws on more than twenty years' experience interpreting popular culture in this biting history of how feminism has been co-opted, watered down, and turned into a gyratory media trend. Surveying movies, television, advertising, fashion, and more, Zeisler reveals a media landscape brimming with the language of empowerment, but offering little in the way of transformational change. Witty, fearless, and unflinching, We Were Feminists Once is the story of how we let this happen, and how we can amplify feminism's real purpose and power.
Praise For We Were Feminists Once: From Riot Grrrl to CoverGirl®, the Buying and Selling of a Political Movement…
"A deeply researched account…The best part about Zeisler's writing on pop culture is that she doesn't hate it; she's a connoisseur, which makes her the most entertaining, well-informed of critics. She applies an almost encyclopedic knowledge of film, television, music, and advertising to reveal the funhouse-mirrorlike results of mainstream culture's co-optation of radical ideas…Witty, well-informed prose." –
Rewire
"With delightfully dry wit, Zeisler carries the discussion of the portrayal of women in advertising, movies, television, and fashion both in the present day and recent history. …This thought-provoking yet sobering consideration of the current state of feminism emphasizes the need to continue to fight for full equality. Highly recommended for readers with an interest in women's studies, pop culture, and the media."
—Library Journal, Editors' Spring Pick 2016
"Spirited, witty, and ferociously incisive."
—Kirkus Reviews
"Zeisler's analysis of what she calls 'marketplace feminism' is acute and endlessly relevant, highlighting the insidiousness of the coopting powers that be, and calling on feminists to direct their resources toward legitimate political action and reclaim feminism as an identity, not something commodifiable."
—Publishers Weekly
—
-
"In a world where women still have so much work to do to achieve equality, this look at the feminism we're being sold will engross and enrage you, and will likely redefine what the movement means to you."—
Molly Labell, BUST
"A razor sharp new book."
—The Guardian
"Nuanced, smart and funny."
—Susan J. Douglas, In These Times
"Zeisler aims to illuminate the route by which feminism arrived at its current state, to draw us all into the fight to make it better by showing us how we might have contributed to making it worse…If marketplace feminism is a way to promise the powerful that feminism poses no real threat to the status quo, this anti-market feminism isn't afraid to frighten the powerful. It is based in collective struggle. It is the only thing that will make change."
—Sarah Jaffe, The New Republic
"Exceptionally well researched and documented, impressively well written, organized and presented,
We Were Feminists Once
is as informed and informative as it is thoughtful and thought-provoking. A critically important and very highly recommended addition."
—Midwest Book Review
"Zeisler's cogent arguments are tempered with biting humor…Feminism is a duty; a mission, not a meme."—
Heather Seggel, The Progressive Populist
—
-
"In this powerful book, Zeisler explores what happens when feminism is watered down and co-opted by corporations. Here's a hint: It's no longer transformational."
—Evette Dionne, Revelist
"Zeisler draws readers in with her conversational prose and incisive wit, and employs plenty of specific examples to portray the countless ways in which feminism has been co-opted by entities ranging from Lilith Fair to Special K to Republicans to Botox."
—Michigan Quarterly Review
"
We Were Feminists Once
explores how feminism evolved from a radical fringe movement into something that is altogether softer and sexier, a kind of lifestyle brand…But the context of Zeisler's book suggests that simply identifying oneself as a feminist is a fruitless goal. For her, the future of the movement depends not on 'who labels themselves feminist', but on 'what they're doing with feminism.' It seems wise to stay focused on that."
—Anna Leszkiewicz, New Statesman [UK]
—
-
"A shrewd survey…Zeisler serves up a series of subtle and fascinating vignettes…with all the smart banter you'd expect from an article in Bitch Magazine. This is a fun, funny, deeply learned book that is too clever to come to a simple conclusion." —Laurie Penny, New York Times Book Review

"Ms. Zeisler is an incisive, tough-minded writer, attacking her subjects with a diamond cutter… A funny, polished, intrepid book." —Jennifer Senior, New York Times

"Sharp and witty, the book is filled with astute…analysis." —The New Yorker

"A sharp new examination of the uses and misuses of feminism…Wide-ranging and thoroughly entertaining." —Kate Tuttle, The Boston Globe

"Artful and merciless… With this challenging book, Zeisler's proved that feminism can be complex and hard and fun, too." —The Washington Post

"A vital commentary…An ambitious project where the author pulls off deep, intelligent analysis in a markedly conversational tone. Zeisler has delivered an accessible, nuanced critique of how representations of feminism have shifted over decades." –Stacey May Fowles, The Globe and Mail—-
PublicAffairs, 9781610395892, 304pp.
Publication Date: May 3, 2016
About the Author
Andi Zeisler is a writer, editor, and cultural critic. She is the cofounder of Bitch Media, the nonprofit best known for publishing the award-winning quarterly magazine Bitch: Feminist Response to Pop Culture, which has over 50,000 subscribers.

Zeisler is extremely plugged into the community of feminist bloggers, her writing on feminism, popular culture, and media has appeared in newspapers and magazines including Ms., Mother Jones, BUST, the San Francisco Chronicle, the Los Angeles Review of Books, and the Washington Post. She regularly speaks at colleges and universities and holds interviews in various national publications and radio programs around the country. She has been featured and interviewed in publications like the New York Times, among others.
or
Not Currently Available for Direct Purchase