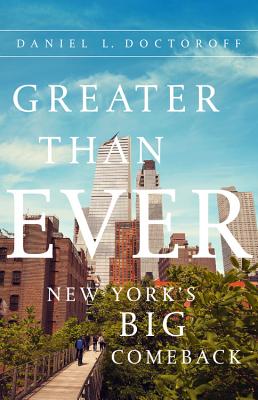 Greater than Ever (Hardcover)
New York's Big Comeback
PublicAffairs, 9781610396073, 400pp.
Publication Date: September 12, 2017
* Individual store prices may vary.
Description
The former deputy mayor of New York City tells the story of the city's comeback after 9/11, offering lessons in resiliency under the most trying of circumstances, and a model for the rejuvenation of any city.
Deputy Mayor Daniel L. Doctoroff led New York's dramatic and unexpected economic resurgence after the September 11 terrorist attacks. With Mayor Michael Bloomberg, he developed a remarkably ambitious five-borough economic development plan to not only recover from the attacks but to completely transform New York's economy: New neighborhoods were created. Hundreds of thousands of jobs were generated. The largest municipal affordable housing plan in American history was completed. Ground Zero was rebuilt. And New York adopted a pathbreaking sustainability plan.
None of this was straightforward. New York has some of the most entrenched financial and political interests anywhere, and it has a population that is quick to let its public officials know exactly what is on its mind. Doctoroff's plans for a New York Olympic Games and a stadium on the West Side crashed and burned, but phoenix-like he engineered the transformation of the city anyway.
Greater than Ever is a bracing adventure--when can-do attitude dove headlong into New York's unique realpolitik of "fuggedaboutit"--during which the city was changed for the better.
About the Author
Dan Doctoroff is the founder and chief executive officer of Sidewalk Labs, an Alphabet company that works with cities to build products that address big urban problems. Prior to launching Sidewalk, he was CEO and president of Bloomberg LP, the leading provider of financial news and information. From 2002-2008, he was New York City's deputy mayor for economic development and rebuilding. Outside of work, he serves on the boards of the University of Chicago, World Resources Institute, and Human Rights First. He is a founder of Target ALS, an initiative to streamline discovery of new approaches to treating ALS (also known as Lou Gehrig's disease), and a founder and chairman of Culture Shed, New York's newest cultural institution.

Praise For Greater than Ever: New York's Big Comeback…
"Lots of people (like
me) write about cities and city-building, Daniel L. Doctoroff actually builds
cities. As the world embarks on the greatest wave of urbanism in history, Greater
than Ever provides the playbook for building truly great cities based on
Doctoroff's experience rebuilding the world's greatest city, New York."—Richard Florida, author of The Rise of the Creative Class and The New Urban Crisis



"Whenever I ride my
bicycle through New York, I can see the personal imprint of Daniel L.
Doctoroff, whose visionary work made the city we both love better. This book is
a bird's-eye view of successful government, told by an effective, bold, and
persuasive public servant."—Senator Chuck Schumer, New York

"The recovery of New
York in the ten years after the World Trade Center disaster was nothing short
of miraculous. The skyscrapers, the jobs, and the sense of optimism all
returned. New York was once again the capital of the world. No one had more to
do with this result than Daniel L. Doctoroff. Whether the topic is affordable
housing, the High Line, Ground Zero, the campaign for the Olympics, or the
reconstruction of the waterfront, Doctoroff had his fingers all over the fight.
Greater Than Ever is Doctoroff's story, and he tells it with humility,
clarity, grace, perception, and honesty."—Kenneth T. Jackson, editor in chief, Encyclopedia of New York City, and Barzun Professor of History, Columbia University

"A valuable lesson in
how much money, brainpower and relentless application it takes to achieve real
progress in a big city beset by old-school politics, racial and ethnic
conflict, and crumbling infrastructure... The Wall Street savvy of Mr. Doctoroff
and the people he recruited conjured innovative financial solutions that often
saved the day... No one can fairly argue that Bloomberg and Co. didn't leave New
York far, far stronger than they found it."—Wall Street Journal

"[Greater Than
Ever] chronicles Doctoroff's time as deputy mayor and offers an
inside-city-hall look at what it took to revive lower Manhattan after the 9/11
attacks, grow and diversify the city's economy, spur major projects such as
Hudson Yards and the High Line, increase affordable housing investment, and
more."—Next City

"Under Doctoroff's
leadership, the landscape of New York from Lower Manhattan to downtown Brooklyn
has radically changed. During his six years in office, Doctoroff laid the groundwork
for the High Line, now one of New York's most popular tourist attractions, and
Hudson Yards, an entire new neighborhood that will bring the city billions in
tax revenue over the next decades."—Fast Company

"[An] entertaining affirmation of government's ability
to shape society, physically and economically... There are a dozen smart ideas
here worth replicating."—Architectural Record

"A fascinating peek at a critical moment in New York's
history."—Curbed New York

"Few people have had a greater impact on the look and
feel of New York City than Dan Doctoroff... In his new memoir, Greater
Than Ever, he describes the behind the scenes policy discussions that led
to projects like the High Line, Hudson Yards, the World Trade Center Complex,
and Barclays Center. He remains on the cutting edge of urbanism."—City Lab

"A must-read for urban development wonks."—Media Post

"Doctoroff had a sweeping portfolio of
responsibilities, but his most important legacy-and one of the Bloomberg
administration's-was the physical revival of New York City."—City Journal

"An optimistic urbanist voice is especially welcome and timely."—Harvard Magazine