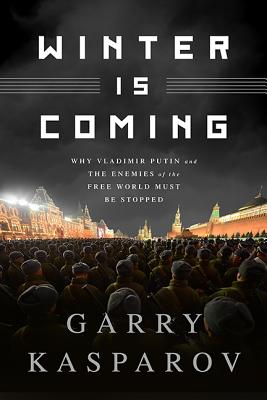 Winter Is Coming (Hardcover)
Why Vladimir Putin and the Enemies of the Free World Must Be Stopped
PublicAffairs, 9781610396202, 320pp.
Publication Date: October 27, 2015
Other Editions of This Title:
Paperback (11/8/2016)
MP3 CD (1/19/2016)
* Individual store prices may vary.
Description
The stunning story of Russia's slide back into a dictatorship-and how the West is now paying the price for allowing it to happen.

The ascension of Vladimir Putin-a former lieutenant colonel of the KGB-to the presidency of Russia in 1999 was a strong signal that the country was headed away from democracy. Yet in the intervening years-as America and the world's other leading powers have continued to appease him-Putin has grown not only into a dictator but an internationalthreat. With his vast resources and nuclear arsenal, Putin is at the center of a worldwide assault on political liberty and the modern world order.

For Garry Kasparov, none of this is news. He has been a vocal critic of Putin for over a decade, even leading the pro-democracy opposition to him in the farcical 2008 presidential election. Yet years of seeing his Cassandra-like prophecies about Putin's intentions fulfilled have left Kasparov with a darker truth: Putin's Russia, like ISIS or Al Qaeda, defines itself in opposition to the free countries of the world.

As Putin has grown ever more powerful, the threat he poses has grown from local to regional and finally to global. In this urgent book, Kasparov shows that the collapse of the Soviet Union was not an endpoint-only a change of seasons, as the Cold War melted into a new spring. But now, after years of complacency and poor judgment, winter is once again upon us.

Argued with the force of Kasparov's world-class intelligence, conviction, and hopes for his home country, Winter Is Coming reveals Putin for what he is: an existential danger hiding in plain sight.
About the Author
Garry Kasparov is a business speaker, global human rights activist, author, and former world chess champion. His keynote lectures and seminars on strategic thinking, achieving peak performance, and tech innovation have been acclaimed in dozens of countries. A frequent contributor to the Wall Street Journal, he is the author of How Life Imitates Chess and Deep Thinking. He is a Senior Visiting Fellow at the Oxford Martin School, working in cooperation with the Future of Humanity Institute. He lives in New York.

Praise For Winter Is Coming: Why Vladimir Putin and the Enemies of the Free World Must Be Stopped…
"A compelling story of courage and civic-mindedness...With his wealth and status, [Kasparov] could easily have opted to live out life like a Russian oligarch, buying baubles and yachting from port to port. Instead, he plunged into politics, organizing coalitions to challenge the autocratic rule of Vladimir Putin, taking a leading role in public demonstrations and marches, and in 2007 running for president himself...Winter Is Coming presents a picture of the internal forces propelling Russia's descent into aggressive authoritarianism. And it offers a scathing analysis of the contribution of the West to that outcome." --Wall Street Journal

"Brave, trenchant and convincing... The book gallops through the collapse of the Soviet Union and the chaotic 1990s and then charges full tilt at Vladimir Putin: a former KGB man who is a far more dangerous adversary than most outsiders realise. His rise to power in 1999 should have been a deafening alarm call to the West: as shocking as an ex-Gestapo officer coming to power in Germany... Western politicians who offer grand visions and bold leadership, such as Senator John McCain, don't get elected. Voters in democratic countries tend to prefer low key leaders and a quiet life to blood, sweat, toil and tears. How does one defend a free world that does not want to defend itself? Let us hope that Kasparov's book becomes a bestseller." --The Sunday Times (UK)

"His prose, like his chess, is fast, ferocious and unforgiving... vividly describes the growing authoritarianism of Mr. Putin's regime, culminating in the February murder of Boris Nemtsov, the opposition leader... The real power of Kasparov's book lies in his argument that the west must pursue a more assertive and moral foreign policy, something that has faded out of fashion." --Financial Times

"It's always important to read Garry Kasparov, who warned the dangers of Putinism long before so many others. He is that rare thing: A Russian democrat who is realistic about his country, but remains hopeful for the future." --Anne Applebaum, author of Gulag and Iron Curtain, winner of the Pulitzer Prize for Nonfiction

"Garry Kasparov has the information-processing capacity of a supercomputer and the eloquence of an extraordinary orator. It takes a mind and a heart like his to analyze the last 25 years of the history of Russia in the world and emerge with not only an indictment of Western complicity but a clear call for Western action. Required reading for anyone planning to run in, work on, or vote in the 2016 presidential campaign." --Masha Gessen, author of The Man Without a Face: The Unlikely Rise of Vladimir Putin and Words Will Break Cement: The Passion of Pussy Riot

"Garry Kasparov has written a passionate indictment both of Russia's kleptocracy and the complacency of Western democracies in the face of Putin. This threat has become our central foreign policy challenge, and Kasparov's arguments are essential in understanding how to face it." --Francis Fukuyama, Stanford University

"Lively and readable...Throughout Winter Is Coming, Kasparov keeps the narration brisk and generously includes flashes of humor...If you know nothing about post-Soviet Russia, this is a good place to start. And if you're a longtime Russia watcher like me, you should read this book and steel yourself for the inevitable sadness and sense of loss as Kasparov details how quickly Russia's chance for democracy after the Cold War ended was snuffed out. Kasparov is a witty and engaging companion throughout the book. But make no mistake-he is walking with you through a cold, fading dusk that, in the end, promises only a long night of a Russian winter." --The Federalist

"If you're looking for a way to understand what Putin is about, this book may be for you... Kasparov has written a passionate, detailed warning to wake up the West." --St. Louis Post-Dispatch

"An emotionally charged look at Russia since the fall of Communism centred on the rise and rule of Vladimir Putin...A fascinating and thought-provoking book." --Irish Independent
or
Not Currently Available for Direct Purchase