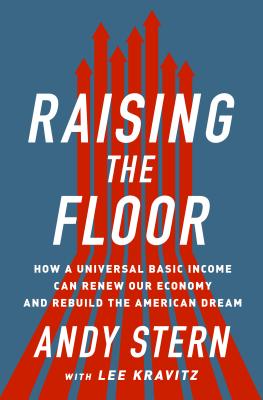 Raising the Floor
How a Universal Basic Income Can Renew Our Economy and Rebuild the American Dream
Hardcover

* Individual store prices may vary.
Other Editions of This Title:
Compact Disc (3/28/2017)
MP3 CD (3/28/2017)
Description
Raising the Floor confronts America's biggest economic challenge-the fundamental restructuring of the economy and the emerging disruptive technology that threaten secure jobs and income. Andy Stern convincingly shows why it is time to consider a universal basic income as the nation's twenty-first-century solution to increasing inequality.

In 2010, troubled by watching families chase the now-elusive American Dream, Andy Stern began a five-year journey to investigate how technology will impact jobs and the future of work. Stern, formerly the head of the nation's most influential and fastest-growing union, the Service Employees International Union, investigated these issues with a wide range of CEOs, futurists, economists, workers, entrepreneurs, and investment bankers who are shaping the future.

The sobering assessment that emerged from his research-across the political spectrum, from libertarians at the CATO Institute to the leaders of the progressive left-is that this time is different: there will be meager benefits that come with full-time work and fewer good jobs overall. Facing such a challenging moment, Stern's solution is fittingly bold: to establish a universal basic income by eliminating many current government programs and adding new resources. At once vivid, provocative, and pragmatic, Raising the Floor will spark a national conversation about creating the new American Dream.
Praise For Raising the Floor: How a Universal Basic Income Can Renew Our Economy and Rebuild the American Dream…
"[Stern] does a solid job of making his case without waxing too wild-eyed....This is a book eminently worth talking about." --Kirkus Reviews
"America has no choice. Eventually we're going to have to raise the floor and provide a universal basic income. Technology will replace so many good jobs that Americans won't have enough purchasing power to keep the economy going without an economic floor to stand on. I urge you to read Andy Stern's provocative and compelling book." --Robert B. Reich, Chancellor's Professor of Public Policy, University of California at Berkeley, former US secretary of labor, and author of Saving Capitalism: For the Many, Not the Few
"Andy Stern has spent his entire life fighting for changes that economically help all Americans, and particularly those often left behind. His latest book offers insight into the emerging challenges of new technology and the urgent need to have a real debate and consider hard choices if we are going to provide economic security for all of our families in the future." --Cecile Richards, president of Planned Parenthood of America

"When a veteran labor leader like Andy Stern argues that we're not going to survive an increasingly jobless economy without a universal basic income, then it's time for the rest of us to listen up. Raising the Floor rests on Stern's long experience fighting for economic justice as well as his years of studying job trends...and it makes an irrefutable case for what might at first seem like a wild idea." --Barbara Ehrenreich, author of Nickle and Dimed
"There is no more urgent economic discussion today than the relationship between income inequality, technology, and the future of work. Andy Stern's understanding of this relationship frames a compelling argument for the role of universal basic income in building a better future for all of us." --Tim O'Reilly, CEO of O'Reilly Media
"It's a quick read, full of great interviews and down-to-earth observations and is entirely free of economic jargon. It's a smoothie. The book is filled with little surprises that come from Stern's access to people whom we normally see only through thick filters." --Randall Stross author of The Launch Pad, Steve Jobs & the NeXT Big Thing, eBoys, The Wizard of Menlo Park: How Thomas Alva Edison Invented the Modern World, Planet Google, and The Microsoft Way.
PublicAffairs, 9781610396257, 272pp.
Publication Date: June 14, 2016
About the Author
Andy Stern is a senior fellow at Columbia University's Richard Paul Richman Center for Business, Law, and Public Policy. He was formerly president of the 2.2 million-member Service Employees International Union (SEIU), the union of hospital, health-care, nursing-home, food-service, home-care, janitorial, and public employees. SEIU played a major role in getting Barack Obama elected president of the United States in 2008, and it also is credited with being the driving force behind securing passage of the 2010 Affordable Care Act. Stern was one of five presidential appointees to the National Commission on Fiscal Responsibility and Reform (Simpson-Bowles), where he authored a minority report on deficit reduction and promoting economic growth. He has served on numerous boards, including those of the Aspen Institute, Broad Foundation, Council on Competitiveness, Economic Policy Institute, Council on Foreign Relations Trade Task Force, Kaiser Coalition, Open Society Foundations, and Leadership Conference on Civil Rights.

Lee Kravitz is the author of the widely acclaimed memoirs Pilgrim: Risking the Life I Have to Find the Faith I Seek and Unfinished Business: One Man's Extraordinary Year of Trying to Do the Right Things and the former editor in chief of Parade magazine. Previously, he was the founding editor of React magazine and an editorial director of Scholastic Inc. He is a graduate of Yale University and the Columbia University Graduate School of Journalism.
or
Not Currently Available for Direct Purchase