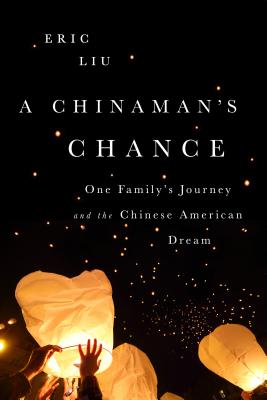 A Chinaman's Chance
One Family's Journey and the Chinese American Dream
Paperback

* Individual store prices may vary.
Description
From Tony Hsieh to Amy Chua to Jeremy Lin, Chinese Americans are now arriving at the highest levels of American business, civic life, and culture. But what makes this story of immigrant ascent unique is that Chinese Americans are emerging at just the same moment when China has emerged -- and indeed may displace America -- at the center of the global scene. What does it mean to be Chinese American in this moment? And how does exploring that question alter our notions of just what an American is and will be?

In many ways, Chinese Americans today are exemplars of the American Dream: during a crowded century and a half, this community has gone from indentured servitude, second-class status and outright exclusion to economic and social integration and achievement. But this narrative obscures too much: the Chinese Americans still left behind, the erosion of the American Dream in general, the emergence -- perhaps -- of a Chinese Dream, and how other Americans will look at their countrymen of Chinese descent if China and America ever become adversaries. As Chinese Americans reconcile competing beliefs about what constitutes success, virtue, power, and purpose, they hold a mirror up to their country in a time of deep flux.

In searching, often personal essays that range from the meaning of Confucius to the role of Chinese Americans in shaping how we read the Constitution to why he hates the hyphen in "Chinese-American," Eric Liu pieces together a sense of the Chinese American identity in these auspicious years for both countries. He considers his own public career in American media and government; his daughter's efforts to hold and release aspects of her Chinese inheritance; and the still-recent history that made anyone Chinese in America seem foreign and disloyal until proven otherwise. Provocative, often playful but always thoughtful, Liu breaks down his vast subject into bite-sized chunks, along the way providing insights into universal matters: identity, nationalism, family, and more.
Praise For A Chinaman's Chance: One Family's Journey and the Chinese American Dream…
"Equal parts contemplative and provocative, lyrical and wonkish, A Chinaman's Chance is a mesmerizing collage of childhood memories and contemporary reflections that compare and contrast China and America, and the Chinese and American dreams. As he visits the place where the waters of his Chinese ancestral heritage and his American upbringing meet, what Liu finds is two worldviews that are at once decidedly different, and uncannily similar; what he finds, ultimately, is himself, and all of the rest of us whose Chinese American identity makes us the best of two worlds, yet belonging fully to neither." —Jeff Yang, columnist, Wall Street Journal Online

"This is vintage Liu—so lively, thoughtful, right-thinking, and beautifully put as to itself suggest the truth of his argument: to the extent that Chinese Americans thrive, America will thrive. Bravo!" —Gish Jen, author of Tiger Writing and Typical American

"Eric Liu brilliantly mines the history and experiences of Chinese Americans to draw insights into the current relationship between China and America, and to chart a course for the future. Whip-smart, enlightening, and always entertaining, Liu blends the personal and the socio-political to explore how we as Americans see the world, and each other." —David Henry Hwang, Tony award–winning playwright, M. Butterfly

"In this provocative book, Liu, once a speechwriter for President Bill Clinton, effortlessly connects his personal experience to larger historical and cultural trends. … These elegant essays contain at their core a passionate, well-reasoned argument for the value of both cultures from which Chinese Americans come and an appreciation of the unique blend that results. ... Liu has created the go-to source for anyone interested in the place Chinese Americans have had, currently have, and are pursuing in the US."—Booklist

"A Chinaman's Chance makes the personal political—and historical—in the most elegant possible way. Eric Liu's memoir is intimate and also encompassing; it is of this twenty-first-century moment but also part of the centuries-long process of America reinventing itself by incorporating new Americans. It is an important and enjoyable addition to the literature of ethnic diversity, struggle, and success in the United States."—James Fallows, The Atlantic

"Liu's ability to so neatly capture the complexities of cultural identity on both deeply personal and more global levels is what makes this book shine. … As Liu considers Chinese cultural, spiritual, and linguistic history, personal lore, and more than a century of American Sino-stereotyping, he guides us to see just how our everyday views of 'they' and 'I' are formed ... and how they change."—Seattle Times

"To say that someone has no chance at all is to say that he doesn't have 'a Chinaman's chance.' That is the irresistible title of Liu's new book, A Chinaman's Chance: One Family's Journey and the Chinese American Dream. The story is about the past, present, and future of one family, but it also illuminates much about the Chinese-American experience."—San Francisco Chronicle, Newsday

"The book is less a memoir than a meditation—rich, thoughtful, and ultimately optimistic—on American-ness, Chinese-ness, and culture itself."—Boston Globe

"In this vigorous, sharp book, [Liu] examines his identity against the backdrop of both Chinese and American cultures…. An eloquent, thought-provoking, and timely memoir."—Kirkus Reviews
PublicAffairs, 9781610396301, 240pp.
Publication Date: February 23, 2016
About the Author
Eric Liu is the founder and CEO of Citizen University (citizenuniversity.us) and executive director of the Aspen Institute Citizenship and American Identity Program. He is the author of several books, including A Chinaman's Chance, The Gardens of Democracy, and The Accidental Asian. Eric served as a White House speechwriter and policy adviser for President Bill Clinton. He is a regular columnist for CNN.com and a correspondent for TheAtlantic.com.