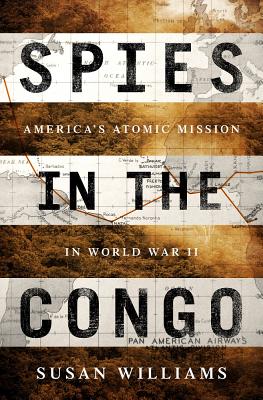 Spies in the Congo
America's Atomic Mission in World War II
Hardcover

* Individual store prices may vary.
Other Editions of This Title:
Digital Audiobook (8/8/2016)
MP3 CD (8/9/2016)
Compact Disc (8/9/2016)
Compact Disc (8/9/2016)
Description
In the 1940s, the brightest minds of the United States and Nazi Germany raced to West Africa with a single mission: to secure the essential ingredient of the atomic bomb -- and to make sure nobody saw them doing it

Albert Einstein told President Franklin D. Roosevelt in 1939 that the world's only supply of uniquely high-quality uranium ore -- the key ingredient for bomb -- could be found in the Katanga province of the Belgian Congo at the Shinkolobwe Mine. Once the US Manhattan Project was committed to developing atomic weapons for the war against Germany and Japan, the rush to procure this uranium became a top priority -- one deemed "vital to the welfare of the United States."

But covertly exporting it from Africa posed a major risk: the ore had to travel via a spy-infested Angolan port or 1,500 miles by rail through the Congo, and then be shipped by boats or Pan Am Clippers to safety in the United States. It could be poached or smuggled at any point on the orders of Nazi Germany. To combat that threat, the US Office of Strategic Services sent in a team of intrepid spies, led by Wilbur Owings "Dock" Hogue, to be America's eyes and ears and to protect its most precious and destructive cargo.

Packed with newly discovered details from American and British archives, this is the gripping, true story of the unsung heroism of a handful of good men -- and one woman -- in colonial Africa who risked their lives in the fight against fascism and helped deny Hitler his atomic bomb.
Praise For Spies in the Congo: America's Atomic Mission in World War II…
"A clever book." —London Review of Books

"An excellent contribution to the history of intelligence, Africa, World War Two and Atomic Power." —The Cipher Brief

"A commendable addition." —New York Journal of Books

"Authentic and well-documented…fascinating and intricate." —Galveston County Daily News

"A dense and engaging work on a key aspect of the Manhattan Project….Chock-full of spies and their fanciful code names as well as insightful accounts of the jealousies between the American and British. A fine complement to other accounts of wartime efforts to keep atomic weapons from the Germans." —Kirkus Reviews

"Readers will not regret learning about the activities of some of America's least heralded spies…Williams's niche but engrossing story offers new insight on intelligence activities in sub-Saharan Africa during WWII." —Publishers Weekly

"A well-paced read based on archival documents, this work should appeal to those interested in the history of World War II, special operations, and the origins of the nuclear age." —Library Journal

"This is an extraordinary and fascinating story, revealed here with all the detail and pace of a well-crafted thriller." —Alexander McCall Smith, author of The No. 1 Ladies' Detective Agency

"Williams reveals, with painstaking research and delightful prose, the conspiracies that transformed the Congo into the chessboard for superpower politics. This may seem like a far-gone era, but the repercussions of Shinkolobwe and Hiroshima are alive in the imaginations and politics of the Congo today. An important history, and a superbly crafted story." —Jason Stearns, author of Dancing in the Glory of Monsters

"With wit, insight, and a fabulous story-telling ability, Susan Williams has taken a crucial but little-known piece of nuclear history and turned it into a remarkable tale of espionage, intrigue, romance, and murder that will keep readers riveted from start to finish. Those who thought they knew the history of the development of the atomic bombs are in for a big surprise. A magnificent achievement!" —Peter Kuznick, Professor of History and Director of the Nuclear Studies Institute, American University, and co-author (with Oliver Stone) of The Untold History of the United States

"Gripping…A little-known story, but one with a terribly familiar ring—and ultimately devastating consequences." —The Economist

"Susan Williams' new, meticulously researched book has shades of Graham Greene, a hint of Conrad, even echoes of Indiana Jones…truly a thriller." —The Guardian

"Meticulously-researched and masterfully written…A real-life spy thriller." —Joe Lauria, The Huffington Post

"A remarkable discovery…To have found in the history of the Second World War a million square miles of unfamiliar territory–the Congo–is an achievement in itself. On top of that, Williams' story is thrilling." —The Telegraph

"Nuanced but gripping...Williams does a sterling job of delineating a complicated plot while at the same time giving a clear sense of the characters of the major players." —The Spectator

"Chilling… Spies in the Congo is an espionage classic. Scrupulously researched, it illuminates a barely-known aspect of arguably the most significant event of the 20th century, giving fresh perspectives. " —The Scotsman

"Williams tells a story that is sometimes comical, sometimes tragic, but always riveting." —History of War
PublicAffairs, 9781610396547, 432pp.
Publication Date: August 9, 2016
About the Author
Dr. Susan Williams is a senior research fellow at the Institute of Commonwealth Studies, University of London. Williams's research is archive based; her research has taken her to many countries in Africa, Europe and North America. Susan served as historical adviser to the independent Hammarskjold Commission, which was founded in direct response to Wiliams previous book, "Who Killed Hammarskjold" and released its report at the Peace Palace in The Hague in September 2013.

She has published widely on Africa, decolonization, and the global power shifts of the twentieth century, receiving widespread acclaim for Colour Bar (Penguin), her book on the founding president of Botswana. Other recent books include The People's King (Penguin) and Ladies of Influence (Penguin), as well as edited volumes including The Iconography of Independence: Freedoms at Midnight.

Susan Williams lives in London.