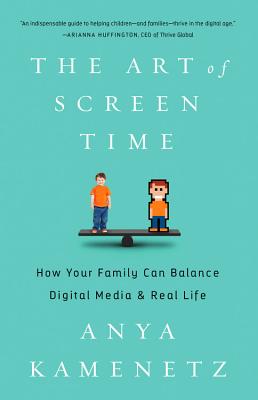 The Art of Screen Time: How Your Family Can Balance Digital Media and Real Life (Hardcover)
How Your Family Can Balance Digital Media and Real Life
PublicAffairs, 9781610396721, 288pp.
Publication Date: January 30, 2018
Description
"Blending scholarly evidence and the experiences of numerous families, The Art of Screen Time is a well-researched and reassuring guide to raising kids in a world where technology is everywhere." -danah boyd, author of It's Complicated: The Social Lives of Networked Teens
Finally there's a no-nonsense, don't-panic, evidence-based guide to one of the biggest challenges facing parents today: managing a world where screens are everywhere we look.
With this book, Anya Kamenetz--a journalist, an award-winning expert on both education and technology, and a mother of two young children--takes a refreshingly practical approach. She surveys both the experts and hundreds of fellow parents to find out how they really manage screensat home--for their children and themselves. Cutting through a thicket of inconclusive studies and overblown claims, she hones a simple message, a riff on Michael Pollan's well-known "food rules": Enjoy Screens. Not too much. Mostly with others.
Realistic, wise, and disarmingly candid, The Art of Screen Time shows us how to set aside our digital anxiety and create space for a happy, healthy family life.
About the Author
Anya Kamenetz is the lead digital education correspondent for NPR. Previously she worked as a staff writer for Fast Company magazine. She's contributed to the New York Times, Washington Post, New York Magazine, Slate, and O, the Oprah Magazine, and has won multiple awards for her reporting on education, technology, and innovation. She is the author of three books on education and technology, Generation Debt, DIY U, and The Test. She lives in Brooklyn with her family.
Advertisement