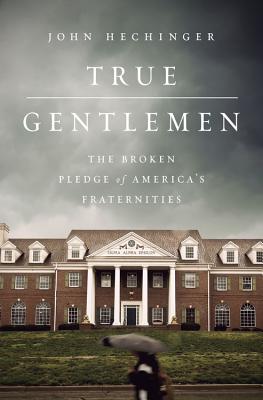 True Gentlemen
The Broken Pledge of America's Fraternities
Hardcover

* Individual store prices may vary.
Other Editions of This Title:
Digital Audiobook (9/25/2017)
Description
An exclusive look inside the power and politics of college fraternities in America as they struggle to survive despite growing waves of criticism and outrage.

College fraternity culture has never been more embattled. Once a mainstay of campus life, fraternities are now subject to withering criticism for reinforcing white male privilege and undermining the lasting social and economic value of a college education.

No fraternity embodies this problem more than Sigma Alpha Epsilon, a national organization with more than 15,000 undergraduate brothers spread over 230 chapters nationwide. While SAE enrollment is still strong, it has been pilloried for what John Hechinger calls "the unholy trinity of fraternity life": racism, deadly drinking, and misogyny. Hazing rituals have killed ten undergraduates in its chapters since 2005, and, in 2015, a video of a racist chant breaking out among its Oklahoma University members went viral. That same year, SAE was singled out by a documentary on campus rape, The Hunting Ground. Yet despite these problems and others, SAE remains a large institution with strong ties to Wall Street and significant political reach.

In True Gentlemen, Hechinger embarks on a deep investigation of SAE and fraternity culture generally, exposing the vast gulf between its founding ideals and the realities of its impact on colleges and the world at large. He shows how national fraternities are reacting to a slowly dawning new reality, and asks what the rest of us should do about it. Should we ban them outright, or will they only be driven underground? Can an institution this broken be saved? With rare access and skillful storytelling, Hechinger draws a fascinating and necessary portrait of an institution in deep need of reform, and makes a case for how it can happen.
Praise For True Gentlemen: The Broken Pledge of America's Fraternities…
"A blistering inside look at the traditional Greek system
through the lens of a single brotherhood... Hechinger, a senior editor at
Bloomberg News, has delivered a deeply researched account that traces SAE from
its roots to today - and offers a kind of book of revelation."—Washington Post

"Riveting, infuriating...an exposé that, given the influence of fraternity alumni, requires tremendous courage to pursue."—Kirkus Reviews, Starred Review

"An exemplary work of investigative reporting. Recommended for all academic libraries."—~b~>Library Journal, Starred Review

"True Gentlemen is a timely and deeply unsettling book about the arrogance and abuses of too much of the Greek letter fraternity system. John Hechinger goes deep in reporting the shameful behavior of this so-called elite society."—Tom Brokaw, NBC News

"Why should we care about the world of fraternities? This book will show you: because of the culture of alcohol, hazing, misogyny, racism, and brutality that John Hechinger brilliantly describes. With gripping and powerful storytelling, Hechinger portrays a part of American collegiate life that everyone should be aware of, one that feeds the darkest instincts of our future leaders."—Diane Ravitch, research professor of education, New York University, and author of Reign of Error

"Here, at last, is the full story of fraternity culture in America. Although True Gentleman tells the story of one social fraternity, its lessons apply to many others. Fair, deeply reported, and often riveting, the book explores both the infamous crimes and tragedies that have plagued SAE, and also the under-explored benefits of belonging to the organization. There are testaments here to friendship and loyalty, and also to danger and financial risk. Any reader interested in knowing why these clubs have endured so long, in the face of so much bad behavior, should read this book. For parents of potential pledges, it ought to be required."—Caitlin Flanagan, contributing editor to the Atlantic and author of Girl Land

"John Hechinger draws a complex, layered, but comprehensible portrait of the infamously elusive and exclusive college-bred base of Donald Trump. It is hard to imagine a better moment for this investigation of one of the foundations of White male privilege-the college fraternity. True Gentleman is indispensable if Americans are going to figure out why women's lives, why poor lives, why queer lives, why non-White lives are still so disposable in the United States of America."—Ibram X. Kendi, National Book Award-winning author of Stamped from the Beginning: The Definitive History of Racist Ideas in America

"What happens behind the bolted oaken doors of American fraternities? John Hechinger's relentless reporting and fine critical intelligence reveal all too much about the worst of frat life in America. A necessary and significant book."—Mark Edmundson, university professor, University of Virginia

"A deeply reported
(and disturbing) expose of the fatal hazing, misogyny, and racism plaguing
America's broken fraternity system - and its lobbying arm, FratPAC."—Esquire

"By further exposing these profound problems, Hechinger
has made a far more valuable to contribution to American college life than any
fraternity ever could."—Christian ScienceMonitor

"A blistering inside look at the traditional Greek system
through the lens of a single brotherhood... Hechinger, a senior editor at
Bloomberg News, has delivered a deeply researched account that traces SAE from
its roots to today - and offers a kind of book of revelation."—Washington Post
PublicAffairs, 9781610396820, 320pp.
Publication Date: September 26, 2017
About the Author
John Hechinger, a senior editor at Bloomberg News, was a 2011 finalist for the Pulitzer Prize in Public Service and a two-time winner of the George Polk Award for his reporting on education. Before joining Bloomberg in 2010, he was a senior special writer at the Wall Street Journal, where he focused on education and finance. A graduate of Yale University, he lives near Boston with his wife and daughter.