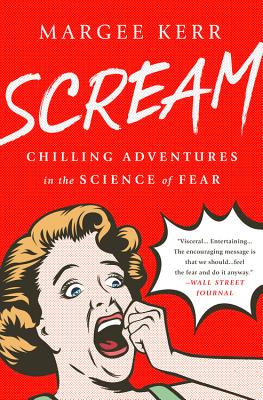 Scream (Paperback)
Chilling Adventures in the Science of Fear
PublicAffairs, 9781610397162, 288pp.
Publication Date: May 23, 2017
Other Editions of This Title:
Hardcover (9/29/2015)
Compact Disc (9/29/2015)
Compact Disc (5/23/2017)
Compact Disc (9/29/2015)
MP3 CD (9/29/2015)
* Individual store prices may vary.
Description
Shiver-inducing science not for the faint of heart.

No one studies fear quite like Margee Kerr. A sociologist who moonlights at one of America's scariest and most popular haunted houses, she has seen grown men laugh, cry, and push their loved ones aside as they run away in terror. And she's kept careful notes on what triggers these responses and why.

Fear is a universal human experience, but do we really understand it? If we're so terrified of monsters and serial killers, why do we flock to the theaters to see them? Why do people avoid thinking about death, but jump out of planes and swim with sharks? For Kerr, there was only one way to find out.

In this eye-opening, adventurous book, she takes us on a tour of the world's scariest experiences: into an abandoned prison long after dark, hanging by a cord from the highest tower in the Western hemisphere, and deep into Japan's mysterious "suicide forest." She even goes on a ghost hunt with a group of paranormal adventurers. Along the way, Kerr shows us the surprising science from the newest studies of fear—what it means, how it works, and what it can do for us. Full of entertaining science and the thrills of a good ghost story, this book will make you think, laugh—and scream.

About the Author
Margee Kerr has a PhD in sociology from the University of Pittsburgh, where she currently teaches. She is also a nationally recognized expert on professional haunted houses and works year-round for the ScareHouse haunted house, analyzing data on customers and employees to make its attractions scarier. Her work has been featured in the Washington Post, Parade, Atlantic Monthly, and NPR's Science Friday, among other places. She is also is the coinvestigator on the country's first-of-its-kind study measuring fear in the real world, collecting data on how the brain and body responds in real-life threatening situations. She lives in Pittsburgh.
Praise For Scream: Chilling Adventures in the Science of Fear…


"A fascinating account of how fear works in our bodies and societies, and a window into the surprising benefits of confronting our worst nightmares." —Bess Lovejoy, author of Rest in Pieces: The Curious Fates of Famous Corpses
"Visceral… Entertaining…The encouraging message is that we should… feel the fear and do it anyway." —Wall Street Journal



"While describing her experiences, Kerr insightfully reviews the physical effects of feeling fear… For people who wonder why they like to be scared, these experiments offer some clues. For those afraid of being afraid, Kerr's own enthusiasm gives them reasons to try it." —Publishers Weekly



"Margee Kerr is a fear junkie. Roller coasters, haunted houses, heights, abandoned prisons, ghosts (well, maybe), even death — she confronts them with the relentlessness of a zombie Terminator. … [She] mixes enough self-awareness and insight with her tales of fright to make the book campfire-worthy. Scream may not haunt you outright, but it stays with you, mainly by showing how the scariest place in the world is inside your own head." —Washington Post



"Kerr takes readers on a journey on which they will experience the world's most frightening and terrifying places firsthand… As Kerr explores places that make people tremble, she shares her personal dread on each of these destinations, which makes the book even more captivating… While complete with scientific information, this well-written, fascinating book is accessible to the general public." —Library Journal



"Instead of sterile analyses, Scream is a science travelogue that gets up close and personal with the facts of freaking out. Kerr's journey through the world, and human body, to face down fear is exciting, informative, and scary good." —Aaron Sagers, paranormal pop culture expert, journalist, and Travel Channel host