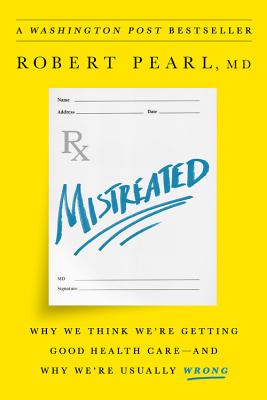 Mistreated (Hardcover)
Why We Think We're Getting Good Health Care-and Why We're Usually Wrong
PublicAffairs, 9781610397650, 336pp.
Publication Date: May 2, 2017
Other Editions of This Title:
Digital Audiobook (5/1/2017)
Compact Disc (5/2/2017)
* Individual store prices may vary.
Description
A WASHINGTON POST BESTSELLER
The biggest problem in American health care is us
Do you know how to tell good health care from bad health care? Guess again. As patients, we wrongly assume the "best" care is dependent mainly on the newest medications, the most complex treatments, and the smartest doctors. But Americans look for health-care solutions in the wrong places. For example, hundreds of thousands of lives could be saved each year if doctors reduced common errors and maximized preventive medicine.
For Dr. Robert Pearl, these kinds of mistakes are a matter of professional importance, but also personal significance: he lost his own father due in part to poor communication and treatment planning by doctors. And consumers make costly mistakes too: we demand modern information technology from our banks, airlines, and retailers, but we passively accept last century's technology in our health care.
Solving the challenges of health care starts with understanding these problems. Mistreated explains why subconscious misperceptions are so common in medicine, and shows how modifying the structure, technology, financing, and leadership of American health care could radically improve quality outcomes. This important book proves we can overcome our fears and faulty assumptions, and provides a roadmap for a better, healthier future.
About the Author
Robert Pearl, MD, is executive director and CEO of The Permanente Medical Group, responsible for the health care of 3.8 million Kaiser Permanente members, and he is the president and CEO of the Mid-Atlantic Permanente Medical Group. Selected by Modern Healthcare as one of the most powerful physician-leaders in the nation, Dr. Pearl keynotes around 15 events per year for audiences of up to 10K, hosted by organizations such as at the New England Journal of Medicine. He is on faculty at Stanford and has taught at Duke, UC Berkeley, and Harvard. His column on Forbes.com on the business and culture of health care includes articles, such as a conversation with Malcolm Gladwell, which received up to 500K views. Dr. Pearl has been featured in media outlets including Time, ABC News, USA Today, and NPR.
Praise For Mistreated: Why We Think We're Getting Good Health Care-and Why We're Usually Wrong…
"Mistreated is a powerful read, an incredible insight into American health care, a mix of poignant personal memoir by a son, the clinical perspective of an experienced surgeon, and the vision and understanding that comes from being the CEO of one of the largest and best health care organizations in the country. Robert Pearl is all those things, and with Mistreated he proves he is also a wonderful writer."
—
Abraham Verghese, MD, professor of medicine,
Stanford University, and author of Cutting for Stone
"Robert
Pearl argues that the troubles of the American health care system begin with a
problem of perception: conceptual misunderstandings that warp priorities and
distort choices.
Mistreated
is a brilliant and original analysis from
one of medicine's most insightful leaders. The doctor is
in.
"—
Malcolm Gladwell, bestselling author of David and Goliath
"
Mistreated
is a timely and necessary book on how to
fix our broken health system from one of our most important voices in health
care. Dr. Robert Pearl's diagnosis isn't pretty. Morale in health care is low,
costs are unmanageable, and health and survival are often worse than in other
high-income countries. But Pearl is a leader who transformed his own health
system to have very different results for patients and clinicians alike. And he
offers that experience to show everyone the way."—
Atul Gawande, bestselling author of Being Mortal
"Pundits like to speculate about the future of health care,
but Dr. Robert Pearl has been busy creating it . . . at scale. As CEO of the
nation's largest medical group, he and his colleagues at Kaiser Permanente have
created a system serving 10 million members that is low cost, but with
nation-leading quality outcomes and high patient satisfaction. They haven't
just bent the cost curve, they've wrestled it into submission. If you want to understand
how to fix health care, listen to him: he knows."—
Chip Heath, coauthor of Switch and Decisive
"Relying on his long history as one of the country's most
innovative and powerful physician-leaders, Dr. Robert Pearl lays bare the
shortsightedness of the broken US health care system: why we resist better
science, newer technology, and reform. He offers a vision of how to improve our
medical care, informed and tested in his own real world practice."—
-Elisabeth Rosenthal, editor in chief of Kaiser Health News
"Drawing on psychological research and his diverse roles as physician,
business professor, and chief executive, Dr. Pearl diagnoses the problems of
the American health care system and offers simple yet important solutions. In a
health care system undergoing rapid changes,
Mistreated
is an essential
and trusted guide to the future."—
Ezekiel J. Emanuel, author of Reinventing American Health Care
"
Mistreated
is the honest conversation we need to
have about the beautiful but broken craft of medicine."—
Marty Makary, MD, New York Times-bestselling author of Unaccountable
"A respected expert
gets personal. The result is a gripping drama set in our troubled health care
system-and happily a roadmap for fixing it."—
Ceci Connolly, president and CEO of the Alliance of Community Health Plans
"This is an important book. With clear and engaging
examples,
Mistreated
reviews the fl aws in our traditional fragmented health
care system, showing that context and perception matter more in health care
than logic and data. This powerful insight can help our nation transform
American medicine and make it the best in the world. A must-read for anyone who
has ever been or will be a patient
-
and that is all of us."—
Alain Enthoven, professor emeritus, Graduate School of Business at Stanford
"
Mistreated
provides a poignant and powerful portrait
of what causes our health system to fail despite our best intentions. Starting
with the painful story of his father's untimely death due to medical error, Dr.
Pearl honors his father's memory by teaching us how to build a system that
creates health and prevents harm."—
Ian Morrison, PhD, author, consultant, and futurist
"Dr. Pearl combines facts, evidence, and real-life
experiences that demystify the complex American health care system and offer
ways to improve it. His vast and varied experiences in medicine lend particular
weight to his ideas for constructive change."—
John Iglehart, founding editor of Project HOPE