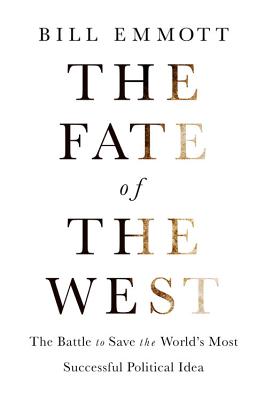 The Fate of the West (Hardcover)
The Battle to Save the World's Most Successful Political Idea (Economist Books)
The Economist, 9781610397803, 272pp.
Publication Date: May 9, 2017
* Individual store prices may vary.
Description
The West seems to be in retreat--even from itself--and cracks have appeared in the structures of international collaboration built after 1945. We live in a time of disintegration and rekindling of old nationalisms.
Yet the end of the West has been predicted by academics, philosophers and rival statesmen for more than a hundred years. The West has proved itself to be tough--adaptable, flexible and able to evolve to meet the challenges of changing times. In this bold new book, Bill Emmott argues that in the face of new threats, we must resist attempts to close borders and minds, and work to remove obstacles that are blocking this evolutionary change.
The fight is not lost. The Fate of the West reveals that our record of overcoming our doubters and demons should give the world confidence that the idea of the West will again prevail. But to do so, we will have to return to our lodestars of openness and equality, keeping firmly in mind that without openness, the West cannot thrive; but without equality, the West cannot last.
About the Author
Bill Emmott was the editor-in-chief of the Economist from 1993 to 2006, and is now a writer and consultant on international affairs. He is a regular contributor to the Financial Times in London, La Stampa in Italy, Nikkei Business in Japan, and for Project Syndicate worldwide. He is a trustee of the International Institute for Strategic Studies, a Visiting Professor at Shujitsu University, and global economic adviser for Stonehenge Fleming Family & Partners. He is the author of several books, including 20:21 Vision, Rivals, and Good Italy, Bad Italy. He is also the narrator and co-author, with Annalisa Piras, of a documentary about Italy, Girlfriend in a Coma. In 2015, he produced The Great European Disaster Movie, which has now been seen by 2,500,000 people in twelve countries and translated into ten languages.
Praise For The Fate of the West: The Battle to Save the World's Most Successful Political Idea (Economist Books)…
"Engaging...No civilization lasts forever; that much is indeed written. But its full span is surely contingent on human agency. It is in this spirit that readers should approach Mr. Emmott's stimulating book-to grasp how much is at stake in our policies and politics and to ponder how a great civilization can be encouraged to thrive rather than decline."—Wall Street Journal

"Memorable...Emmott goes through countries one by one, diagnosing their social and economic ills and prescribing cures to increase growth and promote economic and political success and stability."—Financial Times

"The West is premised on political and economic ideals that are under threat-from Beijing, from Moscow, and from Washington, D.C. Emmott (Good Italy, Bad Italy: Why Italy Must Conquer Its Demons to Face the Future, 2012, etc.) former editor-in-chief of the Economist-which is seen as conservative just about everywhere except the U.S.-holds that the West is as much an idea as it is a geographic entity: the West is found in Seoul, Tokyo, and Kuala Lumpur as well as Paris and London. It relies on the operation and staunch defense of several principles, first among them relative equality of income and opportunity as well as openness-i.e., a society that is "open to new ideas, new elites, new circumstances and new opportunities whether of trade in goods and services or of culture and science." An open society is thus one of porous borders rather than of walls, friendly to free trade agreements as opposed to protectionist tariffs, outward-looking rather than nationalist. There have been many well-documented studies of inequality, but Emmott's appeal to openness recalls arguments not heard since Karl Popper, ones that are now broadly unwelcome anywhere that the words "liberalism" and "liberal democracy" are viewed with suspicion. Emmott examines aspects of inequality, international affairs, and the failures of one ideal or another in actual practice. As he notes, with respect to the abandonment of free trade agreements, if you pick a fight with a foreigner, a foreigner is likely to pick a fight with you, and "to deal with...enemies, the West's greatest asset in the past has been its friendships," friendships likely to be lost to isolationism and the resulting reshifting of world power relations. Emmott uses plenty of facts and figures to support his argument, which is profoundly one of ideas-and how the idea of the open, free, Western society is better than that of authoritarianism. Good fuel for those who think that the sitting U.S. president is the worst thing to happen to democracy since Xerxes."—Kirkus Reviews

"Emmott has a long history of analyzing global economics and political affairs as former editor-in-chief of The Economist. He dissects the attack on the cornerstones of pluralistic Western civilization, namely, political and legal equality and greater openness. The West as Emmott defines it consists of countries that share common liberal political frameworks and benefit from the evolutionary power and dynamism those ideas facilitate. The 2008 worldwide financial collapse and the slow and uneven recovery from it, plus changing demographics and immigration issues, have exacerbated protectionist trends. Emmott critiques the Trump agenda as being right about dysfunction in U.S. politics but wrong in offering solutions that increase tribalism, limit openness, and sow divisions among nations with histories of cooperation. The only beneficiaries from a weakened West are undemocratic nations that see their influence rising. Emmott ends with eight principles he argues must be followed to continue the gains made after WWII among Western countries. A thought-provoking look at today's realpolitik."—Booklist

"Former Economist magazine editor-in-chief Emmott surveys rising feelings of decline and resurgent nationalism in the West. This informed, eloquent, but superficial overview of recent global affairs maintains the West is being challenged from within for good reason, having failed to deliver fairness, prosperity, and security to all citizens. Emmott makes the future of equality a central subject, calling it the West's most successful political idea, but his musings on the subject are windy and nebulous. Openness, including open borders, is a second theme. For Emmott, Brexit feels inconceivable, and Trump's presidential victory reflects deep social pessimism and self-destructiveness. In Emmott's view, migrants offer a welcome, necessary injection of youth and fresh ideas to closed, often fearful societies with an aging citizenry. With professed optimism, he offers antidotes for the West's angst and self-interest. But from recognizing human capital's importance in the digital age to using education as the best means of achieving equality, many of his conclusions seem like old hat. Emmott leaves out the West's divisive "culture wars" altogether, flattening his inquiry. Adhering strictly to globalization shibboleths, Emmott reminds readers of the vast shared benefits in free-trade agreements and international collaboration that have assisted world order and wealth since WWII."—Publisher's Weekly

"Engaging...cogently argued."—Literary Review

"Brilliantly argued."—Prospect

"Despite its portentous title, The Fate of the West by Bill Emmott is an important book for the Brexit-Trump era. Emmott, a former editor of the Economist, writes fluently about the economic and political forces corroding western democracies. He also presents a useful reform agenda based on more competition and the open society. Conclusion: it's too soon to write an obituary for the west just yet."—Lionel Barber, Financial Times' Summer Books of 2017