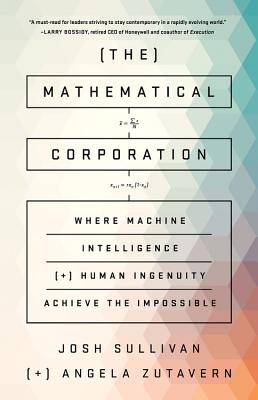 The Mathematical Corporation (Hardcover)
Where Machine Intelligence and Human Ingenuity Achieve the Impossible
PublicAffairs, 9781610397889, 304pp.
Publication Date: June 6, 2017
Other Editions of This Title:
Digital Audiobook (6/5/2017)
* Individual store prices may vary.
Description
The most powerful weapon in business today is the alliance between the mathematical smarts of machines and the imaginative human intellect of great leaders. Together they make the mathematical corporation, the business model of the future.
We are at a once-in-a-decade breaking point similar to the quality revolution of the 1980s and the dawn of the internet age in the 1990s: leaders must transform how they run their organizations, or competitors will bring them crashing to earth--often overnight.
Mathematical corporations--the organizations that will master the future--will outcompete high-flying rivals by merging the best of human ingenuity with machine intelligence. While smart machines are weapon number one for organizations, leaders are still the drivers of breakthroughs. Only they can ask crucial questions to capitalize on business opportunities newly discovered in oceans of data.
This dynamic combination will make possible the fulfillment of missions that once seemed out of reach, even impossible to attain. Josh Sullivan and Angela Zutavern's extraordinary examples include the entrepreneur who upended preventive health care, the oceanographer who transformed fisheries management, and the pharmaceutical company that used algorithm-driven optimization to boost vaccine yields.
Together they offer a profoundly optimistic vision for a dazzling new phase in business, and a playbook for how smart companies can manage the essential combination of human and machine.
About the Author
Dr. Josh Sullivan
is senior vice president at Booz Allen Hamilton and one of the world's leading experts in data science and machine intelligence.
Angela Zutavern is vice president of Booz Allen Hamilton and pioneered the application of machine intelligence to leadership and strategy.
Together, they're radically transforming how Fortune 500 companies, nonprofits, and major government agencies perform by helping leaders shatter long-held constraints and reveal hidden truths about their organizations.
Praise For The Mathematical Corporation: Where Machine Intelligence and Human Ingenuity Achieve the Impossible…
"Shrewd corporate executives are realigning their organizations to harness the burgeoning power of cyberintelligence. ... Nonetheless, both corporate executives and government leaders still need inquisitive and creative humans ... A lucid overview of the management principles rapidly moving that world forward."—Booklist (starred review)

"Much has been written recently about the ability to reach better decisions by application of big data. However, Josh Sullivan and Angela Zutavern take us a step beyond by introducing The Mathematical Corporation. Leaders of mathematical corporations combine data analytics with the mathematical intelligence of machines and their own creativity to enhance the quality of current and future decisions. A must read for leaders striving to stay contemporary in a rapidly evolving world."—Larry Bossidy, retired chairman and CEO of Honeywell, co-author of Execution: The Discipline of Getting Things Done and Confronting Reality

"In this interesting and accessible book, Sullivan and Zutavern challenge us to reconsider assumptions about machines 'taking over,' relegating the human factor to a bygone era. Their hopeful alternative scenario for the future instead clearly shows the importance of leaders and employees who work creatively in symbiosis with machines to achieve greater productivity, better innovation and higher profits."—Amy Webb, founder and CEO of the Future Today Institute and author of The Signals are Talking

"Josh Sullivan and Angela Zutavern offer a riveting account of the explosive new combination of machine intelligence and executive imagination. Company managers are solving stubborn problems as never before in areas as diverse as health, mobility and security, and The Mathematical Corporation is a compelling call for the digital mastery of market complexity-now."—Michael Useem, professor of management, Wharton School of the University of Pennsylvania and co-author of Fortune Makers: The Leaders Creating China's Great Global Companies