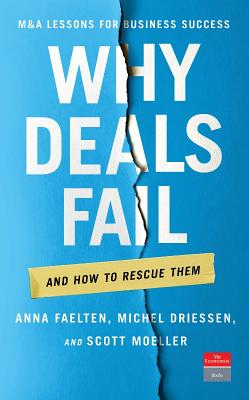 Why Deals Fail
And How to Rescue Them
Paperback

* Individual store prices may vary.
Description
The combined value of all M&A deals from 1980 to the end of 2015 was almost 65 trillion -- bigger than the current annual world economy value outside the US. In that same period, almost 900,000 deals were announced. Many were questionable, as Why Deals Fail shows. With companies expected to continue to merge in record numbers, it is time to learn some critical lessons from those deals.

In 2014 the government of the UK -- one of the most open markets globally for M&A -- commissioned Cass Business School's Mergers and Acquisitions Research Centre, headed by Scott Moeller, to investigate whether M&A has a negative or positive impact on the country's economy. Their findings: M&A deals do generate short-term benefits for the economy, especially because some large deals were spectacularly successful. However, over the longer term, the results are less clear-cut. Despite those highly successful tie-ups that drove the economic results to an overall positive average, the majority of UK mergers by number in the research period actually destroyed value. In summary, deals can be hugely beneficial for all involved when you get it right but they still, at large, struggle to live up to their initial hype -- and potential. Done wrong, they can damage business and, by extension, the economy and result in hundreds if not thousands of employees being made redundant. Most of the mergers detailed in this book are lessons in what not to do; the authors get behind the corporate veil to show what went wrong when huge and otherwise highly successful global businesses such as the Royal Bank of Scotland, Microsoft, and HP embarked on M&A transactions.

Why Deals Fail is aimed at business people who want to understand better how M&A can drive corporate fortunes. Whether you are a seasoned M&A professional, an employee in a company that is acquiring or being acquired, or a newly graduated business student doing analysis about a deal, this book will help you to make the right decisions when they are most crucial.
The Economist, 9781610397902, 224pp.
Publication Date: October 11, 2016
About the Author
Anna Faelten is a Corporate Finance advisor at international accountancy firm EY. Anna has many years of M&A experience, advising firms when raising and investing capital with a focus on the Technology, Media and Telecommunications sector. She remains a visiting lecturer at Cass Business School, where she teaches mergers and acquisitions to master's degree students. Her ongoing academic research focuses on M&A but also encompasses general corporate finance, corporate governance, corporate distress, and restructuring and investment in emerging markets.

Michel Driessen is a Senior Partner within the Transaction Advisory Services practice at international accounting firm EY. He has previously held senior executive positions at Accenture, Visa and Rabobank. During his nine years at EY he has worked on and led over 100 multi-billion pound transactions with the world's largest corporates and private equity firms on some of the biggest and most complex cross-border engagements. His focus has been on synergy identification and valuation, post merger integration and divestments/carve-outs. He is an advisory board member of the M&A Research Centre and a Senior Visiting Fellow at Cass Business School.

Scott Moeller is a Professor in the Practice of Finance at Cass Business School where he is also the Director of the M&A Research Centre. He is a former investment banker with both Morgan Stanley and Deutsche Bank, former consultant with Booz, Allen & Hamilton, and co-author of the bestselling Intelligent M&A: Navigating the mergers and acquisitions minefield (now in its second edition), author of Surviving M&A: Make the most of your company being acquired, and editor of Finance Essentials: The Practitioners' Guide andM&A Collection: Themes in Best Practice.
or
Not Currently Available for Direct Purchase