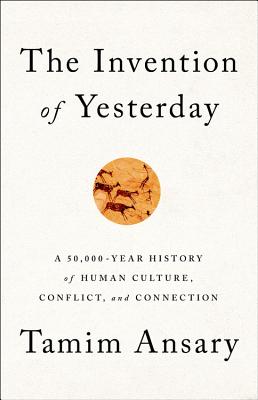 The Invention of Yesterday
A 50,000-Year History of Human Culture, Conflict, and Connection
Hardcover

* Individual store prices may vary.
Other Editions of This Title:
Compact Disc (10/1/2019)
Description
From language to culture to cultural collision: the story of how humans invented history, from the Stone Age to the Virtual Age
Traveling across millennia, weaving the experiences and world views of cultures both extinct and extant, The Invention of Yesterday shows that the engine of history is not so much heroic (battles won), geographic (farmers thrive), or anthropogenic (humans change the planet) as it is narrative.
Many thousands of years ago, when we existed only as countless small autonomous bands of hunter-gatherers widely distributed through the wilderness, we began inventing stories--to organize for survival, to find purpose and meaning, to explain the unfathomable. Ultimately these became the basis for empires, civilizations, and cultures. And when various narratives began to collide and overlap, the encounters produced everything from confusion, chaos, and war to cultural efflorescence, religious awakenings, and intellectual breakthroughs.
Through vivid stories studded with insights, Tamim Ansary illuminates the world-historical consequences of the unique human capacity to invent and communicate abstract ideas. In doing so, he also explains our ever-more-intertwined present: the narratives now shaping us, the reasons we still battle one another, and the future we may yet create.
Praise For The Invention of Yesterday: A 50,000-Year History of Human Culture, Conflict, and Connection…
"Ansary offers a remarkable big-picture synthesis that draws upon geography but resists determinism, and celebrates diversity while embracing humanity's commonalities."—Booklist

"In his terrific new book, Tamim Ansary explores the underappreciated ways that empires, nations and smaller sets of people have responded to their surroundings, influenced one another and developed stories that give their lives meaning."—San Francisco Chronicle

"A beautifully written
world history focused on the stories different civilizations have told about
who we are. It ends with a fundamental question: In today's extraordinary
world, can we build new narratives that are inclusive and global enough to encourage
worldwide cooperation in the task of building a better future for humanity?"—David Christian, distinguished professor, MacquarieUniversity, Sydney, Australia, and author of Maps of Time: An Introductionto Big History and Origin Story: A Big History of Everything

"Tamim Ansary has
done it again, writing an expansive, wonderfully readable account of our
present world. With deft examples drawn from across history, he skewers the
idea that there's anything pure about culture or race. Ideas have blended and
meshed across space and time to make the modern world what it is. Ansary is a
charming guide to this blesh of civilizations, and to the world's permanent-and
hopeful-capacity for change."—Raj Patel, author of Stuffedand Starved: The Hidden Battle for the World Food System

"Brimming with
essential insights and yet always approachable, this is the global history we
need now."—Lynn Hunt, author of WritingHistory in the Global Era

"Weaving together
multiple complex strands of the human experience into a single compelling
storyline, Ansary delivers-in his usual down-to-earth yet erudite style-an
engaging global 'narrative of narratives' informed by decades of critical
study, reflection, and personal transcultural experience. A deeply enriching,
highly relevant read from an important, unique voice of our day."—R. Charles Weller,Central Eurasian and Islamic world history, Washington State and KazakhNational University

"The Invention of Yesterday is an insightful guide into human civilization packed with information that shows how we have been connected globally since the beginning of history. Tamim Ansary unpacks complicated theories to make sense of how we became who we are today."—Fariba Nawa, authorof Opium Nation: Child Brides, Drug Lords and One Woman's Journey throughAfghanistan

Praise for Destiny Disrupted:

"Ansary has written an informative and thoroughly engaging look at the past, present and future of Islam. With his seamless and charming prose, he challenges conventional wisdom and appeals for a fuller understanding of how Islam and the world at large have shaped each other. And that makes this book, in this uneasy, contentious post 9/11 world, a must-read."—Khaled Hosseini, author of The Kite Runner and A Thousand Splendid Suns

Praise for Games without Rules

"In "Games Without Rules," Tamim Ansary has written the most engaging, accessible and insightful history of Afghanistan. With gifted prose and revealing details, Ansary gives us the oft-neglected Afghan perspective of the wars, foreign meddling and palace intrigue that has defined the past few centuries between the Indus and Oxus. This brilliant book should be required reading for anyone involved in the current war there -- and anyone who wants to understand why Afghanistan will not be at peace anytime soon."—Rajiv Chandrasekaran
PublicAffairs, 9781610397964, 448pp.
Publication Date: October 1, 2019
About the Author
Tamim Ansary is the author of Destiny Disrupted and Games without Rules, among other books. For ten years he wrote a monthly column for Encarta.com, and has published essays and commentary in the San Francisco Chronicle, Salon, Alternet, TomPaine.com, Edutopia, Parade, Los Angeles Times, and elsewhere. He has appeared on the Oprah Winfrey Show, Bill Moyers, PBS The News Hour, Al Jazeera, and NPR. Born in Afghanistan in 1948, he moved to the U.S. in 1964. He lives in San Francisco.