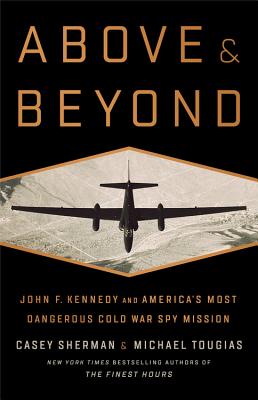 Above and Beyond
John F. Kennedy and America's Most Dangerous Cold War Spy Mission
Hardcover

* Individual store prices may vary.
Other Editions of This Title:
Digital Audiobook (4/16/2018)
Compact Disc (4/17/2018)
Compact Disc (4/17/2018)
Description
From the authors of the bestselling The Finest Hours comes the riveting, deeply human story of President John F. Kennedy and two U-2 pilots, Rudy Anderson and Chuck Maultsby, who risked their lives to save America during the Cuban Missile Crisis

During the ominous two weeks of the Cold War's terrifying peak, two things saved humanity: the strategic wisdom of John F. Kennedy and the U-2 aerial spy program.

On October 27, 1962, Kennedy, strained from back pain, sleeplessness, and days of impossible tension, was briefed about a missing spy plane. Its pilot, Chuck Maultsby, was on a surveillance mission over the North Pole, but had become disoriented and steered his plane into Soviet airspace. If detected, its presence there could be considered an act of war.

As the president and his advisers wrestled with this information, more bad news came: another U-2 had gone missing, this one belonging to Rudy Anderson. His mission: to photograph missile sites over Cuba. For the president, any wrong move could turn the Cold War nuclear.

Above and Beyond is the intimate, gripping account of the lives of these three war heroes, brought together on a day that changed history.

Selected as a "Top 10 Nonfiction Books to Read" (2018) by the MA Book Awards
Praise For Above and Beyond: John F. Kennedy and America's Most Dangerous Cold War Spy Mission…
"The authors
eloquently convey the difficulties and tensions involved in the [U-2] flights,
dramatically magnified during the crisis, when miscalculations could instigate
disastrous response by either side....This superbly written, tense, and
sometimes sad account views the Cuban Missile Crisis from an unusual and
telling perspective."—Booklist, starred

"Unfolds like a spy thriller and serves as an unnerving cautionary tale
in a time of reckless brinksmanship."—Boston Globe

"A novelistic approach that involves dramatically recreated scenes and interweaving story lines... The focus on two lesser-known figures gives the book an added dimension beyond other Cuban Missile Crisis histories....[Above & Beyond] hums when describing the strategic maneuvering in Washington.... The authors will leave readers with a greater appreciation of the work required to combat the 'miscalculations, incorrect interpretations, and breakdowns in command and control that could lead to war'."—Publishers Weekly

"Sherman and Tougias
present an absorbing account of heroic U-2 pilots Rudolph Anderson and Charles
Maultsby and their harrowing missions.... Fascinating."—Library Journal

"The authors have assembled a page-turning narrative. An edifying history
that, given America's current global diplomatic stance, is also timely and
hopefully instructive to those faced with similarly dire circumstances."—Kirkus Reviews

"A you-are-there
retelling of the Cold War's scariest hours."—Military Times

"A fast-paced read with exciting recollections of this
tumultuous time guaranteed to keep you on the edge of your seat....thrilling
and nerve-wracking....Even though you know the outcome, it's still enough to get
the heart pounding and palms sweating as Kennedy ponders and the U-2 pilots
soar into the cross-hairs of history."—Providence Journal

"Readers get a front
row seat to a dramatic moment in history."—Cape Cod Times

"Here is the Cuban Missile Crisis as you've never seen it before:
through the eyes of the men who flew over the island at 72,000 feet,
photographing the missiles that confronted Kennedy with the real possibility of
nuclear war. Sherman and Tougias tell their story with pace, riveting new
detail, and tremendous economy of style. To be read at one sitting with a stiff
Scotch at your elbow."—Giles Whittell, New York Times bestselling author of Bridge ofSpies

"Above and Beyond is a thrilling, inspiring story that would make for relevant reading in any era, but today feels essential. It takes you inside the rooms, inside the cockpits, and sometimes inside the minds of the people confronting the most dangerous moments in human history. A tribute to true patriotism and courage, this bookreminds us that the bravest warriors, the ones who make the biggest differences, are often the ones who never fire a shot."—Jeffrey E. Stern, coauthor of The 15:17 to Paris

"The Cuban Missile Crisis: it may be the most terrifying thirteen days in human history. Live it again in Above and Beyond, the riveting new book by Casey Sherman and Michael J. Tougias. Climb aboard the most famous spy plane of them all, the legendary U-2, and photograph missile sites. Take a seat in the White House Situation Room to deliberate with President Kennedy on those photographs. Turn the pages all night and marvel yet again at the intrepid bravery of those pilots, and at the leadership that was calm, thoughtful, and steady, yet resolute in the face of unimaginably high stakes. It's an adventure yarn worthy of a great spy novelist and a cautionary tale for our dangerous times."—William Martin, New York Times bestselling author of Back Bayand Bound for Gold

"Intriguing... reassuring and disquieting.
Reminds us of how resilient, inspired and successful American military,
industrial and political leadership could be in the direst days of the Cold
War."—Wall Street Journal

"Just when you think
the story can't get any better there is a cover-up."—The Patriot Ledger

"An exciting account of the Cuban Missile Crisis with plenty of detail about the spyplanes and the brave men who flew them...The authors of the best-selling The Finest Hours have worked their magic again with this engaging true-life thriller."—Aviation History
PublicAffairs, 9781610398046, 360pp.
Publication Date: April 17, 2018
About the Author
Casey Sherman is an acclaimed journalist and author of ten books, including The Finest Hours, a New York Times bestseller that became a major motion picture, and CBS Films' Patriots Day.

A graduate of Boston University, he is also a contributing writer for Esquire and Boston Magazine, an international correspondent for FOX News, the co-founder of Whydah Productions, and a much sought after national speaker. He lives in Massachusetts.

Michael J. Tougias is the author and coauthor of twenty-nine books, including So Close to Home (Pegasus, 2016), Rescue of the Bounty (Scribner, 2014), A Storm too Soon (Scribner, 2013), The Finest Hours (Scribner, 2010), Fatal Forecast (Scribner, 2007), and Ten Hours Until Dawn (St Martin's Press, 2005). Tougias has written for the New York Times and several other prestigious magazines and newspapers, and has lectured across the country to groups as diverse as Fortune 500 Corporations, Associations and Public Libraries. He lives in Massachusetts and Florida.
or
Not Currently Available for Direct Purchase