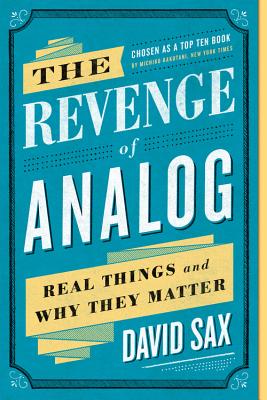 The Revenge of Analog
Real Things and Why They Matter
Paperback

* Individual store prices may vary.
Other Editions of This Title:
Digital Audiobook (11/7/2016)
Hardcover (11/8/2016)
Description
One of Michiko Kakutani's (New York Times) top ten books of 2016

A funny thing happened on the way to the digital utopia. We've begun to fall back in love with the very analog goods and ideas the tech gurus insisted that we no longer needed. Businesses that once looked outdated, from film photography to brick-and-mortar retail, are now springing with new life. Notebooks, records, and stationery have become cool again. Behold the Revenge of Analog.

David Sax has uncovered story after story of entrepreneurs, small business owners, and even big corporations who've found a market selling not apps or virtual solutions but real, tangible things. As e-books are supposedly remaking reading, independent bookstores have sprouted up across the country. As music allegedly migrates to the cloud, vinyl record sales have grown more than ten times over the past decade. Even the offices of tech giants like Google and Facebook increasingly rely on pen and paper to drive their brightest ideas.

Sax's work reveals a deep truth about how humans shop, interact, and even think. Blending psychology and observant wit with first-rate reportage, Sax shows the limited appeal of the purely digital life-and the robust future of the real world outside it.
Praise For The Revenge of Analog: Real Things and Why They Matter…
"No matter which side you're on in the debate over digital technology, there's something to cheer you in The Revenge of Analog."—Scott Timberg, New York Times Book Review

"Captivating...Sax provides an insightful and entertaining account of this phenomenon, creating a powerful counternarrative to the techno-utopian belief that we would live in an ever-improving, all-digital world."—Michiko Kakutani, New York Times

"Here is a compulsively readable book after a Luddite's heart.... Sax isn't preaching a return to the pre-Industrial Age, but neither is he embracing the robot overlords. He thoughtfully, wisely, and honestly points out how analog experiences enhance digital creativity and how humans benefit from what both have to offer. Essential reading."—Booklist, Starred Review

"A perky and well-illustrated... look at a discordantly retro cultural trend."—Kirkus Reviews

"Sax's message is that digital technology has certainly made life easier, but the analog technologies of old can make life more rich and substantial. This book has a calming effect, telling readers, one analog page at a time, that tangible goods, in all their reassuring solidity, are back and are not going anywhere."—Publishers Weekly

"The more advanced our digital technologies, the more we come to realize that reality rules. David Sax reassures us surviving members of team human that material existence is alive and well, and makes a compelling case for the reclamation of terra firma and all that comes with it."—Douglas Rushkoff, author of Throwing Rocks at the Google Bus

"Hang on digital mavens, the real world ain't going anywhere. In The Revenge of Analog, David Sax shows the continued importance of the physical stuff to how we live and work today."—Richard Florida, author of Rise of the Creative Class

"The better digital gets, the more important analog becomes. In this fun tour of modern culture, David Sax has collected hundreds of ways that an analog approach can improve our newest inventions. Sax's reporting is eye-opening and mind-changing."—Kevin Kelly, founding executive editor of Wired and author of The Inevitable

"We all thought the digital age would be the end of analog media--and we were wrong. In this smart, funny, glorious book, David Sax explains why so many of us still crave the tactile, sensual experience of listening to music on vinyl records and taking notes with pencil and paper. Turn off your electronic devices, find a quiet place, and savor this remarkable book."—Dan Lyons, bestselling author of Disrupted

"David Sax has written a brilliant cri de coeur about the way things used to be, should be, and, increasingly, are becoming once again. The Revenge of Analog reminds us that it wasn't so long ago that records were vinyl, laces were double knotted and the mailbox at the end of the driveway was lovingly banged up. It's a book that brings something even more rare than a perfect song at the perfect moment-hope."—Rich Cohen, cocreator of HBO's Vinyl and author of The Sun & The Moon & The Rolling Stones

"A thoughtful look at the many ways in which analog has not been eliminated from the world but in many ways is still thriving...Sax's book reminds us that we live in an analog world. It is a good reminder that digital can only take us so far."—Tadas Viskanta, Yahoo! Finance
PublicAffairs, 9781610398213, 304pp.
Publication Date: October 24, 2017
About the Author
David Sax is a writer, reporter, and speaker who specializes in business and culture. His previous book, The Revenge of Analog, was a #1 Washington Post bestseller, was selected as one of Michiko Kakutani's Top Ten books of 2016 for the New York Times, and has been translated into six languages. He is the author of Save the Deli, which won a James Beard award, and The Tastemakers. He lives in Toronto.