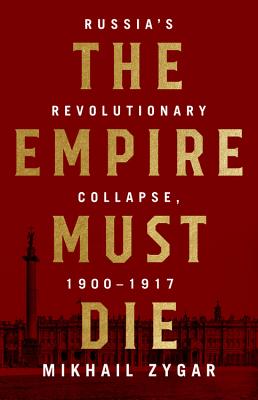 The Empire Must Die
Russia's Revolutionary Collapse, 1900-1917
Hardcover

* Individual store prices may vary.
Other Editions of This Title:
Digital Audiobook (11/6/2017)
Compact Disc (11/7/2017)
MP3 CD (11/7/2017)
Description
From Tolstoy to Lenin, from Diaghilev to Stalin, The Empire Must Die is a tragedy of operatic proportions with a cast of characters that ranges from the exotic to utterly villainous, the glamorous to the depraved.

In 1912, Russia experienced a flowering of liberalism and tolerance that placed it at the forefront of the modern world: women were fighting for the right to vote in the elections for the newly empowered parliament, Russian art and culture was the envy of Europe and America, there was a vibrant free press and intellectual life. But a fatal flaw was left uncorrected: Russia's exuberant experimental moment took place atop a rotten foundation. The old imperial order, in place for three hundred years, still held the nation in thrall. Its princes, archdukes, and generals bled the country dry during the First World War and by 1917 the only consensus was that the Empire must die.

Mikhail Zygar's dazzling, in-the-moment retelling of the two decades that prefigured the death of the Tsar, his family, and the entire imperial edifice is a captivating drama of what might have been versus what was subsequently seen as inevitable. A monumental piece of political theater that only Russia was capable of enacting, the fall of the Russian Empire changed the course of the twentieth century and eerily anticipated the mood of the twenty-first.
Praise For The Empire Must Die: Russia's Revolutionary Collapse, 1900-1917…
"This is the kind of historical narrative I like the most: unbiased, balanced, unemotional, and really thrilling at the same time. That's a pretty unique combination."—Boris Akunin, bestselling author and historian

"An immensely compelling work....A journalist, Zygar approaches history like he's interviewing it - listening to what those involved had to say and expertly putting that in context. The result is a riveting unfolding of history as it was being lived - and imperfectly understood - by those in the middle....If you want a book that's unlike the avalanche of other Revolutionary titles, that's well researched and better written, that transforms bit players of history into people you feel you know, that lets you experience the death shudders of an era at a century's remove, then The Empire Must Die must be read."—Foreign Policy

"We seem to forget how to look back in the past and learn from it; it's a pretty crucial skill for a society that wants to maintain a healthy political environment, though. Zygar is one of those important thinkers who helps us to not lose our memory and, thus, our heads."—Nadya Tolokonnikova, Pussy Riot

"By analyzing archives, historical documents, memoirs, [Zygar] created a
sort of patchwork that introduces to readers very diverse political and
cultural figures - from classic writers Leo Tolstoy and Maxim Gorky to
revolutionaries Leon Trotsky and Vladimir Lenin; from ministers Sergei Witte
and Pyotr Stolypin to popular leaders of the public protest.... This book is
worth reading...it describes the country's history through the lenses of the
Russian society, not only from the point of view of statesmen and the ruler....the
main goal of Zygar's book is to prove that every member of society can
contribute to the development of a country's history and make difference."—RussiaList.org

"Zygar has written a
riveting account....A vivid sense of real-time chaos, confusion, and the
multitude of ideas for bringing Russia into the 20th century is well documented
in a readable journalistic manner.... This lively depiction of prerevolutionary
and revolutionary Russia will interest both readers with little background who
are curious to learn about this pivotal historical time and those who would
like a fresh perspective."—Library Journal

"Zygar brings a reporter's eye to history and The Empire Must Die is packed with the sort of fantastic detail for which any newspaper editor would kill."—The Calvert Journal

"A combination of unbiased narration and primary source material, The Empire Must Die is a valuable resource, and a readable, often exciting, introduction to modern Russian history."—Historical Novel Society
PublicAffairs, 9781610398312, 576pp.
Publication Date: November 7, 2017
About the Author
Mikhail Zygar is the former editor in chief of the only independent TV station in Russia, TV Rain (Dozhd). Previously, he worked for Newsweek Russia and the business daily Kommersant. Zygar was awarded the 2014 International Press Freedom Award by the Committee to Protect Journalists.
or
Not Currently Available for Direct Purchase