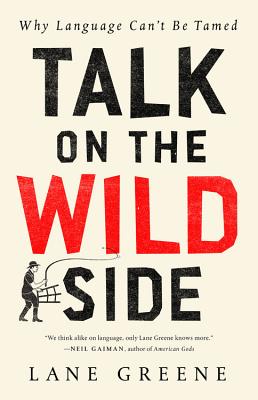 Talk on the Wild Side
Why Language Can't Be Tamed
Hardcover

* Individual store prices may vary.
Description
Language is the most human invention. Spontaneous, unruly, passionate, and erratic it resists every attempt to discipline or regularize it--a history celebrated here in all its irreverent glory.

Language is a wild thing. It is vague and anarchic. Style, meaning, and usage are continually on the move. Throughout history, for every mutation, idiosyncrasy, and ubiquitous mistake, there have been countervailing rules, pronouncements and systems making some attempt to bring language to heel.

From the utopian language-builder to the stereotypical grammatical stickler to the programmer trying to teach a computer to translate, Lane Greene takes the reader through a multi-disciplinary survey of the many different ways in which we attempt to control language, exploring the philosophies, motivations, and complications of each. The result is a highly readable caper that covers history, linguistics, politics, and grammar with the ease and humor of a dinner party anecdote.

Talk on the Wild Side is both a guide to the great debates and controversies of usage, and a love letter to language itself. Holding it together is Greene's infectious enthusiasm for his subject. While you can walk away with the finer points of who says "whom" and the strange history of "buxom" schoolboys, most of all, it inspires awe in language itself: for its elegance, resourcefulness, and power.
Praise For Talk on the Wild Side: Why Language Can't Be Tamed…
"We think alike on language, only Lane Greene knows more."—Neil Gaiman, author of American Gods

"Its breadth of coverage, and its intelligent and informed commentary, mean that it has much to offer anyone interested in the study of human languages... What unites Mr Greene's roles as language pundit and editor is a passion for language in all its variety and complexity, making for a lively and fascinating read."—Simon Horobin, independent review in The Economist

"Erudite and ebullient...a brisk, informative look at the complexities of human communication."—Kirkus Reviews

"This slim and accessible treatise is rich with keen insights about the politics, pleasures, and possibilities of language. Recommended for linguaphiles and anyone looking for rhetorical ammunition against the grammar snobs in their life."—Booklist

"Lane Greene is a superb commentator on language & linguistics."—Steven Pinker, author of The Language Instinct

"Lane Greene has succeeded in penning a book on language that will answer absolutely any question anyone in 2018 has about language, where it was and where it's going. Of course, if you want to know about some specific word, then you'll have to consult a dictionary -- but Talk on the Wild Side will even help you do a better job of that!"— John McWhorter
The Economist, 9781610398336, 240pp.
Publication Date: November 6, 2018
About the Author
Lane Greene is an American journalist, best known for his work for the Economist and his book about the politics of language, You Are What You Speak: Grammar Grouches, Language Laws, and the Politics of Identity.
or
Not Currently Available for Direct Purchase