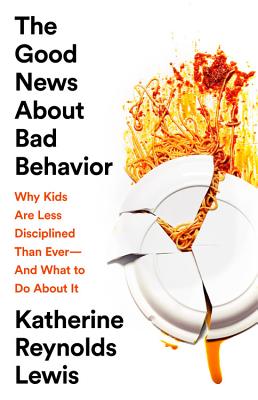 The Good News about Bad Behavior: Why Kids Are Less Disciplined Than Ever--And What to Do about It (Hardcover)
Why Kids Are Less Disciplined Than Ever--And What to Do about It
PublicAffairs, 9781610398381, 272pp.
Publication Date: April 17, 2018
Description
Based on the most-read article ever published by Mother Jones, Katherine Reynolds Lewis argues that demanding obedience has made children less disciplined than ever--and shows what today's parents can do about it.
A new and surprising problem has quietly been developing in the current generation of children: they are out of control. A recent study of first-graders found they could sit still for no more than three minutes, only a quarter of the time that their peers could in 1948. Government statistics show that half of all children will develop a mood or behavioral disorder or a substance addiction by age eighteen. In the era of the helicopter parent, children seem to have lost the ability to regulate their behavior. According to journalist Katherine Lewis, this is not a coincidence. Our time-honored methods of punishments and rewards haven't taught discipline--they've undermined it. Lewis has traveled the country observing families at the dinner table, meeting educators who are transforming the school experience for kids with attention and mood disorders, studying psychological research, and looking introspectively at her own parenting habits. And in this surprising and valuable book, she documents a new theory of discipline that could reverse the trend: The Apprenticeship Model, which centers on listening and a deeper understanding of the root causes of behavior, rather than reactionary rewards and punishments. Meltdowns, for instance, should not be seen as atypical behaviors to be eradicated, but teaching moments to develop our kids' strategies for self-regulation and problem solving. By strengthening their connection, communication and capability, we can raise children who are happier, more successful, and better equipped to handle the challenges they'll face in life--and whose parents can finally stop wondering what they're doing wrong.

About the Author
Katherine Reynolds Lewis is an award-winning independent journalist based in the Washington, DC, area who regularly writes for The Atlantic, Fortune, USA Today's magazine group, the Washington Post, and Working Mother magazine. Lewis's byline has also appeared in Bloomberg Businessweek, MSN Money, Money, Mother Jones, the New York Times, Parade, Slate, and the Washington Post Magazine. Her work has won awards from the Society of American Business Editors and Writers, the Society of Professional Journalists, and the Chicago Headline Club. She has received fellowships from the Carey Institute for Global Good, the National Press Foundation, the Poynter Institute, and the University of Maryland's Casey Journalism Center. Residencies include Le Moulin a Nef, Ragdale, and the Virginia Center for the Creative Arts. Her media appearances include CNN, NPR, Bloomberg television and radio, and HuffPost Live, as well as numerous radio programs nationally and internationally. In 2008, Lewis created a website on working moms for About.com, which she ran until 2014, attracting millions of readers to the site, its blog, and a weekly newsletter. She is a certified parent educator with the Parent Encouragement Program in Kensington, Maryland.
Advertisement