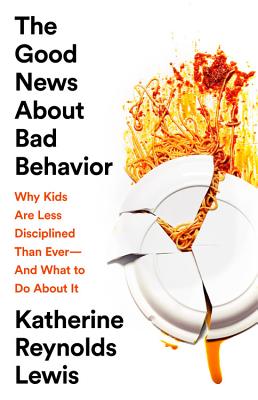 The Good News about Bad Behavior (Hardcover)
Why Kids Are Less Disciplined Than Ever--And What to Do about It
PublicAffairs, 9781610398381, 288pp.
Publication Date: April 17, 2018
Description
The current model of parental discipline is as outdated as a rotary phone.
Today's parents live with an exhausting reality: persistent defiance from children. About half of the current generation of children will develop a mood or behavioral disorder or a substance addiction by age eighteen. And many parents feel increasingly unable to exert any influence over their children. In our highly connected age, the all-powerful parent is largely a thing of the past.
In this book, journalist and parenting expert Katherine Reynolds Lewis proposes a radical solution: empathy. As she journeys from parenting seminars to neuroscience labs to schools to the homes of modern parents, Lewis documents a crisis of self-regulation--and shows how children rise to the occasion when their parents learn to trust them, let them face consequences, and train them in the art of self-control. She watches as chaotic homes become peaceful, bewildered teachers see progress, and her own family grows and changes in light of new ideas. You'll recognize your own family in Lewis's sensitive, realistic stories, and you'll find a path to making everyone in your home more capable, kinder, and happier--including yourself.
About the Author
Katherine Reynolds Lewis is an award-winning independent journalist based in the Washington, DC, area who regularly writes for The Atlantic, Fortune, USA Today's magazine group, the Washington Post, and Working Mother magazine. Lewis's byline has also appeared in Bloomberg Businessweek, MSN Money, Money, Mother Jones, the New York Times, Parade, Slate, and the Washington Post Magazine. Her work has won awards from the Society of American Business Editors and Writers, the Society of Professional Journalists, and the Chicago Headline Club. She has received fellowships from the Carey Institute for Global Good, the National Press Foundation, the Poynter Institute, and the University of Maryland's Casey Journalism Center. Residencies include Le Moulin a Nef, Ragdale, and the Virginia Center for the Creative Arts. Her media appearances include CNN, NPR, Bloomberg television and radio, and HuffPost Live, as well as numerous radio programs nationally and internationally. In 2008, Lewis created a website on working moms for About.com, which she ran until 2014, attracting millions of readers to the site, its blog, and a weekly newsletter. She is a certified parent educator with the Parent Encouragement Program in Kensington, Maryland.
Advertisement