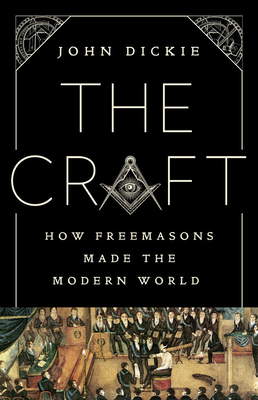 The Craft (Hardcover)
How the Freemasons Made the Modern World
PublicAffairs, 9781610398671, 464pp.
Publication Date: August 4, 2020
* Individual store prices may vary.
Description
A global history of the world's most famous secret society, encompassing kings and presidents, writers and legislators, composers and entertainers, generals and entrepreneurs.

During the Scottish Reformation, when kings, princes, and popes were being toppled from their thrones, a new and secretive society was formed. The Freemasonry's fixed rules, suggesting a connection to an ancient wisdom and known only to its initiates, attracted many antagonists, including the Roman Catholic Church, but also attracted a diverse range of members, from tradesman, merchants, actors, lawyers, Jews, and even people of color.

The Craft is a vibrant, revelatory history of the Freemasons, their core ideas, and its members, including revolutionaries (Giuseppe Garibaldi, Simón Bolívar, Motilal Nehru, and George Washington), rulers (five of England and no fewer than fourteen U.S. Presidents), and luminaries (Arthur Conan Doyle, Goethe, Mozart, Shaquille O'Neal, Harry Houdini, Henry Ford, Buzz Aldrin, and Walt Disney; the Duke of Wellington, Duke Ellington, and more). John Dickie captures the mystique of Masonic secrecy, and shows why its history is too important and too compelling to be the exclusive property of the initiated as Freemasonry has had a role in shaping the world for all of us.


About the Author
John Dickie is Professor of Italian Studies at University College, London. His book, Cosa Nostra: A History of the Sicilian Mafia, is an international bestseller, with over 20 translations, and won the CWA Dagger Award for non-fiction. Since then he has published Delizia! The Epic History of the Italians and their Food (2007) -- now a six-part TV series for History Channel Italia and other networks worldwide. In 2005 the President of the Italian Republic appointed him a Commendatore dell'Ordine della Stella della Solidarietà Italiana. He lives in London.
Praise For The Craft: How the Freemasons Made the Modern World…
PRAISE FOR COSA NOSTRA

"Riveting" ---Sunday
Telegraph

"The inspiration of
far too much pulpy entertainment, the Italian mobsters under John Dickie's
miscroscope in Cosa Nostra have long cultivated outsiders' tendencies to
romanticize their supposed honor and loyalty. But Dickie demonstrates
definitively that the centuries-old mafia has never been more than an illegal
business and shadow state pursuing 'power and money by cultivating the art of
killing people.'" ---Washington Post

"Absorbing . . . He succeeds in being both opinionated and
precise and has performed a necessary work of rebranding." ---Financial Times

"His is the first
truly definitive English-language study of this myth-laden subject, and it is a
pleasure to read...his book is notable for shrewd judgments couched in language
that is vibrantly memorable. His acquaintance with the island and his immersion
in the wider modern Italian culture also allow him to convey the noxious
atmosphere of corruption with flair." ---Christopher Sylvester, Sunday Times (London)

"A serious contribution to modern Italian history . . . it
can be safely predicted that Dickie's book will be a sensation, not least
because it has a dozen potential movies in it." ---Clive James, Times Literary Supplement

"I couldn't put it down. His archival sleuthing is yoked to
his powerful, often coruscating storytelling to create a chilling account of
the mafia's sinister, horrific reality." ---John Guy, Sunday Times (London)