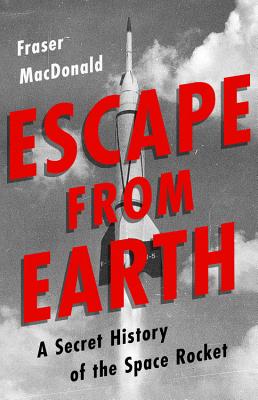 Escape from Earth
A Secret History of the Space Rocket
Hardcover

* Individual store prices may vary.
Other Editions of This Title:
Digital Audiobook (6/24/2019)
Compact Disc (6/25/2019)
Compact Disc (6/25/2019)
Description
The long-buried truth about the dawn of the Space Age: lies, spies, socialism, and sex magick.
Los Angeles, 1930s: Everyone knows that rockets are just toys, the stuff of cranks and pulp magazines. Nevertheless, an earnest engineering student named Frank Malina sets out to prove the doubters wrong. With the help of his friend Jack Parsons, a grandiose and occult-obsessed explosives enthusiast, Malina embarks on a journey that takes him from junk yards and desert lots to the heights of the military-industrial complex.
Malina designs the first American rocket to reach space and establishes the Jet Propulsion Laboratory. But trouble soon finds him: the FBI suspects Malina of being a communist. And when some classified documents go missing, will his comrades prove as dependable as his engineering?
Drawing on an astonishing array of untapped sources, including FBI documents and private archives, Escape From Earth tells the inspiring true story of Malina's achievements--and the political fear that's kept them hidden. At its heart, this is an Icarus tale: a real life fable about the miracle of human ingenuity and the frailty of dreams.
Praise For Escape from Earth: A Secret History of the Space Rocket…
"Frank Malina, one of the most talented pioneers of American rocket science, flirted with communism and pacifism, and then gave it all up-rocketry included-to become a painter. History has in consequence all but erased his memory-except that now, thanks to Fraser MacDonald's fascination with his story and a dogged determination to write this riveting and important book, his legacy has been revived, and will surely long endure."—Simon Winchester, New York Times bestselling author of The Professor and the Madman and The Perfectionists

"Exquisitely researched, thoughtfully written, Escape from Earth is a fascinating exploration of an endlessly intriguing and remarkable subject. Fraser MacDonald has not only brought to life Frank Malina, he has captured perfectly the political and scientific contradictions of the dawn of the Space Age."—Henry Hemming, author of The Ingenious Mr. Pyke and Agents of Influence

"A fascinating history of America's ascent into space that literally rewrites our understanding of the rocket age; a story that mixes sex, Nazis, Communists, the FBI, and rockets and along the way reminds us how complicated and untidy even celebrated history can be. Escape from Earth is an instant addition to the rocketry canon, right there with Operation Paperclip and Hidden Figures."—Garrett Graff, bestselling author of Raven Rock: The Story of the U.S. Government's Secret Plan to Save Itself-While the Rest of Us Die

"Fraser MacDonald's taut, deeply researched account of Malina's career is packed with luminaries such as Theodore von Kármán, and insights into the zeitgeist of a fraught era."—Nature

"Fraser MacDonald has crafted a compelling, authoritative, surprising, and beautifully written book about the dawn of the space age."—The New York Journal of Books
PublicAffairs, 9781610398718, 384pp.
Publication Date: June 25, 2019
About the Author
Fraser MacDonald is a lecturer in Human Geography at the University of Edinburgh where he teaches historical geography and the history of science. He has a regular by-line at The Guardian and has also written for Aeon Magazine, The Herald, The Age, The Australian, the LRB Books blog, among others publications.