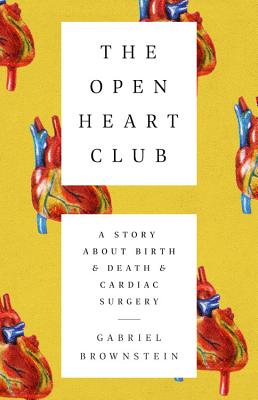 The Open Heart Club
A Story about Birth and Death and Cardiac Surgery
Hardcover

* Individual store prices may vary.
Description
This absorbing and poignant book is not merely the story of one writer's flawed heart. It is a history of cardiac medicine, a candid personal journey, and a profound reflection on mortality.
Born in 1966 with a congenital heart defect known as the tetralogy of Fallot, Gabriel Brownstein entered the world just as doctors were learning to operate on conditions like his. He received a life-saving surgery at five years old, and since then has ridden wave after wave of medical innovation, a series of interventions that have kept his heart beating.
The Open Heart Club is both a memoir of a life on the edge of medicine's reach and a history of the remarkable people who have made such a life possible. It begins with the visionary anatomists of the seventeenth century, tells the stories of the doctors (all women) who invented pediatric cardiology, and includes the lives of patients and physicians struggling to understand the complexities of the human heart. The Open Heart Club is a riveting work of compassionate storytelling, a journey into the dark hinterlands between sickness and health lit by bright moments of humor and inspiration.
Praise For The Open Heart Club: A Story about Birth and Death and Cardiac Surgery…
"A compelling plunge into a dark subject by one of the most engagingly honest and warmly sympathetic narrators you'll ever meet."
—
Phillip Lopate, author of To Show and to Tell
"
The Open Heart Club
is a truly heartrending story of one man's lifelong struggle with heart disease, backed up with a powerfully well written history of the people whose discoveries have kept him alive."—
Mimi Swartz, author of Ticker: The Quest to Create an Artificial Heart
"This is an extraordinary book, one that artfully weaves Brownstein's poignant personal recollections together with a fascinating history of ideas and innovations that have ushered in the era of modern surgery. Anyone who cares about medicine, technology, longevity-or the human heart-needs to read this."
—
Jon Gertner, author of The Idea Factory: Bell Labs and the Great Age of American Innovation
"Surgery is a miracle. It's easy to forget how radical it is for a doctor to cut into our bodies, make repairs, and close us up again. Life, too, is miraculous, and this is also easy to forget as we go about our daily lives.
The Open Heart Club
is a tribute to both. This is the story of one man's life and Life itself. Meticulously researched and written with beauty and wonder, this is a story that will make you marvel at every beat of your own open heart."—
Tayari Jones, author of An American Marriage
"[An] engaging account of his uncertain life...Brownstein's warmth and candor will keep readers immersed in this tale of survival in a time of chronic illness."
—
Kirkus Reviews
"The history of heart surgery is told in
The Open Heart Club
as a supremely risky scientific adventure and as a personal memoir ... Brownstein uses his storyteller's skills deftly."
—
Minneapolis Star Tribune
PublicAffairs, 9781610399494, 368pp.
Publication Date: October 22, 2019
About the Author
Gabriel Brownstein has published a novel, The Man from Beyond, and a book of stories, The Curious Case of Benjamin Button, Apt. 3W. For his short fiction, he has won a PEN/Hemingway Award and a Pushcart Prize. He teaches at St. John's University in Queens, New York, and lives in Brooklyn with his wife and two daughters.