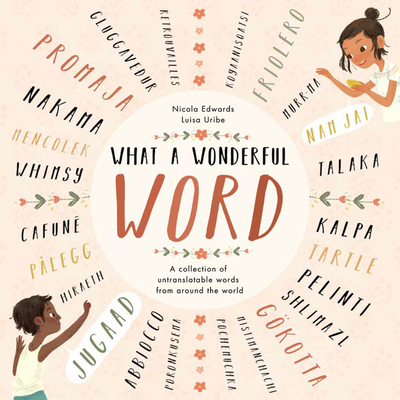 What a Wonderful Word
Hardcover

* Individual store prices may vary.
Description
Have you ever wished there was a word for friends who are like family to you, or for the way you hesitate when you've forgotten someone's name? Did you know there was a special word for the distance a reindeer can travel before needing the bathroom? Or for when you search for something in the water using only your feet?

This hand-picked collection of untranslatable words from all over the world celebrates the magic of language, with gorgeous original art work and fascinating facts about each word and the culture it comes from.
Praise For What a Wonderful Word…
"This book may be filled with words that are unique to a certain culture and language but most of the words amaze the reader with the way that they transcend cultures with their applicability. ... Every word in this book made me smile."
-- Worlds of Words Review: Reading Across Cultures

" ...unusual, untranslatable foreign words are introduced in this delightful book. Each two-page entry includes cultural background (in tiny print) and lively retro illustrations. Pronunciation guidance appended."
-- The Horn Book


"In What a Wonderful Word, a global collection of words considered untranslatable into English are explained and illustrated. In addition, fascinating facts  give additional insight into the people and locations included in the book. What a Wonderful Word transports readers to other places and introduces different cultures through their language... This is a book for everyone who loves words and learning about other people and places."
-- A Field Trip Life

"A word rests prominently on the page, with some text to sketch its origins or context, while the splendid pictures depict people from around the world. … A fine, informative read that may spur young readers to pursue more words unfamiliar to them."
-- Kirkus Reviews

"Kids who like trivia and linguistics will enjoy this unusual book."
-- Booklist

"This book introduces readers to thirty unusual words from around the globe and proves how beautiful and rich languages can be. Edwards' text is both informative and playful and celebrates the diversity of our fascinating world. Uribe's detailed illustrations treat readers to windows into other places and people."
-- The Pirate Tree

"In addition to providing linguistic enlightenment, Edwards and her artistic co-hort, Luisa Uribe, personify whimsy (English for '[p]layfully quaint or fanciful behavior or humor'). Each word is presented on a two-page spread complete with originating language, definition, and additional context, history, factoids, and all manner of tidbits to enhance your understanding. Some words are just jaw-droppingly funny: poronkusema - Finnish for the 'distance a reindeer can walk before needing to use the bathroom.' Some are thoroughly heart-melting: ishq - Arabic for a 'perfect love without jealousy or inconsistency that holds two people together.' Some are spot-on perfection: pelinti - Buli for '[t]o move food that is too hot around your mouth as you wait for it to cool down.'"
-- BookDragon

"This book offers examples of untranslatable words from around the world. These are words that some cultures can use just one word to capture but in other languages it takes entire sentences to explain them. The words come from all over the globe, and while some may be familiar others are entirely surprising and fascinating. Perhaps the most interesting part is how these unique words offer a glimpse into the culture they come from. The illustrations of the book are show places and people around the world acting out each word. They are bright and friendly. The text offers the word, a definition and then additional information on where it comes from. Enjoy exploring words like nakama, tartle and gluggavedur!"
-- Waking Brain Cells
Kane Miller Books, 9781610677226, 64pp.
Publication Date: September 1, 2018
or
Not Currently Available for Direct Purchase