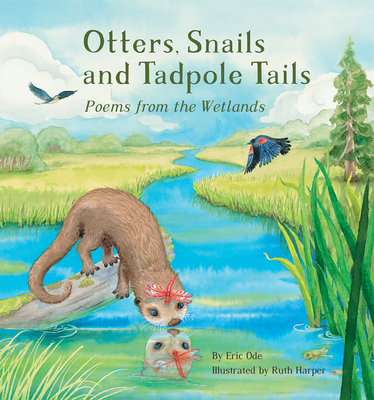 Otters, Snails and Tadpole Tails (Hardcover)
Kane Miller Books, 9781610677479, 32pp.
Publication Date: March 1, 2019
* Individual store prices may vary.
Description
Acclaimed singer/songwriter and poet Eric Ode joins forces with New York Times bestselling illustrator Ruth Harper in this gentle, stunningly beautiful homage to all things wetland. From raccoons to muskrats, frogs to heron, it's a celebration of biodiversity, art, poetry and healthy ecosystems.
Praise For Otters, Snails and Tadpole Tails…
"Acclaimed author and poet, Ode's lyrical verses will delight young readers and teach them about biodiversity in a playful way. New York Times bestselling illustrator, Harper's detailed and lively illustrations align perfectly with the verses and make them burst with life. Highly recommended for any home, school or public library."
-- The Pirate Tree

"Filled with charming illustrations... The poems in this collection are also full of a sense of wonder, and I'm impressed with how Eric captures that in his beautifully crafted verses... Between verse and illustration, this collection simply made me happy, warm, and fuzzy."
-- No Water River

"The poems in this book are full of imagery and excitement, bringing the flora and fauna of the wetlands to life. I especially love the poems about the native plants. The illustrations are bright and full of life. So much detail on every page gives readers lots to discover during every re-read!"
-- Children's Book Council Bulletin, "What We're Reading"

"A poetry book for younger kids definitely needs illustrations and Ruth Harper does a terrific job. Her illustrations are a great compliment to each poem. They set the scene for each poetry selection. The author, Eric Ode, has put together 18 short poems about the inhabitants of the wetlands. Readers can learn about what's found in this ecosystem and enjoy the expressiveness that's found in a poem. A wonderful book for ages 5 and up."
-- Notes From Dawn

"In 'Otters, Snails and Tadpole Tails: Poems From The Wetlands', singer/songwriter/poet Eric Ode joins forces with illustrator Ruth Harper to create a gentle, stunningly beautiful homage to all things wetland. From raccoons to muskrats, frogs to heron, 'Otters, Snails and Tadpole Tails' is a wonderful celebration of biodiversity, art, poetry, and healthy ecosystems for young children. A unique and certain to be enduringly popular addition to family, elementary school, and community library picture book collections, 'Otters, Snails and Tadpole Tails' is very highly recommended."
-- Midwest Book Review
or
Not Currently Available for Direct Purchase