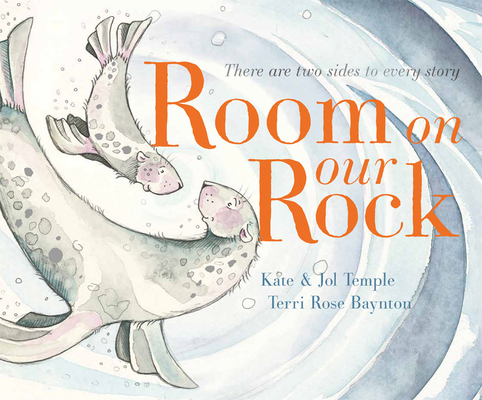 Room on Our Rock
Hardcover

* Individual store prices may vary.
Description
Two seals are perched on a rock.
When others need shelter, do they share it?

Room on Our Rock celebrates the truth that there are two sides to every story. This clever picture book has one story that can be read two different ways.

When read from left to right, the seals believe there is definitely no room on their rock for others. But when the book is turned around and read from right to left, the seals welcome others to shelter on their rock.

A heart-warming story about sharing and compassion.
Praise For Room on Our Rock…
"I don't know if I've seen other books written in this format, so they certainly provide a fun and unique reading experience for kids of all ages! Definitely perfect for any ocean animal loving kiddo!"
-- The Blossoming Bibliophiles

"An important lesson to our littles that if you have more than enough, it's good to share."
-- Little Cub Literacy

"This clever book presents readers with a story that reads forward and backward, revealing narratives about sharing and compassion. ... Gray and blue watercolor illustrations of a landscape in the sea complement this story sure to warm hearts and encourage compassion among readers."
-- Children's Literature Assembly Blog

"Winner of the NCTE Charlotte Huck Award of 2020, this heartwarming story of sharing and compassion is a delight to behold."
-- The Storytellers

"Named winner of the 2020 Charlotte Huck Award, this clever book is actually two in one - it can be read forward and backward. ... A great conversation-starter with children about differing attitudes toward refugees and a teaching moment for empathy and sharing."
-- BookTrib

"...the story and message of Room on our Rock is just so special. The discussions that teachers will be able to have with students about this book will be deep and poignant."
-- Unleashing Readers

" …as a springboard for discussion about personal choice, acceptance, and different points
of view, there is a great deal to savor here."
-- School Library Journal

"...the two sides of the story combined to create a powerful narrative about making room for those who have no other place to go. Read this book to children of all ages. Use it to open dialogue about the refugee crisis. Marvel at the craft. Keep it close by when teaching perspective and debate."
-- TBR Blog,

"Room on our Rock will be a great way to teach young readers about compassion and sharing and will lead into some interesting discussions. Highly recommended for any home, school or public library."
-- The Pirate Tree

"Room On Our Rock is a touching, clever look at empathy, compassion, and perspective, presenting two points of view... The sparse text brings readers into the issues at the heart of the refugee crisis, showing either – depending on which side of the story you're reading – an astonishing lack of compassion or empathy, or a heart-stirring wealth of benevolence and welcome. The illustrations add to the well of emotion created by the text, giving life to the words by giving us churning waters and the expressive faces... This is a good book about an important topic that seems to be its own endangered species: empathy."
-- Mom Read It

"...a great book to read with preschool and kindergarten aged children! Some seals on a rock are being unkind and they won't allow others on their rock. But when you finish the book and read from back to front, the message changes. This can be a lead-in for a classroom discussion about inclusion and treating others with kindness."
-- StoryMamas

"CLEVER! Read the simple text of this reverso book first from front to back, then back to front for a completely different point of view. An excellent lesson about being welcoming and inclusive... and parable about the refugee crisis."
-- LitGeekLife

"You can see the implications for classroom discussions about current events/immigration policies and about point of view… This is an amazing book."
-- A Year of Reading

"This poetic picture book reads forward and backward, revealing two narratives about sharing and welcoming... The initial front-to-back reading witnesses the group of seals shooing the seal-and-pup pair away even though the duo has nowhere to go. The final page reads: 'No room on this rock? Can it be true? / Read back to front for another point of view.' Reading the book backward, readers find a story of welcoming using the same text in reverse. For one-on-one sharing or a read-aloud with an engaged group of children, the chance to re-explore the book from back to front to derive different meaning is an opportunity for playful reflection. Large, simple black text throughout employs italics for direct emphasis. The narrative around sharing and welcoming can be scaled for diverse age groups. Gently clever."
-- Kirkus Reviews
Kane Miller, 9781610679022, 32pp.
Publication Date: July 1, 2019
or
Not Currently Available for Direct Purchase