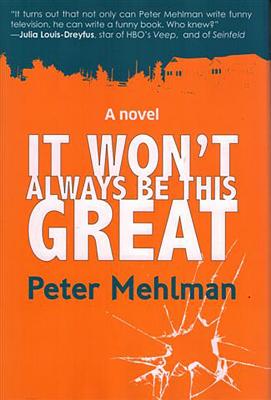 It Won't Always Be This Great (Hardcover)
Bancroft Press, 9781610881357, 341pp.
Publication Date: September 15, 2014
* Individual store prices may vary.
Description
"In the crushing complacency of suburbia, mid-life crises pop in unannounced on men's lives. For one Long Island podiatrist, it takes an impromptu act of vandalism just to make him aware of his own being. Walking home in the sub-zero wind chill of a Friday night, he stumbles on a bottle of horseradish and mindlessly hurls it through the window of a popular store selling clothes to over-sexed tweens. This one tiny, out-of-character impulse turns his life upside-down, triggering waves of terrifying fear, crooked cops, and charges of anti-Semitism.The story is told by this same podiatrist, an endearingly wide-eyed and entirely nameless narrator, to what he regards as the perfect audience: a comatose college friend. Yet, our narrator's most unique quality lies simply in his glowing love for his wife Alyse, the girl of his dreams whom he met in college and still can t quite believe he managed to marry. She is the mother of his two children, Esme and Charlie, who are just starting to come into their own minds and experiencing their first encounters with prejudice.Prior to the bottle-throwing incident, our narrator had just enough going on in his own life to keep him interested. Now friends and neighbors push his intrigue-filled existence into wildly unpredictable places, especially nineteen year old Audra Uziel, a long-time patient who's brilliant, rebellious, and sexy, with a taste for happily married men.And oh: Audra also happens to be the daughter of Nat Uziel, self-proclaimed community patriarch whose store window the infamous horseradish bottle demolished. Always on the lookout for anti-Semitism, Nat doesn t know the true culprit but doesn t let that stop him from loudly whipping his world into a frenzy, forcing our narrator into hiding in plain sight.Pushed to the edge by his own desires, despairs, and disappointments, our narrator is about to find out what it's like to become a criminal, and what his crucifyingly dull neighborhood looks like in the midst of continuing controversy.
or
Not Currently Available for Direct Purchase