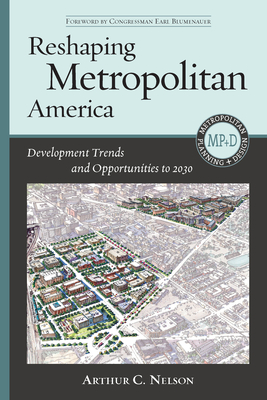 Reshaping Metropolitan America (Hardcover)
Development Trends and Opportunities to 2030 (Metropolitan Planning + Design)
Island Press, 9781610910194, 168pp.
Publication Date: January 15, 2013
* Individual store prices may vary.
Description
Nearly half the buildings that will be standing in 2030 do not exist today. That means we have a tremendous opportunity to reinvent our urban areas, making them more sustainable and livable for future generations. But for this vision to become reality, the planning community needs reliable data about emerging trends and smart projections about how they will play out. Arthur C. Nelson delivers that resource in Reshaping Metropolitan America.
This unprecedented reference provides statistics about changes in population, jobs, housing, nonresidential space, and other key factors that are shaping the built environment, but its value goes beyond facts and figures. Nelson expertly analyzes contemporary development trends and identifies shifts that will affect metropolitan areas in the coming years. He shows how redevelopment can meet new and emerging market demands by creating more compact, walkable, and enjoyable communities. Most importantly, Nelson outlines a policy agenda for reshaping America that meets the new market demand for sustainable places.
About the Author
Arthur C. Nelson, Ph.D., FAICP, is Associate Dean for Research and Professor of Planning and Real Estate Development in the College of Architecture, Planning and Landscape Architecture at the University of Arizona. He is also Presidential Professor Emeritus of City & Metropolitan Planning at the University of Utah.
For the past thirty years, Dr. Nelson has conducted pioneering research in growth management, urban containment, public facility finance, economic development, and metropolitan development patterns. Numerous organizations have sponsored Dr. Nelson's research, including the National Science Foundation; National Academy of Sciences; U.S. Departments of Housing and Urban Development (HUD), Commerce, and Transportation; U.K. Department of the Environment; Lincoln Institute of Land Policy; Fannie Mae Foundation; American Planning Association; National Association of Realtors; and The Brookings Institution. His research and practice has led to the publication of 14 books and more than 200 other scholarly and professional publications.
Prior to academia, Dr. Nelson managed his own West Coast consultancy in planning and management, and continues to provide professional planning services. In 2000, his professional planning, education, and research accomplishments were recognized as the first Fellow of the American Institute of Certified Planners elected based on a national (as opposed to state) process. From 2000 to 2001, he served HUD as an expert on smart growth and growth management for the Clinton and Bush Administrations. In this capacity, he helped expand HUD's research scholarship programs and create HUD's doctoral fellowship program.
Dr. Nelson has earned three teacher of the year honors at two universities (Kansas State University and Georgia Tech), researcher of the year honors at a third (University of New Orleans), and scholar of the year honors at a fourth (Virginia Tech). His books have shaped the field of impact fees, growth management, and urban containment. His papers have won national awards and international distinction. Dr. Nelson's students have won numerous national awards including the national student project of the year award given by the American Institute of Certified Planners. His former doctoral students are becoming program chairs and research center directors across the U.S. Dr. Nelson has also received numerous commendations for his professional continuing education programs through which he has instructed more than 5,000 professionals in a variety of technical planning and facility financing subjects since the late 1990s.

Praise For Reshaping Metropolitan America: Development Trends and Opportunities to 2030 (Metropolitan Planning + Design)…
"Reshaping Metropolitan America is a useful, readable, and provocative book that should interest a diverse set of audiences."
"Chris Nelson invented the big picture understanding of how we are building metropolitan America. In Reshaping Metropolitan America, he has once again shown why urbanists throughout the country turn to him to see the future of the built environment."
— Christopher B. Leinberger, Professor, GWU Business School, author of "The Option of Urbanism"
"What if all new development from 2010-2030 infilled or retrofitted suburban corridors and centers? The extensive research and compelling demographic and statistical evidence compiled here projects the myriad benefits of just such a bold—and needed—scenario. This is a must-read for planners and policymakers."
— Ellen Dunham-Jones, Professor, Georgia Institute of Technology, coauthor of "Retrofitting Suburbia"
"Finally we have a comprehensive view of how the American Dream is changing and why. We are a market driven culture and this important book lays out the new market forces; demographics, costs, environmental impacts, and quality of life. The good news is that they all lean in the same direction—Smart Growth will dominate the next generation of development."
— Peter Calthorpe, Principal, Calthorpe Associates, author of "Urbanism in the Age of Climate Change"
"Nelson paints a vivid picture of an America physically transformed in the next twenty years. Denser in form, more diverse in demographics, richer in transport and living options, the changing shape of our cities and metros will have profound implications for our economy, our environment and our health."
— Bruce Katz, VP and Director, Metropolitan Policy Program, the Brookings Institution
or
Not Currently Available for Direct Purchase