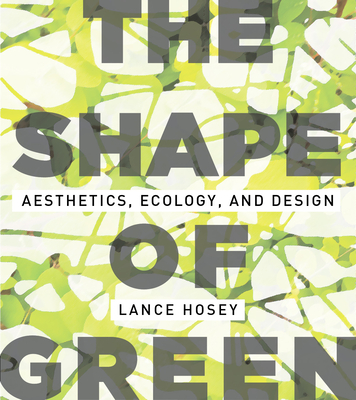 The Shape of Green (Hardcover)
Aesthetics, Ecology, and Design
Island Press, 9781610910316, 216pp.
Publication Date: June 11, 2012
* Individual store prices may vary.
or
Not Currently Available for Direct Purchase
Description
Does going green change the face of design or only its content? The first book to outline principles for the aesthetics of sustainable design, The Shape of Green argues that beauty is inherent to sustainability, for how things look and feel is as important as how they're made.
In addition to examining what makes something attractive or emotionally pleasing, Hosey connects these questions with practical design challenges. Can the shape of a car make it more aerodynamic and more attractive at the same time? Could buildings be constructed of porous materials that simultaneously clean the air and soothe the skin? Can cities become verdant, productive landscapes instead of wastelands of concrete?
Drawing from a wealth of scientific research, Hosey demonstrates that form and image can enhance conservation, comfort, and community at every scale of design, from products to buildings to cities. Fully embracing the principles of ecology could revolutionize every aspect of design, in substance and in style. Aesthetic attraction isn't a superficial concern -- it's an environmental imperative. Beauty could save the planet.
About the Author
Lance Hosey, a nationally recognized architect, designer, and author, is Chief Sustainability Officer with the global design leader RTKL. He is a former Director with William McDonough + Partners and co-author, with Kira Gould, of Women in Green: Voices of Sustainable Design (2007).
Praise For The Shape of Green: Aesthetics, Ecology, and Design…
"It's time someone revealed that the opposition of sustainability vs style, ethics vs aesthetics are false starts. In this book, Lance Hosey helps retire that opposition and shows us what makes beauty and sustainability one and the same."

-Susan S. Szenasy

"The Shape of Green is a positive thesis. It might even inspire hope in the most pessimistic readers."

"Hosey's holistic investigation of the way we perceive and react to our surroundings is fascinating. His underlying argument--that green living doesn't have to be punishing, expensive, or boring--is a refreshing take on an old debate that fans of Malcolm Gladwell and other big thinkers will find informative and illuminating."

"True to its own philosophy, The Shape of Green is a beautiful book that designers (and design lovers) will turn to time and again."


"Lance Hosey... has written a valuable book with a clear yet strong argument at its core: How something looks is as important to sustainability as how it performs."

"The Shape of Green... deals with the fundamental issues that I could never quite express to my students about the importance of aesthetics, design and yes, even beauty, to green building. I could never quite justify why I would post some projects on TreeHugger and skip others that might have a higher LEED score. After reading The Shape of Green, I am much more confident in saying that if it doesn't move the heart, it doesn't move the needle on sustainability."

"Design has the power to create a world that can be economically, equitably, ecologically and elegantly enjoyed. In The Shape of Green, Lance Hosey explores the critically important but too rarely discussed dimensions of this goal—elegance, joy, and beauty."
-William McDonough
Advertisement