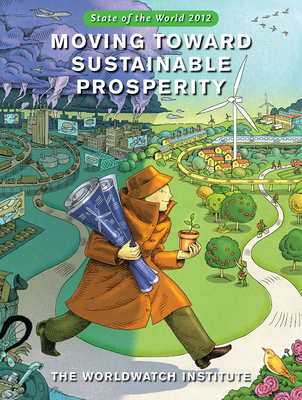 State of the World 2012 (Paperback)
Moving Toward Sustainable Prosperity
Island Press, 9781610910378, 272pp.
Publication Date: March 28, 2012
* Individual store prices may vary.
Description
In the 2012 edition of its flagship report, Worldwatch celebrates the twentieth anniversary of the 1992 Earth Summit with a far-reaching analysis of progress toward building sustainable economies. Written in clear language with easy-to-read charts, State of the World 2012 offers a new perspective on what changes and policies will be necessary to make sustainability a permanent feature of the world's economies. The Worldwatch Institute has been named one of the top three environmental think tanks in the world by the University of Pennsylvania's Think Tanks and Civil Societies Program.

About the Author
Through research and outreach that inspire action, the Worldwatch Institute works to accelerate the transition to a sustainable world that meets human needs. The Institute's top mission objectives are universal access to renewable energy and nutritious food, expansion of environmentally sound jobs and development, transformation of cultures from consumerism to sustainability, and an early end to population growth through healthy and intentional childbearing.

Founded in 1974 by farmer and economist Lester Brown, Worldwatch was the first independent research institute devoted to the analysis of global environmental concerns. Worldwatch quickly became recognized by opinion leaders around the world for its accessible, fact-based analysis of critical global issues. Today, Worldwatch develops innovative solutions to intractable problems, emphasizing a blend of government leadership, private sector enterprise, and citizen action that can make a sustainable future a reality.
Praise For State of the World 2012: Moving Toward Sustainable Prosperity…
"The most comprehensive, up-to-date, and accessible summaries . . . on the global environment."
— E.O. Wilson, Pulitzer Prize winner
"Top-ranked annual books on sustainable development."
"A wise read for the world's future,
Moving Toward Sustainable Prosperity
is a solid and much recommended read for environmental and science collections."
"Together with 35 pages of referenced notes and a 15-page index, the...chapters constitute a worthy, excellent-value compendium of environmental information."
"...it has provided compelling and increasingly sophisticated analyses of those challenges; and it has helped to bring coherence and direction to the study of global environmental governance. In doing so, the series has increased the capacity of the policy and scientific community to meet the challenges of the next century."

or
Not Currently Available for Direct Purchase