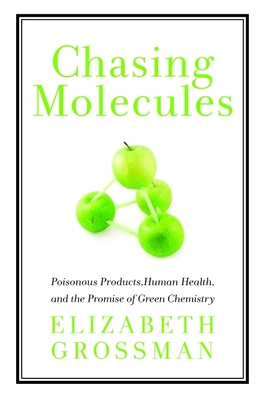 Chasing Molecules (Paperback)
Poisonous Products, Human Health, and the Promise of Green Chemistry
Shearwater, 9781610911610, 288pp.
Publication Date: September 1, 2011
Other Editions of This Title:
Hardcover (9/7/2009)
MP3 CD (6/28/2016)
* Individual store prices may vary.
Description
Each day, headlines warn that baby bottles are leaching dangerous chemicals, nonstick pans are causing infertility, and plastic containers are making us fat. What if green chemistry could change all that? What if rather than toxics, our economy ran on harmless, environmentally-friendly materials?
 
Elizabeth Grossman, an acclaimed journalist who brought national attention to the contaminants hidden in computers and other high tech electronics, now tackles the hazards of ordinary consumer products. She shows that for the sake of convenience, efficiency, and short-term safety, we have created synthetic chemicals that fundamentally change, at a molecular level, the way our bodies work. The consequences range from diabetes to cancer, reproductive and neurological disorders.
 
Yet it's hard to imagine life without the creature comforts current materials provide—and Grossman argues we do not have to. A scientific revolution is introducing products that are "benign by design," developing manufacturing processes that consider health impacts at every stage, and is creating new compounds that mimic rather than disrupt natural systems. Through interviews with leading researchers, Grossman gives us a first look at this radical transformation.
 
Green chemistry is just getting underway, but it offers hope that we can indeed create products that benefit health, the environment, and industry.
About the Author
Elizabeth Grossman is the author of High Tech Trash: Digital Devices, Hidden Toxics, and Human Health, Watershed: The Undamming of America, and Adventuring Along the Lewis and Clark Trail. Her writing has appeared in Mother Jones, The Nation, Salon, The Washington Post, and other publications. She lives in Portland, Oregon.
Praise For Chasing Molecules: Poisonous Products, Human Health, and the Promise of Green Chemistry…
"I couldn't put this book down. I began reading before bedtime, finished as the first birds began singing, and felt a whole new world had been revealed to me. Chasing Molecules is the most important book I've read in ten years."
— Sandra Steingraber
"There are enough environmental problems that seem insoluble… Elizabeth Grossman has given us this chronicle of a field with a bright future, the green chemistry that will replace the crude methods of the 19th century with the smart ones of the 21st. She tells us how it could happen—we should listen carefully!"
— Bill McKibben
"As much as we have to fear from climate change, what scares me just as much is the vast number of untested substances we dump into the environment each year in huge quantities and with unknown effects. Only a small cadre of chemists really understands this problem and what to do about it. With Chasing Molecules, Elizabeth Grossman gives us the first book to tell their story. A tireless investigative journalist, she expertly distills the science of green chemistry and the promise it holds for a healthier world."
— Paul R. Ehrlich
"Grossman profiles the worst offenders, including bisphenol A (BPA) and phthalates, but she also portrays the good guys who are coming to the rescue, John Warner and Paul Anastas, founders of the burgeoning green chemistry movement. Green chemistry aims to replace hazardous synthetic chemicals with chemicals that are 'benign by design.' Grossman's clarion expose should give this lifesaving initiative a big boost."
— Booklist
or
Not Currently Available for Direct Purchase