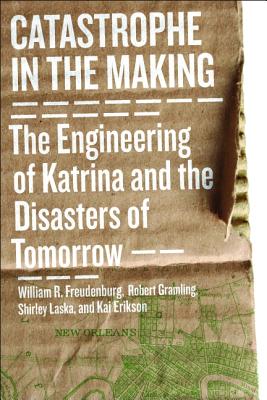 Catastrophe in the Making (Paperback)
The Engineering of Katrina and the Disasters of Tomorrow
Island Press, 9781610911634, 224pp.
Publication Date: August 8, 2011
* Individual store prices may vary.
Description
When houses are flattened, towns submerged, and people stranded without electricity or even food, we attribute the suffering to "natural disasters" or "acts of God." But what if they're neither? What if we, as a society, are bringing these catastrophes on ourselves?
 
That's the provocative theory of Catastrophe in the Making, the first book to recognize Hurricane Katrina not as a "perfect storm," but a tragedy of our own making—and one that could become commonplace.  
 
The authors, one a longtime New Orleans resident, argue that breached levees and sloppy emergency response are just the most obvious examples of government failure. The true problem is more deeply rooted and insidious, and stretches far beyond the Gulf Coast.
 
Based on the false promise of widespread prosperity, communities across the U.S. have embraced all brands of "economic development" at all costs. In Louisiana, that meant development interests turning wetlands into shipping lanes. By replacing a natural buffer against storm surges with a 75-mile long, obsolete canal that cost hundreds of millions of dollars, they guided the hurricane into the heart of New Orleans and adjacent communities. The authors reveal why, despite their geographic differences, California and Missouri are building—quite literally—toward similar destruction.
 
Too often, the U.S. "growth machine" generates wealth for a few and misery for many. Drawing lessons from the most expensive "natural" disaster in American history, Catastrophe in the Making shows why thoughtless development comes at a price we can ill afford.
About the Author
William R. Freudenburg was professor of Environmental Studies at the University of California, Santa Barbara. Robert Gramling is professor of Sociology and director of the Center for Socioeconomic Research at the University of Louisiana at Lafayette. Shirley Laska is a professor of Sociology at the University of New Orleans and director of the Center for Hazards, Assessment, Response and Technology (CHART). Kai Erikson is professor emeritus of Sociology and American Studies at Yale University.

Praise For Catastrophe in the Making: The Engineering of Katrina and the Disasters of Tomorrow…
"Fabulous. I am amazed at the quality of writing—it often left me breathless—and the depth of analysis. This penetrating and engaging book is essential for understanding the many catastrophes that stem from ignoring nature in our quest for economic growth."
— Charles Perrow
"This brilliant work demonstrates once again that most 'natural' disasters are in fact man-made, and therefore preventable and correctable. Bravo!"
— James F. Short
"The best account yet of why the levees failed. The authors also warn of more disasters to come if politicians and government agencies continue to promote huge engineering projects along unstable coastlines."
— Bruce Babbitt
"This masterpiece of scholarship breaks through a clutter of explanations of Hurricane Katrina...Freudenburg and his colleagues ground their analysis in an enduring sociological concept of the 'growth machine'... to advance their argument of humans' biting nature...Essential...Highly recommended."
— CHOICE
"From backgrounds primarily in sociology or environmental studies, the authors do an excellent job explaining their treatise, providing a comprehensive background on the hurricane itself—how and why it formed, the physical processes at work, and how once the storm passed the disaster started. Discussing deeper stories not widely reported in the media, they highlight the heroics of the 'Cajun Flotilla' and other inventive survivors, and create a backdrop for a better understanding of the human cost associated with the storm and subsequent tragedy."
— Environmental Health Perspectives
or
Not Currently Available for Direct Purchase