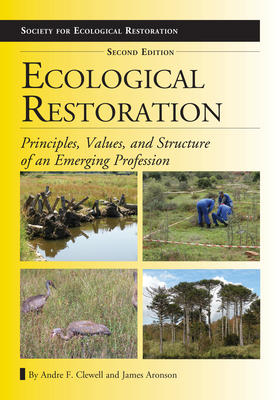 Ecological Restoration, Second Edition
Principles, Values, and Structure of an Emerging Profession (The Science and Practice of Ecological Restoration Series)
Hardcover

* Individual store prices may vary.
Other Editions of This Title:
Paperback (1/21/2013)
Description
Ecological restoration is a rapidly growing discipline that encompasses a wide range of activities and brings together practitioners and theoreticians from a variety of backgrounds and perspectives, ranging from volunteer backyard restorationists to highly trained academic scientists and professional consultants. This book offers a comprehensive and coherent account of the field for everyone who initiates, finances, designs, administers, issues government permits for, manages, and implements ecological restoration projects, and all those who serve in supportive roles. Originally published in 2007, this revised and reorganized edition brings the book up to date with new developments and current trends in the field.
In a lively, personal fashion, the authors discuss scientific and practical aspects of the field as well as the human needs and values that motivate practitioners. The book 
identifies fundamental concepts upon which restoration is based
considers the principles of restoration practice
explores the diverse values that are fulfilled with the restoration of ecosystems
reviews the structure of restoration practice, including the various contexts for restoration work, the professional development of its practitioners, and the relationships of restoration with allied fields and activities
The book also includes case studies and Virtual Field Trips around the world that illustrate points made in the book with on-the-ground information from those who were intimately involved with the projects described. Throughout, ecological restoration is conceived as a holistic endeavor, one that addresses issues of ecological degradation, biodiversity loss, personal engagement, and sustainability science simultaneously, and draws upon cultural resources and local skills and knowledge in restoration work.
Praise For Ecological Restoration, Second Edition: Principles, Values, and Structure of an Emerging Profession (The Science and Practice of Ecological Restoration Series)…
"The bottom line is that the two editions of this book are a great addition to anyone's library and occupy a unique position in the recent spate of restoration texts. Kudos to the authors."
— Restoration Ecology
"[T]his slim, accessible volume presents a comprehensive introduction to the subject....The reworked organizational structure of the text, new case studies, and other refinements further improve an already successful publication."
— Quarterly Review of Biology
"successful....an easily readable book"
— Basic and Applied Ecology
"Highly recommended, especially for college and technical school library collections as well as for professionals in and aspirants to this exciting new scientific field."
— Midwest Book Review
"We know that investments in restoring ecological systems bring significant returns, enhancing the capacity of communities to adapt to climate change and improve food security, and leading to more effective efforts to alleviate poverty and protect the natural assets upon which economic growth depends. Clewell and Aronson have provided an unrivaled guidebook that enables readers to understand the science of ecological restoration, how it developed, and what to expect from this vitally important discipline in the future."
— Pavan Sukhdev, author of "Corporation 2020: Transforming Business for Tomorrow's World"
"One of our best tools for confronting urgent global environmental challenges is ecological restoration, described with clarity and skill in this revised edition of the book that sets the standards in this field."
— Peter H. Raven, President Emeritus, Missouri Botanical Garden
Island Press, 9781610911672, 336pp.
Publication Date: January 21, 2013
About the Author
Andre Clewell taught botany at Florida State University in Tallahassee for 16 years. He has also served as president of the Society for Ecological Restoration. He is currently a privately consulting restoration practitioner and plant ecologist. James Aronson is a restoration ecologist at the Center of Functional and Evolutionary Ecology, Montpellier, France, and at the Missouri Botanical Garden, in Saint Louis, Missouri. He is also Editor of the book series Science and Practice of Ecological Restoration, published jointly by the Society for Ecological Restoration and Island Press.
or
Not Currently Available for Direct Purchase