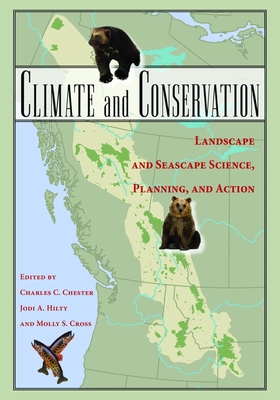 Climate and Conservation (Hardcover)
Landscape and Seascape Science, Planning, and Action
Island Press, 9781610911702, 392pp.
Publication Date: May 29, 2012
* Individual store prices may vary.
Description
Climate and Conservation
presents case studies from around the world of leading-edge projects focused on climate change adaptation-regional-scale endeavors where scientists, managers, and practitioners are working to protect biodiversity by protecting landscapes and seascapes in response to threats posed by climate change.  
The book begins with an introductory section that frames the issues and takes a systematic look at planning for climate change adaptation. The nineteen chapters that follow examine particular case studies in every part of the world, including landscapes and seascapes from equatorial, temperate, montane, polar, and marine and freshwater regions. Projects profiled range from North American grasslands to boreal forests to coral reefs to Alpine freshwater environments.
Chapter authors have extensive experience in their respective regions and are actively engaged in working on climate-related issues. The result is a collection of geographical case studies that allows for effective cross-comparison while at the same time recognizing the uniqueness of each situation and locale.  
Climate and Conservation offers readers tangible, place-based examples of projects designed to protect large landscapes as a means of conserving biodiversity in the face of the looming threat of global climate change. It informs readers of how a diverse set of conservation actors have been responding to climate change at a scale that matches the problem, and is an essential contribution for anyone involved with large-scale biodiversity conservation.

About the Author
Charles C. Chesterteaches global environmental politics at Brandeis University and the Fletcher School at Tufts University, where he is an adjunct assistant professor of international environmental policy. He is the author of
Conservation Across Borders: Biodiversity in an Interdependent World
, which focuses on case studies of transborder conservation in North America. He is also co-author of
Climate and Conservation
. Chester has consulted for the Union of Concerned Scientists, the Henry P. Kendall Foundation, and other environmental organizations. He is currently cochair of the board of the Yellowstone to Yukon Conservation Initiative, and has served on the boards of Bat Conservation International and Root Capital.
Praise For Climate and Conservation: Landscape and Seascape Science, Planning, and Action…
"The pair of foundation chapters make it all seem possible, but as the concluding chapter reviews, there is plenty to learn."
"an interesting and important book, easy to read and therefore suitable also for people who are not familiar with the subject."
"
Climate and Conservation: Landscape and Seascape Science, Planning, and Action
is a 392-page compendium of descriptive information and data that will prove indispensable in efforts to craft and implement scientifically sound conservation principles, procedures, and processes to deal with these sometimes dramatic changes in global climate patterns. Comprised of twenty-two informed and informative contributions by experts in their respective fields,
Climate and Conservation
is a seminal body of work and critically important addition to professional and academic library Environmental Studies reference collections and supplemental reading lists."
"Finally, a book that takes state-of-the-art, large-scale climate science and packages it in a form accessible to planners and managers. These authors know firsthand what needs to be done 'on the ground' to help prevent species extinctions.
Climate and Conservation
is broadly applicable around the globe, addressing species found in habitats stretching from the equator to the poles, and on land, in fresh water, along the coasts, and in the oceans."
— Terry L. Root
"
Climate and Conservation
is a global tour de force that clarifies where we stand today on important landscape conservation efforts and where we need to go to accommodate climate change. Long on science and planning, its comprehensive case studies should serve as a clarion call for conservation action while reminding us that the greatest challenge for adaptation is working across our own political boundaries."
— Craig Groves
"Climate and Conservation offers fresh perspectives on the challenges that climate change brings to the already daunting task of conserving biodiversity. What distinguishes this volume from other assessments is the authors' collective experience in engaging with managers and stakeholders to incorporate climate change into conservation planning and, importantly, action at sites around the globe."

— Lisa J. Graumlich
or
Not Currently Available for Direct Purchase