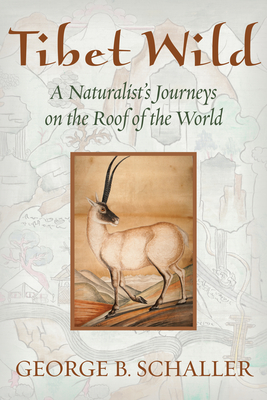 Tibet Wild
A Naturalist's Journeys on the Roof of the World
Hardcover

* Individual store prices may vary.
Other Editions of This Title:
Paperback (2/25/2014)
MP3 CD (5/3/2016)
Description
As one of the world's leading field biologists, George Schaller has spent much of his life traversing wild and isolated places in his quest to understand and conserve threatened species—from mountain gorillas in the Virunga to pandas in the Wolong and snow leopards in the Himalaya. Throughout his celebrated career, Schaller has spent more time in Tibet than in any other part of the world, devoting more than thirty years to the wildlife, culture, and landscapes that captured his heart and continue to compel him to protect them.
 
Tibet Wild is Schaller's account of three decades of exploration in the most remote stretches of Tibet: the wide, sweeping rangelands of the Chang Tang and the hidden canyons and plunging ravines of the southeastern forests. As engaging as he is enlightening, Schaller illustrates the daily struggles of a field biologist trying to traverse the impenetrable Chang Tang, discover the calving grounds of the chiru or Tibetan antelope, and understand the movements of the enigmatic snow leopard. 
 
As changes in the region accelerated over the years, with more roads, homes, and grazing livestock, Schaller watched the clash between wildlife and people become more common—and more destructive. Thus what began as a purely scientific endeavor became a mission: to work with local communities, regional leaders, and national governments to protect the unique ecological richness and culture of the Tibetan Plateau. 
 
Whether tracking brown bears, penning fables about the tiny pika, or promoting a conservation preserve that spans the borders of four nations, Schaller has pursued his goal with a persistence and good humor that will inform and charm readers.  Tibet Wild is an intimate journey through the changing wilderness of Tibet, guided by the careful gaze and unwavering passion of a life-long naturalist.
Praise For Tibet Wild: A Naturalist's Journeys on the Roof of the World…
"In Tibet Wild, he not only offers a case study in protecting an obscure mammal on tricky political turf but also reflects on his previous projects, many of which resulted in protected, self-sustaining populations of once-imperiled species...[It] has a valedictory quality. Mr. Schaller revisits old journals and quotes from earlier works such as The Last Panda. During freezing cold nights in his field tent, he tries to puzzle out whether his youthful experience of war and subsequent immigration to the United States as an enemy alien helped to form his reticent character, his distaste for crowds, technology and weapons, his wanderlust, and his attraction to stark places like the Chang Tang. Distinguished by these reflections, Tibet Wild would be a fine introduction to Mr. Schaller's writing and remarkably accomplished life for new readers."

— Wall Street Journal

"To protect unspoiled places, Schaller must shed his natural reticence to negotiate with his fellow human beings. In the case of the high steppes, these include families putting out poison for animals wrongly perceived as pests, herders trading horses for motorcycles and, more threatening, gold miners. He's willing to sit down and educate people, sometimes even to compromise, but he has no sympathy for those who get a charge out of reducing the number of his beloved animals one at a time. Late in Tibet Wild, Schaller briefly shares a camp with a foreign hunter who's grousing that he had to wait three whole days to get his final shot at a Marco Polo ram, whose massive curved horns are a coveted trophy. Schaller, the man who spent 17 years trying to find the chiru's calving ground, has little patience for such behavior. 'Hunting is not a sport,' he notes. 'Animals don't just lose, they die.'"

— New York Times

"Poignant …Tibet Wild…lays out an open-ended account of the struggle to save wild places and their inhabitants. I can't recall any book that has made me care as much or think harder about how we might do that."
— Science

"Schaller's huge knowledge means a dedicated reader can revel in a deep and intricate portrayal of Tibet's mythically beautiful visual and emotive environments."

— Times Literary Supplement

"For the past three decades his studies have been largely confined to mysterious animals most people have never heard of. A summing up in his 80th year appears now, with helpful maps and 32 color photographs, in Tibet Wild."

— Audubon

"Schaller is a guiding light in global wildlife conservation. In this richly textured chronicle of five decades of world travels, he combines a provocative apologia with unforgettable tales of his encounters with gorillas, tigers, pandas, snow leopards, and jaguars. ... Schaller's forthright, enlightening book of discovery reseeds our appreciation for the wonders of the planet, perception of the 'heavy human hand on the landscape,' and recognition of the need for a global 'conservation ethic.'"

— Booklist

"His descriptions...are particularly evocative, and give the lie to notions of glamour in field biology....fascinating"

— BBC Wildlife Magazine

"Tibet Wild is one of Schaller's best works, combining wild adventure with insightful recommendations for people and nature. And it demonstrates why 'old-fashioned' field biology is still an essential part of conservation, and of science."

— The Nature Conservancy's Cool Green Science blog

"Tibet Wild sings with Schaller's tenacity, patience, and passion"

— BioScience

"With winter coming on, I enthusiastically recommend adding Tibet Wild to your reading list."

— Sustainability

"Tibet Wild is a finely crafted memoir detailing George B. Schaller's travels and conservation projects in the rugged Tibetan Plateau."

— Shambala Sun

"Tibet Wild is a fascinating book of a little known part of the world. It should be read by anyone interested in the Tibetan Plateau. Field biologists, range ecologists, pastoral development specialists, tourists and even Tibetan monks will all find something of interest in Schaller's evocative writing."

— Pastoralism

"This book may be his swan song: the last of the classic Western naturalists travels to perhaps the last place on earth inhabited but not controlled by humans....Beautifully written, the book offers breathtaking natural history, and the human side of daily life in zones we only know from war and conflict (Afghanistan, Pakistan, the Tibet-China border)....Readers may find hope in Schaller's example of a life dedicated to saving a planet where chiru, tiny rabbits, snow leopards, and human beings of every race, gender, and nation are all animals working to survive."

— Reference & Research Book News

"He discusses his efforts to use his knowledge of natural history to educate local populations on how to promote effective conservation measures, and also addresses the political and economic realities that complicate doing so. Readers will come away with a firsthand understanding of the rewarding career of a modern conservationist."

— Choice

"Through his work and the work of other dedicated conservationists in Asia, the chiru has made a comeback. Schaller's single-minded dedication to wildlife preservation in Chang Tang and around the world is genuinely inspiring."

— Kirkus

"George Schaller's stature as a great naturalist and conservation scientist, his unique and intimate familiarity with his subject, and his excellent prose style together make Tibet Wild a classic."

— E.O. Wilson, University Professor Emeritus, Harvard University

"This is a remarkably close-up and revealing story from the world's top field scientist, the chronicler of the lives of pandas, gorillas and lions. In Tibet Wild, Schaller addresses such little known creatures as Marco Polo sheep, snow leopards, chiru antelope, horse-like kiang and the peoples that live with them. He writes penetratingly, but with a grace and sensitivity that touches the heart."

— William Conway, Senior Conservationist, Wildlife Conservation Society

"This is a wonderful and moving account of thirty years of scientific exploration and wildlife conservation on the Tibetan Plateau by one of the world's foremost scholars and ecological activists. It is a great read for scholars and laymen alike that lets the reader experience what it is like to study wildlife in the remotest parts of the Roof of the World."

— Melvyn C. Goldstein, Ph.D., J.R. Harkness Professor & Director, Center for Research on Tibet, Case Western Reserve Univ.

"This celebrated naturalist, recalling in his senior years how he has often been so uncomfortable in his travels across wild Tibet, does indeed set a high example for spirited conservation for the next century, the next millennium."

— Biological Conservation

"Schaller does a great job of showing how to take conservation beyond research by involving local people, governments, and Buddhist monasteries."

— Natural Areas Journal
Island Press, 9781610911726, 384pp.
Publication Date: October 3, 2012
About the Author
George Schaller is vice president of Panthera and a senior conservationist at the Wildlife Conservation Society, both organizations based in New York, as well as adjunct professor with the Center of Nature and Society at Peking University in China. He has explored  many remote corners of the planet, conducted wildlife research and conservation work in over twenty countries, and is a prolific author. His field work began in 1952 in Alaska and he was part of a 1956 expedition to northeastern Alaska which led to the establishment of America's largest protected area, the Arctic National Wildlife Refuge.
 Spending most of his time in the field in Asia, Africa, and South America, Schaller has done seminal studies and helped protect some of the planet's most iconic animals. These range from mountain gorillas in the present Democratic Republic of the Congo, tigers in India, lions in Tanzania, and jaguars in Brazil, to giant pandas and wildlife on the Tibetan Plateau in China, and snow leopards and various wild sheep and goats in the Himalaya of Nepal and Pakistan. This work has been the basis for his scientific and popular writings, including 16 books, among them The Year of the Gorilla, The Deer and the Tiger, The Serengeti Lion (a National Book Award winner), The Last Panda, A Naturalist and other Beasts, and Tibet Wild. He has also helped to establish about a dozen protected areas in various countries.
 Over the years, he has received a number of international conservation awards, including the Tyler Prize for Environmental Achievement and the Indianapolis Prize in the USA, China's Baogang Environmental Prize, Japan's Cosmos Prize, India's Salim Ali Conservation Award, and the gold medal of the World Wildlife Fund.
 With his wife, Kay, a close colleague in the field, they raised their two sons while on projects in various countries.
or
Not Currently Available for Direct Purchase