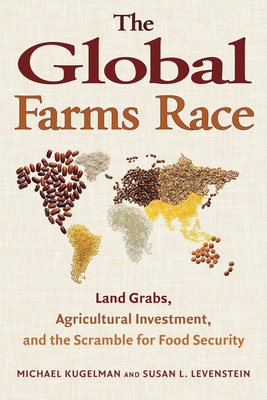 The Global Farms Race (Hardcover)
Land Grabs, Agricultural Investment, and the Scramble for Food Security
Island Press, 9781610911863, 248pp.
Publication Date: October 4, 2012
Other Editions of This Title:
Paperback (10/4/2012)
* Individual store prices may vary.
Description
As we struggle to feed a global population speeding toward 9 billion, we have entered a new phase of the food crisis. Wealthy countries that import much of their food, along with private investors, are racing to buy or lease huge swaths of farmland abroad. The Global Farms Race is the first book to examine this burgeoning trend in all its complexity, considering the implications for investors, host countries, and the world as a whole.
 
The debate over large-scale land acquisition is typically polarized, with critics lambasting it as a form of "neocolonialism," and proponents lauding it as an elixir for the poor yields, inefficient technology, and unemployment plaguing global agriculture. The Global Farms Race instead offers diverse perspectives, featuring contributions from agricultural investment consultants, farmers' organizations, international NGOs, and academics. The book addresses historical context, environmental impacts, and social effects, and covers all the major geographic areas of investment. 
 
Nearly 230 million hectares of farmland—an area equivalent to the size of Western Europe—have been sold or leased since 2001, with most of these transactions occurring since 2008. As the deals continue to increase, it is imperative for anyone concerned with food security to understand them and their consequences. The Global Farms Race is a critical resource to develop that understanding.
About the Author
Michael Kugelmanis Senior Program Associate for South and Southeast Asia at the Woodrow Wilson International Center for Scholars. Susan L. Levenstein is Program Specialist with the U.S. Department of State's Bureau of Educational and Cultural Affairs.
Praise For The Global Farms Race: Land Grabs, Agricultural Investment, and the Scramble for Food Security…
"
The Global Farms Race
is a collection of essays by leading food security specialists, civil servants, and political scientists that provides analysis of the looming food crisis and illuminates possible ways forward."
— Christian Science Monitor
"Secure access to land is key to the food security of millions of small family farms and their efforts to increase their productivity. In recent years, that access has been threatened by large-scale acquisitions of developing country farmland often by foreign investors that have rightly raised international concern. However, hard information is still limited.
The Global Farms Race
provides an international survey of this phenomenon and a valuable exploration of the controversies surrounding it."
— Jose Graziano da Silva, Director General, United Nations Food and Agriculture Organization
"
The Global Farms Race
is an exceptional book, easily the best on land grabs of any that I have seen."
— Lester Brown, President, Earth Policy Institute
"
The Global Farms Race
marks an important turning point in the current discussions of global agricultural land investments and acquisitions. The volume presents a range of balanced perspectives on the issue, and the authors take a thoughtful approach to the historical context in which these deals are taking place, the measurable social and environmental impacts of land acquisitions, and the roles of investors and governments in improving the future outcomes of global agricultural land investments."
— Rosamond Naylor, Professor and William Wrigley Senior Fellow, Freeman-Spogli Institute
"A timely, carefully researched survey of one of the most important new developments in the global food economy. Essential reading for anyone interested in the increasingly complex future of food security."
— Paul Roberts, author of "The End of Food"
"Editors Kugelman and Levenstein have compiled a collection that describes how governments and private firms in more developed countries are acquiring farmland in less developed countries, especially in Africa, to garner natural resources and provide a secure food source for their populations. The book contains 12 chapters, each written by a different author and offering a unique viewpoint and perspectives on the issue."
— Choice
"set(s) out a helpful agenda and adopts an open-minded and empirically oriented approach."
— Springer Science + Business Media
"...set[s] out a helpful agenda and adopts an open-minded and empirically oriented approach."

— Food Security
or
Not Currently Available for Direct Purchase