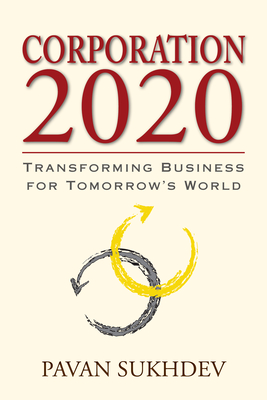 Corporation 2020 (Hardcover)
Transforming Business for Tomorrow's World
Island Press, 9781610912389, 296pp.
Publication Date: September 27, 2012
Other Editions of This Title:
MP3 CD (6/28/2016)
* Individual store prices may vary.
Description
There is an emerging consensus that all is not well with today's market-centric economic model. Although it has delivered wealth over the last half century and pulled millions out of poverty, it is recession-prone, leaves too many unemployed, creates ecological scarcities and environmental risks, and widens the gap between the rich and the poor. Around $1 trillion a year in perverse subsidies and barriers to entry for alternative products maintain "business-as-usual" while obscuring their associated environmental and societal costs. The result is the broken system of social inequity, environmental degradation, and political manipulation that marks today's corporations.
 
We aren't stuck with this dysfunctional corporate model, but business needs a new DNA if it is to enact the comprehensive approach we need. Pavan Sukhdev lays out a sweeping new vision for tomorrow's corporation: one that will increase human wellbeing and social equity, decrease environmental risks and ecological losses, and still generate profit. Through a combination of internal changes in corporate governance and external regulations and policies, Corporation 2020 can become a reality in the next decade—and it must, argues Sukhdev, if we are to avert catastrophic social imbalance and ecological harm.
 
Corporation 2020 presents new approaches to measuring the true costs of business and the corporation's obligation to society. From his insightful look into the history of the corporation to his thoughtful discussion of the steps needed to craft a better corporate model, Sukhdev offers a hopeful vision for the role of business in shaping a more equitable, sustainable future.
About the Author
Pavan Sukhdev is the Founder-CEO of GIST Advisory, an environmental consulting firm that helps governments and corporations value and manage their impacts on natural and human capital. A former banker at Deutsche Bank, he founded and chaired Global Markets Centre – Mumbai, a leading-edge front-office offshoring company. He has been Special Adviser and Head of UNEP's Green Economy Initiative, lead author of their "Green Economy Report", and Study Leader for the G8+5 commissioned project on The Economics of Ecosystems and Biodiversity ("TEEB"). Pavan chairs the World Economic Forum's "Global Agenda Council" on Biodiversity and serves on the boards of Conservation International and the Stockholm Resilience Centre.
Praise For Corporation 2020: Transforming Business for Tomorrow's World…
"In his nuanced analysis, corporations need to align their aims with society, becoming viable communities, institutes and financial, human and natural capital 'factories'."
— Nature
"A strong case for why corporations, extolled as agents of change, should transform themselves"
— Hindu
"Much has recently been written about how a new wave of 'green' corporations is just around the corner, an endogenously transformed phalanx of knights in shining armour just waiting to rescue us. Pavan Sukhdev says 'not so', but he also shows with consummate skill and clarity what exogenous changes can be made, to re-engineer the 'social contract' between society and corporations in the twenty-first century."
— Achim Steiner, Executive Director, United Nations Environment Programme
"The ideas and assertions in this book blow well past 'insightful' and edge toward 'revolutionary' insofar as they expose major fallacies in our most basic assumptions about what we call our 'economy'. It's an equally important exposure for corporate leaders and leaders of the movement for environmental sustainability, because both need to move beyond the 'infancy phase' in terms of truly understanding and acknowledging the value of natural resources. A seriously inspiring and, ultimately, very hopeful piece of work."
— Edward Norton, United Nations Goodwill Ambassador for Biodiversity
"Pavan Sukhdev writes with extraordinary clarity, compassion and conscience, laying the ground for a whole system economics. Recognizing that all human activity is part of nature, and that nature is essential for human wellbeing, Sukhdev creates an economic framework for the restoration of human and natural systems.
Corporation 2020
brilliantly lays out a pathway for corporations, countries and citizens towards the earth's health."
— Jonathan F. P. Rose, President, Jonathan Rose Companies
"When Pavan Sukhdev comes along and writes an extraordinary book, and backs it up with an extraordinary campaign and a really good website to promote...a change in the basic culture, definition, and orientation of corporations in our society, it's very timely, and it's very important to take what he has to say seriously."
— James Gustave Speth, Professor of Law, Vermont Law School and Distinguished Senior Fellow, Demos
"Pavan Sukhdev discusses in every detail the problems we have created for ourselves today and our apathy towards participating in discussions which are no longer 'maybes' and 'ifs' but are in fact certainties. Yet in the end, he provides us with a positive manifesto for transformation.
Corporation 2020
, written with clarity and concern, offers a realistic framework within which we can redesign and rebuild our global community."
— YouPhil.com
"
Corporation 2020
is an indispensable contribution to the global transformation of finance and corporations as humanity re-integrates centuries of knowledge and continues its inevitable transition from the first Industrial Era... Pavan Sukhdev is a powerful standard-bearer leading us to the cleaner, knowledge-rich Green Economy globally, and this book provides a benchmark and guide to this better future for humanity."
— Seeking Alpha
"It's rare that reading someone else's book persuades you that a new book you are about to write is going in the wrong direction, but Corporation 2020 did that for (or perhaps to) me."

— John Elkington
or
Not Currently Available for Direct Purchase