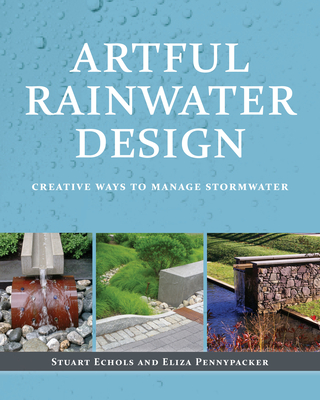 Artful Rainwater Design (Paperback)
Creative Ways to Manage Stormwater
Island Press, 9781610912662, 296pp.
Publication Date: May 19, 2015
Other Editions of This Title:
Hardcover (5/19/2015)
* Individual store prices may vary.
Description
Stormwater management as art? Absolutely. Rain is a resource that should be valued and celebrated, not merely treated as an urban design problem—and yet, traditional stormwater treatment methods often range from ugly to forgettable. Artful Rainwater Design shows that it's possible to effectively manage runoff while also creating inviting, attractive landscapes.
 
This beautifully illustrated, comprehensive guide explains how to design creative, yet practical, landscapes that treat on-site stormwater management as an opportunity to enhance site design. Artful Rainwater Design has three main parts: first, the book outlines five amenity-focused goals that might be highlighted in a project: education, recreation, safety, public relations, and aesthetic appeal. Next, it focuses on techniques for ecologically sustainable stormwater management that complement the amenity goals. Finally, it features diverse case studies that show how designers around the country are implementing principles of artful rainwater design.
 
Artful Rainwater Design is a must-have resource for landscape architects, urban designers, civil engineers, and architects who won't let stormwater regulations cramp their style, and who understand that for a design to truly be sustainable, people must appreciate and love it. It is a tool for creating landscapes that celebrate rain for the life-giving resource it is—and contribute to more sustainable, healthy, and even fun, built environments.
About the Author
Stuart Echols and Eliza Pennypacker are faculty in Penn State's Department of Landscape Architecture. Echols' fascination with surface water systems led to his focus in stormwater management, while Pennypacker's study of American landscape taste led to her conviction that sustainable landscapes must be aesthetically appealing to the public. Their interests have combined since 2005 in the study of Artful Rainwater Design.

Praise For Artful Rainwater Design: Creative Ways to Manage Stormwater…
"The book is practical as well as visionary… the gorgeous photographs on almost every page make an eloquent case for twinning beauty with sustainability."
— Planning
"We depend on water for our very existence, a fact which has thrust water management into the front line of public policy. Unfortunately, a common result has been the proliferation of single-purpose, utilitarian solutions. Echols and Pennypacker present compelling alternatives to ugly stormwater management facilities through artful, landscape-based rainwater interventions and illustrate how we can better interact with water through creative design."
— Frederick Steiner
"This book is a treasure and an inspiration for owners, architects, and civil engineers working with landscape architects to create function and beauty in creative ways on sites. One learns why and how to get two-fers and three-fers while collaborating to provide innovative and functional stormwater solutions."
— Judith Nitsch
"Features some of the most innovative solutions to rainwater collection and retention."
— American Gardener
"In redefining the relationship between 'problem' and 'amenity,' the authors of
Artful Rainwater Design
have produced a capacious catalog of exemplars for harnessing excess runoff. Well organized, documented, and illustrated, this trove of techniques demonstrates how landscape designers and engineers can transform public perception and thus policy goals for urban stormwater management."
— M. Elen Deming
"Building on a decade of research, travel, and development, Echols and Pennypacker explain the design of every stage of rainwater's path through crowded cities. Their Artful Design paradigm restores the urban water environment, and articulates the places where people live, making them active parts of their lives."
— Bruce K. Ferguson, Creator of Ferguson's Portal, former Director of the School of Environmental Design, University of Georgia
"...[Artful Rainwater Design] instills hope that the days of drab detention ponds may soon be coming to an end, ushering in a new era of rain-celebrating landscapes."
— ASLA's The Dirt
"Stuart Echols and Eliza Pennypacker rethink traditional stormwater treatment systems and offer innovative solutions for managing heavy rainwater and the runoff in ways that are valuable and beautiful. From the book's opening pages, readers are reminded that rain is a resource, not a waste product."
— The College
"A timely book that provides needed solutions to challenges occurring simultaneously in urban and suburban built environments across the nation: new development and aging infrastructure...Artful Rainwater Design has the potential to cross over into practice in ways that textbooks often do not—an important quality."
— Journal of Planning Education and Research
"What was once considered to be a nuisance or of little consequence has become the focus of city leaders around the world, triggering a call to action to support the better management of the critical, life-giving natural resource: water. Artful Rainwater Design: Creative Ways to Manage Stormwater is a timely book that provides insight into the strategies, implementation methods, design parameters, and amenities that creative stormwater design can yield." 

— The Nature of Cities
or
Not Currently Available for Direct Purchase