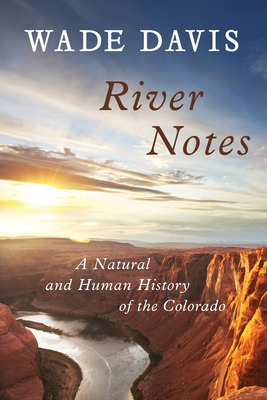 River Notes (Hardcover)
A Natural and Human History of the Colorado
Island Press, 9781610913614, 176pp.
Publication Date: October 17, 2012
Other Editions of This Title:
Paperback (10/15/2013)
* Individual store prices may vary.
Description
Plugged by no fewer than twenty-five dams, the Colorado is the world's most regulated river drainage, providing most of the water supply of Las Vegas, Tucson, and San Diego, and much of the power and water of Los Angeles and Phoenix, cities that are home to more than 25 million people. If it ceased flowing, the water held in its reservoirs might hold out for three to four years, but after that it would be necessary to abandon most of southern California and Arizona, and much of Colorado, New Mexico, Utah and Wyoming. For the entire American Southwest the Colorado is indeed the river of life, which makes it all the more tragic and ironic that by the time it approaches its final destination, it has been reduced to a shadow upon the sand, its delta dry and deserted, its flow a toxic trickle seeping into the sea.
 
In this remarkable blend of history, science, and personal observation, acclaimed author Wade Davis tells the story of America's Nile, how it once flowed freely and how human intervention has left it near exhaustion, altering the water temperature, volume, local species, and shoreline of the river Theodore Roosevelt once urged us to "leave it as it is." Yet despite a century of human interference, Davis writes, the splendor of the Colorado lives on in the river's remaining wild rapids, quiet pools, and sweeping canyons. The story of the Colorado River is the human quest for progress and its inevitable if unintended effects—and an opportunity to learn from past mistakes and foster the rebirth of America's most iconic waterway.
 
A beautifully told story of historical adventure and natural beauty, River Notes is a fascinating journey down the river and through mankind's complicated and destructive relationship with one of its greatest natural resources.
About the Author
Wade Davis is Explorer-in-Residence at the National Geographic Society. An ethnographer, photographer, filmmaker, and writer, he is author of the international bestsellers Into the Silence, Light at the Edge of the World, One River, The Serpent and the Rainbow, Shadows in the Sun, and other books. His articles have appeared in Outside, Condé Nast Traveler, National Geographic, ScientificAmerican, and many other publications.
Praise For River Notes: A Natural and Human History of the Colorado…
"
River Notes
is both a love song and a paean of regret to America's most spectacular river. Wade Davis weaves his own story of running the river with history, geology and quotations from those who knew it in its free days. This is also a warning about how easy it is to lose America's precious landscape."
— Denver Post
"Above all, the book—by turns lyrical, elegiac and combative—is a plea to save the Colorado River before it is too late."
— The Wall Street Journal
"Often lyrically, Davis bemoans the state of a river that has been hemmed in so that cities including Las Vegas, San Diego, Los Angeles, Tucson and Phoenix can switch on their lights and have their taps flow....He does a good job of showing how we are all connected to this river, whether we recognize it or not."
— The Washington Post
"[A] beautifully concise history of the Colorado River."
— Men's Journal
"incisive analysis....If only all public discussion of America's accomplishments and short-comings could be so clear-eyed."
— Canadian Geographic
"The Colorado, he notes in this compelling historical and environmental narrative, is now controlled by more than 25 dams as it supplies water and electric power to cities in the Southwest and West."
— Dallas Morning News
"Davis manages to offer a distinct and compelling perspective on this iconic watercourse. These qualities make
River Notes
a great read for either armchair travellers or anyone with a passion for water conservation."
— Alternatives Journal
"With hard facts and river adventures rendered in gorgeous prose, Davis exposes the vulnerability of the Colorado in our time of drought and global warming in the hope that his findings will inspire the restoration and protection of this crucial river."
— Booklist
"From a writer of such hefty status...you expect an excellent treatise on the Colorado River. You will not be disappointed. Wade Davis' writing is superb, his text is very readable and fascinating, and his research on this subject is formidable. ...the text is excellent...Reading about the trip is exciting and thought-provoking, and you wonder whether taming this river was really worth the cost."
— San Francisco/Sacramento Book Review
"
River Notes
sings not because of its recounting of geology and history with words that have been said many times before, but because of its personal song to a river that, despite all, still inspires."
— The Colorado Review
"...an illuminating journey through mankind's complicated relationship with this 'River of Life'."
— The Deseret News
"Wade Davis traces the natural and human history of the Colorado River with vivid and engaging detail in his new book
River Notes
."
— The Utne Reader
"In short,
River Notes
is everything you've ever wanted to know about the Colorado and more....If you've ever pondered a trip down the Colorado through the Grand Canyon it's definitely worth a pre-trip read. When the time comes, you'll appreciate the journey all the more. And those who have had the great opportunity to travel by way of the river will cherish having this book by their side so they can slip back into the canyon and down the river whenever they feel the urge."
— River Currents
"Laced with just enough of the sharp edged facts to prove he knows what he is talking about (and dares you to challenge him), Davis is at once a historian, an ecologist, and (my favorite) a hearty traveler. His journey along the banks of the Colorado, through the Grand Canyon is as rich as his telling of the history of how all of this land came to be."
— Spacing
"
River Notes: A Natural and Human History of the Colorado
is both a requiem for a river lost and a tale of a river rebounding. Wade Davis floods our imagination not just with facts but stories, the kind of stories that enter our bloodstream with the memory of red water and the force of erosion.
River Notes
is a literary and historical testament to change, one that believes in the sustaining power of reciprocity over greed, while giving us an adventure story through time. The first six pages of this book will break your heart. The remaining pages will repair what has been broken."
— Terry Tempest Williams
"Wade Davis'
River Notes
engagingly draws the reader in from the very first page—creating the perfect primer for Grand Canyon river guides, passengers, and arm chair adventurers. He eloquently captures and distills the broad sweep of the Colorado River system's geologic and human history. His words flow smoothly as he highlights the destruction of spectacular Glen Canyon and then weaves Major Powell's historical journey though the canyon with his own river experience."
— George Wendt
"In this slender meditation, Wade Davis deftly interweaves the past, present, and future of the greatest of all American rivers. Although I've explored the Colorado myself, Davis opened my eyes to many a new and surprising fact or insight. It's dazzling to see an author wield comprehensive erudition with such a light and masterly touch."

— David Roberts
or
Not Currently Available for Direct Purchase