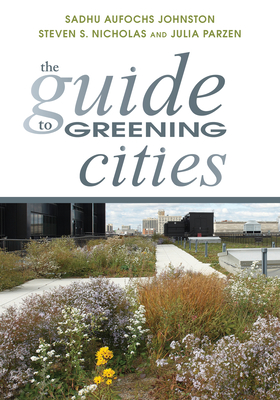 The Guide to Greening Cities
Paperback

* Individual store prices may vary.
Other Editions of This Title:
Hardcover (10/1/2013)
Description
Superstorm Sandy sent a strong message that a new generation of urban development and infrastructure is desperately needed, and it must be designed with resilience in mind. As cities continue to face climate change impacts while growing in population, they find themselves at the center of resilience and green city solutions, yet political and budgetary obstacles threaten even the best-planned initiatives. In The Guide to Greening Cities, seasoned green city leaders Sadhu Johnston, Steven Nicholas, and Julia Parzen use success stories from across North America to show how to turn a green city agenda into reality.



The Guide to Greening Cities is the first book written from the perspective of municipal leaders with successful, on-the-ground experience working to advance green city goals. Through personal reflections and interviews with leading municipal staff in cities from San Antonio to Minneapolis, the authors share lessons for cities to lead by example in their operations, create programs, implement high-priority initiatives, develop partnerships, measure progress, secure funding, and engage the community. Case studies and chapters highlight strategies for overcoming common challenges such as changes of leadership and fiscal austerity. The book is augmented by a companion website, launching with the publication of the book, which offers video interviews of municipal leaders, additional case studies, and other resources.



Rich in tools, insights, and tricks of the trade, The Guide to Greening Cities helps professionals, policymakers, community leaders, and students understand which approaches have worked and why and demonstrates multidisciplinary solutions for creating healthy, just, and green communities.


Praise For The Guide to Greening Cities…
"...a useful book for urban planners wishing to increase the resiliency of their communities."

— ASLA's The Dirt blog

"As far as I know, The Guide to Greening Cities is the first book written primarily from the perspective of municipal sustainability officials, sharing their on-the-ground experience working to advance green city goals. As such, it explains the story of government leadership from the inside and, importantly for readers, at the level of practitioners rather than politicians. It's easy to forget that the maze of government bureaucracy can be just as daunting to those seeking change from within as it is to those of us on the outside. As a result, the Guide is really useful to advocates who need to understand how the bureaucracy works in order to be influential."

— NRDC's The Switchboard blog

"The Guide provides useful advice on how practitioners work in local government bureaucracies to advocate and influence directions."

— Ontario Municipal Knowledge Network


"... [The Guide to Greening Cities] offers inspiration on how to create transformation from within city government in partnership with its citizens."

— Funders' Network

"Provides a comprehensive look into the practices of North America's green city leaders and the methods these leaders employ in advancing sustainable urban agendas for cities in the United States and Canada...a praiseworthy and useful entry into the field of green urbanism."
— Journal of Planning Education and Research

"Explains how cities are beginning to think today...It reveals a good overview for those new to greening cities. For those who are more familiar, it provides refreshingly candid overview of what it's like to try and generate change with limited resources. This candor reminds you that change is possible and takes time."
— Ecological Restoration

"Cities are the recognized leaders on greening, sustainability and climate action. The Guide to Greening Cities is the first book I have seen that captures the spirit and hard work of how cities are accomplishing their sustainability goals, and reducing emissions, across North America. Mayors and local leaders who want to join this growing trend of city leadership, innovation and creativity to build more sustainable cities need to read The Guide to Greening Cities."

— Annise Parker, Mayor, City of Houston

"A superb book, timely, practical and visionary. Three intrepid pioneers of urban sustainability describe how cities are being transformed to meet the challenges and opportunities of the 21st century and beyond. Essential reading for everyone concerned with the vitality and resilience of urban regions."

— David W. Orr, Oberlin College

"Urban areas offer some automatic advantages in efficiency—but this fine book shows how they can become the driving force of a working planet!"
— Bill McKibben, author of "Oil and Honey: The Education of an Unlikely Activist"

"From a business perspective, the question related to cities and sustainability is clear and compelling: can you have a healthy company in an unhealthy city? Arguably, no. Companies need healthy cities to provide reliable infrastructure, an educated and vital workforce, a vibrant economy, and a safe and secure environment to survive and thrive. Business executives have a lot to learn from cities, and a lot to contribute, and this book shows the way, chronicling the successes and the lessons learned about what it takes to make a city healthy, in every sense of the word."
— Joel Makower, Executive Editor, GreenBiz.com

"Around the world, people increasingly recognize that our planet's future largely depends on making our cities sustainable. But for each city, turning that recognition into a realistic action plan is an enormously complicated undertaking. Using their direct experience, and their deep understanding of municipal policy and politics, the authors of The Guide to Greening Cities explain what it takes to move beyond the talk of greening cities to actually getting it done."

— Michael R. Bloomberg, New York City Mayor

"An excellent addition to public and college library environmental and sustainability shelves, The Guide to Greening Cities should be mandatory reading for mayors, city planners, community organizers, and urban leaders everywhere."

— Midwest Book Review
Island Press, 9781610913799, 264pp.
Publication Date: October 1, 2013
About the Author
Sadhu Aufochs Johnston currently serves as Deputy City Manager for the City of Vancouver, Canada. He co-founded the Urban Sustainability Directors Network (USDN) with Julia Parzen and led Chicago's green initiatives under Mayor Daley as Commissioner of the Department of Environment and in the Mayor's office as the Chief Environmental Officer.

Steven S. Nicholas is Vice President for US Programs at the Institute for Sustainable Communities in Vermont, former Sustainability Director for the City of Seattle and co-founder of Sustainable Seattle.

Julia Parzen is the Coordinator of the USDN and has led sustainability initiatives in local, state and federal government, including the development of the Chicago Climate Action Plan.

or
Not Currently Available for Direct Purchase